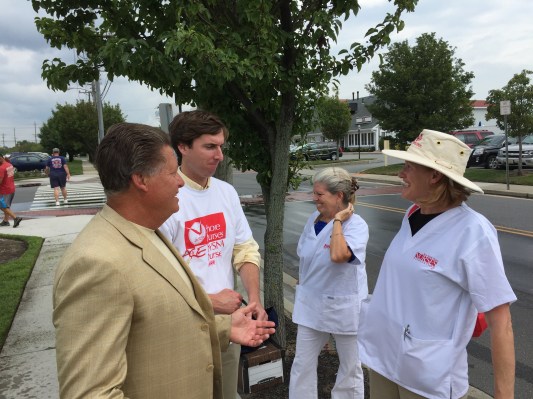 SOMERS POINT – New Jersey State AFL-CIO President Charles Wowkanech joined members of the Shore Nurses Union and New York State Nurse's Association's bargaining unit outside of the Shore Medical Center Tuesday to support their strike authorization vote. The rally Tuesday afternoon emphasized the need for new recruitment of nurses for the understaffed hospital. Negotiations between the union and hospitals are set to take place the same night.
The Shore Medical Center was recently ranked in a Consumer Reports article which placed it on a list of the country's worst hospitals for bacterial infection rates in patients. Pushed to the side of the grounds next to sprinkler units on the perimeter of the hospital that had been turned on before the rally, the resident nurses in attendance said that they are frustrated by what they characterized as the hospital's focus on facilities at the expense of patient care.
"Over the last few years there have been about 60 nurses who've left through retirement or moved on, and they have not been replaced," said Wowkanech. "And we think there's a direct correlation between the staff levels and this consumer report. There should be a committee of doctors, nurses, hospital managers, to make sure that thing goes away."
"Yes we had a strike authorization vote," said the union's Lead Program Representative Eric Smith. "It's because of the employer's proposals that are in front of us. We don't think it raises the standards of care here, and we don't think it will recruit and retain the highest, most skilled, most experienced RNs. We're going to the table tonight with the hopes of striking a new tone, avoiding a strike or any sort of work stoppage, and getting a contract done."
"We want to be back inside doing what we do best," added Wowkanech, saying that he and hospital staff would rather reach a successful negotiation than strike. "The most important thing isn't the bricks and mortar, it's the people who work inside."
"It's unfortunate that this Consumer Reports article came out," said Smith. "Every nurse here wants to raise those scores." Smith described the hospital's problems and poor record on dangerous infections to "a lack of focus on patient care, the profession of nursing and for recruiting and retaining the best nurses here.
"We hope that the employer meets us with the same goal and the same intentions," he said.
The nurses in attendance at Tuesday's rally said that management's belt tightening and refusal to bring on new staff members has lead to many in the hospital's ranks working more shifts and more hours with little support. The union authorized the strike by an overwhelming 77% margin, and will begin a work stoppage if an agreement is not reached with hospital management within 10 days.
Dodging spray from the sprinkler nearby, Resident Nurse Suzanne Jenkins said that the nursing staff have made do with a lean roster of employees and inadequate supplies so far, and added "we want the contract settled so that we can tell them 'turn off the waterworks and let's get the job done.'"