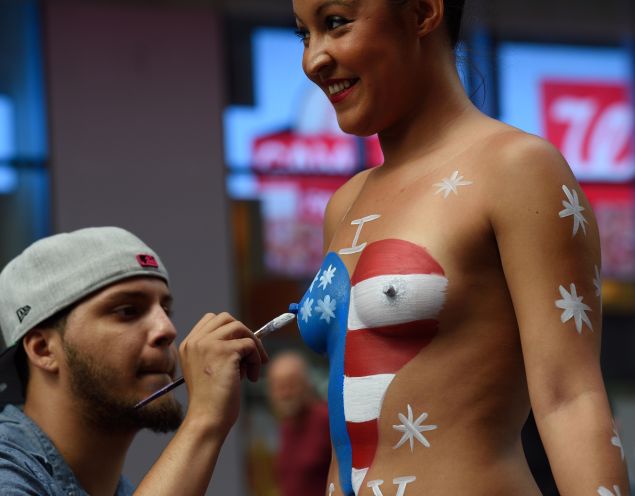 Comparing Gov. Andrew Cuomo and Mayor Bill de Blasio to "two scorpions in a bottle," Ed Cox, the chairman of the New York State Republican Party, mocked both today for "fighting over painted breasts."
"Democrat Governor Andrew Cuomo and Democrat Mayor Bill de Blasio are like two scorpions in a bottle, and it's New Yorkers, ultimately, who are getting stung," Mr. Cox said in a statement. "While New York City reverts to the pre-Giuliani era of crime and grime, and the state remains the highest taxed and least job-friendly state in America, Cuomo and de Blasio are competing to show who's tougher on bare-breasted beauties in Times Square."
Mr. de Blasio and Mr. Cuomo, often at odds, are on the same side of the issue when it comes to topless women in Times Square. Both men have criticized the women, who walked around in thongs and jockey for tips, and Mr. de Blasio has suggested tearing up the Times Square pedestrian plaza so the topless women and costumed characters can't congregate.
Mr. de Blasio, as Mr. Cox noted, created a panel to study the issue and report their findings in October. Mr. Cuomo deployed state troopers in Times Square and compelled his state development agency to pass a resolution crack down on activity there that disrupts "commercial activity."
"Is there any wonder why so many families and businesses are fleeing New York?" Mr. Cox asked. (New York City is actually adding population.)
While elected officials have been largely supportive of efforts to clamp down on the topless women, known as desnudas, Mr. de Blasio has been attacked by fellow Democrats for raising the possibility of scraping the pedestrian plaza.