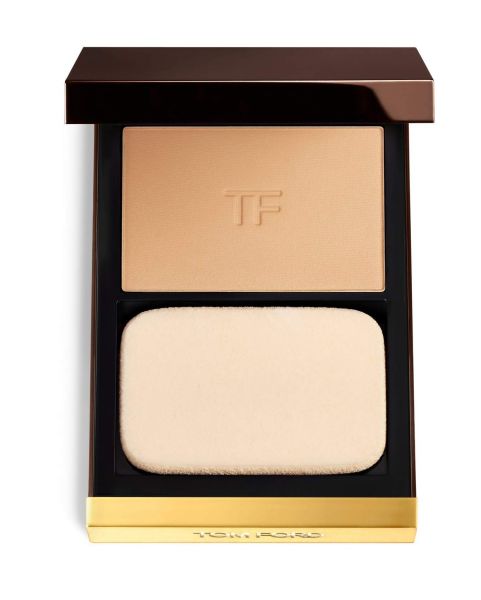 In today's narcissistic, selfie-fueled world, there's no kinder compliment than being called flawless. Perhaps we have Beyoncé to thank for that. Or at least apps like Facetune. Regardless, a visage devoid of marks, blemishes and other undesirable features is definitely on the wish list of countless beauty obsessives.
Who better to tackle the topic of near perfection than Tom Ford? Not only is the iconic designer nearly ageless (despite the fact that it was his birthday yesterday), he's also supremely talented when it comes to crafting clothing, accessories and cosmetics. My latest beauty fixation is Mr. Ford's Flawless Powder/Foundation.
I first got a sneak peek at the compact during the designer's Fall beauty preview a few weeks ago, where his latest launches were being shown for the first time. Among the ombré eyeshadow palettes, creamy coral lipsticks and unreal eyeshadow sets, this particular product really appealed to me. Call me old school, but I don't feel like I've truly completed my made-up face until I've covered it in a fine dusting of powder.
"This versatile foundation glides onto skin with a silky, light as air formula to create a flawless and natural-looking canvas for color. Designed to be worn as a buildable foundation offering light to medium coverage or as a luxurious finishing powder, it features micro-fine, light-reflecting powders for a luminous finish," reads the description of this luxurious powder, from the Tom Ford website.
In this one instance, I feel it makes sense to follow Mr. Ford's rules. After slathering on eye cream, serum, sunscreen, primer and liquid foundation (plus concealer and a swipe of blush), I swirl a large makeup brush lightly over the compact and dust it on my face. The key word here is lightly, as this Flawless stuff is no joke; a heavy hand can result in a fuzzy looking facial texture. I also recommend ditching the included sponge applicator for a brush, which will provide fuller coverage.
By no means do I think that I actually look flawless after applying this powder, but I do feel confident that my face won't be shiny, even on the hottest or most humid day of the year. I also have faith that this foundation will stay put from morning until after-work drinks. For that, I'd like to thank Mr. Ford.