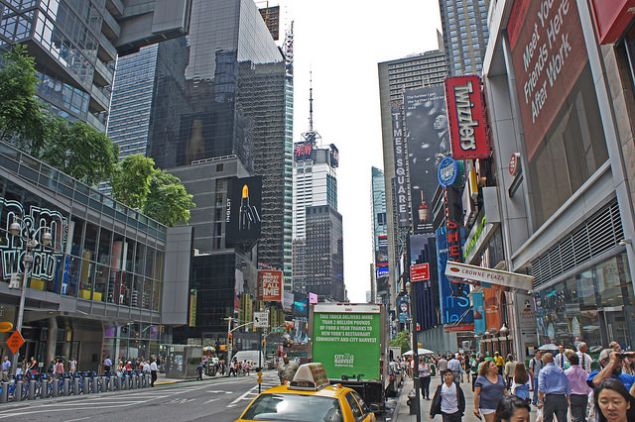 The de Blasio administration is right to focus its energies on things besides changing the zoning along the southern edge of Central Park to block skyscrapers, Crain's editorial board opines. The paper points out that Midtown is supposed to be dense, that amassing air rights does limit how tall developers can build and even says that the shadows caused by such buildings are more than welcome in the blazing heat (which, unfortunately, is far from New York's only temperature).
Though not so wise to focus its energies on ripping out pedestrian plazas—which tourists love! Gothamist reports—in order to drive away the topless women there.
Really, everyone, including CityLab, thinks getting rid of them would be a terrible idea: "Rather than coming up with modern-day strategies for managing these spaces, they seem to be considering a return to the old status quo of just making them inhospitable to human life."
A Queens woman is suing the city after it accepted a fraudulent deed transfer from a scammer who did not know the family, effectively allowing him to steal the property from her, according to the New York Post.
One57 apartments continue to sell—to no one's surprise—and a $28 million perch was the biggest sale of the week, The New York Times reports.
The much-maligned Bushwick condo known as Colony 1209, which appealed to "bohemians" who wanted to "find a group of like-minded settlers, mixing the customs of their original homeland with those of one of NYC's most historic neighborhoods to create art, community, and a new lifestyle," has rebranded as simply 1209 Dekalb, according to The Awl.
Enough with the infighting over who will pay for the MTA capital plan, says Crain's, which notes that the funding the MTA is a must, so the state should just get on with it.
Meanwhile, across the country, Benny Medina, the producer and talent manager who inspired "The Fresh Prince of Bel-Air" is trying to sell his mid-century modern Los Angeles home for $12.99 million, according to The Wall Street Journal.
And finally, a store that sells nothing will open on the Lower East Side in September, according to Gothamist.