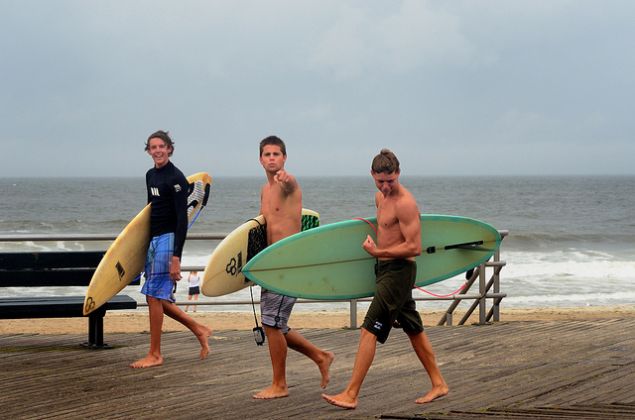 A perfect late August story: plans to expand the surfing area in the Rockaways have run up against opposition from the residents of a new condo development that fronts that strip of beach.
Westbrook Partners bought out its partner Fortress Investment Group for $200 million to take a majority stake in the St. John's Terminal, Crain's reports. The sprawling, 1.1 million square-foot development on the border of the West Village and Hudson Square has long sat empty, but its redevelopment, and likely purchase of air rights from the decaying Pier 40, now seems imminent.
The city is moving forward with a plan to build affordable housing on the site of a community garden on Elizabeth Street in Nolita despite community opposition, according to DNAInfo. Local residents have asked the city to put the 75 units on any other site in the neighborhood, like several DEP-owned lots or on top of a federal parking garage.
Meanwhile, ten community districts carry the bulk of the city's homeless shelters, DNAInfo reports. And they tend to be in lower income neighborhoods—Bronx's CB6 has the highest number, while Manhattan's CB10, which covers Central Harlem, has the second highest.
Traffic injuries are down in Times Square since 2009, when the city installed the pedestrian plazas, according to The Wall Street Journal—yet another reason Mayor de Blasio may want to reconsider his rancor against them and the topless women who congregate there.
How much did it cost to extend the 7 train one mile? $2.4 billion, more than twice as much as it cost to build the deck over the Eastern Rail yards at Hudson Yards. Crain's has a nice breakdown of facts about the rising megaproject.
Another fun fact: warehouse space in Denver has become very dear as marijuana producers gobble it up, The Wall Street Journal reports. "Marijuana producers require lots of space to grow, package and store their products. In all, growers and distributors took up a third of all the warehouse space leased in Colorado over the past 18 months."