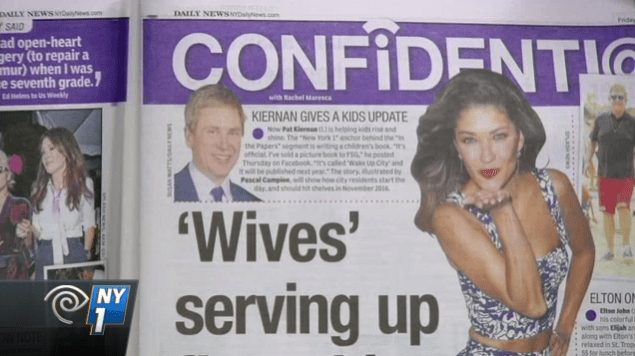 NY1 morning news anchor and reason we don't mind putting up with Time Warner cable Pat Kiernan has signed a deal for a picture book called Wake Up City "about the many ways the various inhabitants of a city wake up and start their day," Publishers Weekly reports. The book, which will come out in a little over a year, is being published by Farrar Straus and Giroux, with illustrations by artist Pascal Campion.
Mr. Kiernan is perhaps best known for his "In the Papers" segment, where he highlights important, interesting or funny stories from the day's newspapers while holding them up to the camera. So it was fitting that in today's "In the Papers,' Mr. Kiernan announced his book deal by showing viewersThe Daily News, where it was featured on the gossip page.
"I wrote a children's book about the sights and sounds of New York waking up," Mr. Kiernan said this morning. "Because of the long, long, long lead times in the publishing business, this is a fall 2016 release. But I'm excited about it."
Who better to teach children (and adults, for that matter) what happens in the early hours than someone whose alarm clark rings at 3:08 am every weekday morning?