Jacob Arabo of Jacob&Co. shares his latest jewelry projects with the Observer, including the $18 million Billionaire watch, which is the star of his annual exhibition in Monaco.
Let's start with the big guns. Why did you decide to create the Billionaire watch? I had a vision. Years ago I wanted to make the most important men's watch that's ever been made. To do that, I had to study watch-making history and then come up with a concept, a design and produce it. It's one of a kind, featuring 239 diamonds weighing 260 carats. When you buy this watch it comes with 239 certificates. We partnered with Flavio Briatore to make it.
You got your start making jewelry in 1984. When did you transition into horology? My first watch was the Angel, made for my wife Angela in 2003; she was complemented every time she wore it. We had great clientele by then, a lot of famous Hollywood types, sports figures and singers. Those were the clients asking for watches. We produced 100 to start off and they were gone in one week. That's when we knew we needed to expand this idea.
How did you get the buttoned-up watch industry to take your arrival seriously? After we made the Five Time Zone, with five time zones and a world map, I received phone calls from Italian, French, Russian, Japanese and Chinese distributors to buy watches. To me, that was a great achievement, because we were an American company, making watches in Switzerland without a Swiss office. I now have a Geneva office with 10 staff members including engineers, graphic designers and a sales team.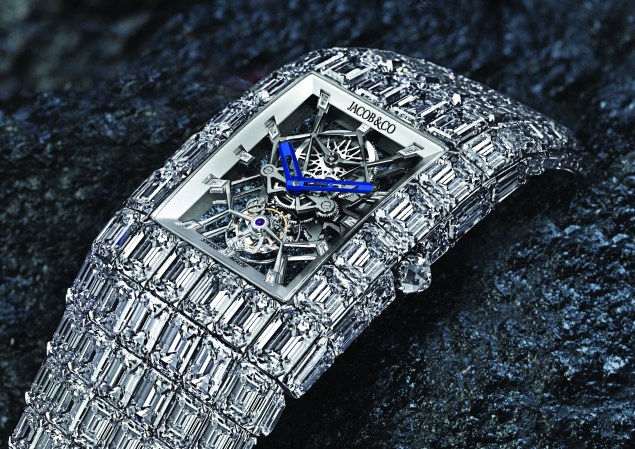 What distinguishes your watches from others on the market? The industry knows me not just for high-end mechanical watches, but for my gemset timepieces, too. I am well known for using many different kinds of stones—invisibly set diamonds or rubies and sapphires, or pink sapphires—and then I put very fine movement in those watches. Some of my watches have 300 parts, others have close to 500 parts. The Epic SF24 has 473 parts!
What do you think about smart watches? They're things of convenience. Will they affect the watch industry? Maybe on the lower end. I wish Apple would make a deal with me. That same watch would be beautifully done if I could design it for them.
This is the fourth summer you'll be returning to Monte Carlo for your annual summer exhibition. What extravagant pieces will be on show? For one, the diamond dress that we debuted at Basel this year will be there. It's from the Rare Touch collection and my jeweler in Switzerland designed it. This dress took over 1,000 hours to create, using 1,000 grams of gold and over 100 carats of diamonds. It's basically a piece of cloth made from gold mesh. I'm also showing a new watch, called Emerald Caviar. It's worth $2.2 million.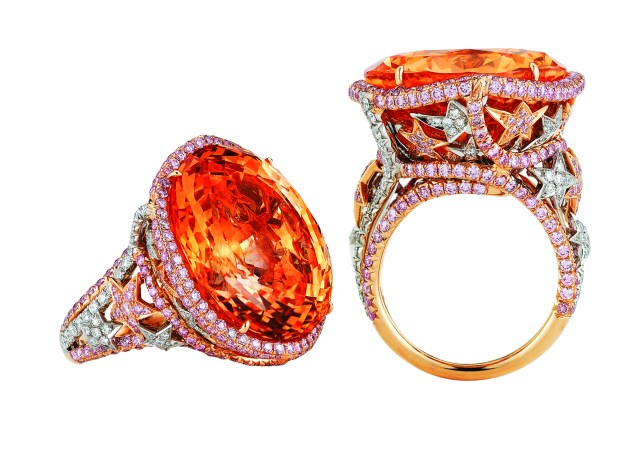 Why is Monaco the proper setting for this show? Most of my clients are there or nearby. We work in the evenings only, in the Hôtel Hermitage. The rest of the day I spend with friends, playing tennis or going for lunch. My celebrity clients will stop by as well, including Rhianna, Cristiano Ronaldo, Juliette Binoche and Diane Kruger.
Who were some of the first celebs to support your brand? Jay Z, both of the Dolce & Gabbana designers, Elton John and David Beckham. Diddy was one of the biggest promoters of the brand; he had a lot to do with my success. Then I started being [mentioned] in rap songs, from people that never even met me. I've been named in over 68 different songs now.
Do you listen to hip-hop? Some of it, depending on my mood. I listen to all different kinds of music. If you look at my iPod I have all kinds, from rap to Lana Del Rey.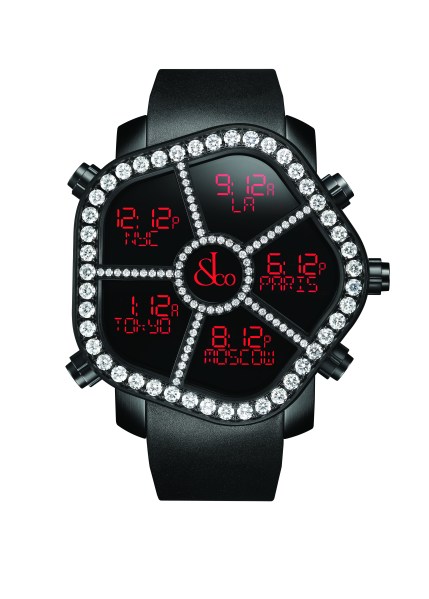 Pharrell has been a big supporter, too, even mentioning you in his recent CFDA speech. How long have you known him? Since he was 18 years old. He came to buy a piece of jewelry from me that cost $1,200 and he chiseled me down to $900. I always believed in Pharrell and I knew he was going to grow in the music industry, so I introduced him to the Japanese designer, Nigo. Then [they] became partners and that opened up many doors for Pharrell. Then he totally took off.