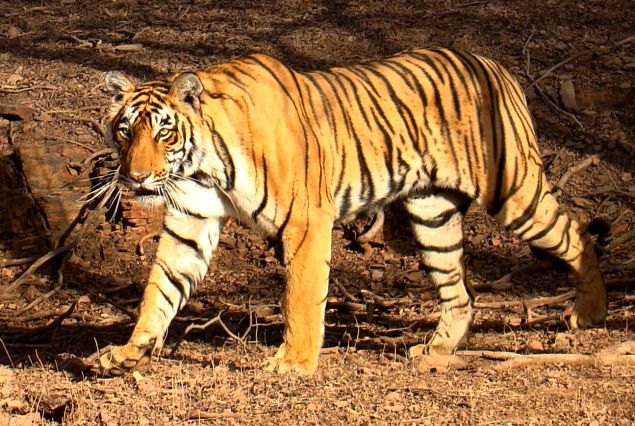 A tiger got loose in Detroit, the result of an arty photo shoot gone wrong, the Detroit Free Press reported.
British wildlife photographer David Yarrow was in the midst of a shoot at Motor City's abandoned Packard Automotive Plant, to which he brought two wolves, a bobcat and a tiger–because why not?–when authorities noticed photographs of the wild animals on social media. Unfortunately, before they could shut things down, the tiger got loose and holed up in a fourth floor staircase, the paper said.
However, the denizens of Detroit mobilized to help out to corral the big cat.
"I got a call from a friend who asked me to help them get this tiger out of a staircase," Andy Didorosi, 28, told the Free Press. "He asked me if I had a leafblower, and I said I had a weedwhacker, so he told me to bring that."
Mr. Didorosi then proceeded to give a rather unorthodox tiger capture strategy a shot.
"I don't know much about tiger logistics, but we were told to be this huge blue tarp monster with the weedwhacker and try to be scary and make loud noises. That just made him angry."
No word on how he was eventually captured.
The Packard Plant administrators were not notified that wild animals were involved in the shoot and were not happy once they found out about their presence.
"We do not condone animals being on the site here, and the shoot was canceled," said Packard project manager Kari Smith. "This is nothing we signed on for."
Detroit, for all its woes, isn't the wild west, after all, and visitors should be more respectful, said Mr. Diderosi.
"People think it's OK to bring super dangerous animals into the city without alerting the authorities because they think people don't care, because they think it's a cesspool and that they can do whatever [they] want," he said. "That is not cool."