On the last day of July, the playground on W. 89th Street had settled into a becalmed state by half past six, the crowds of midday having trooped home to dinner. A children's birthday party, lulled into near silence by the distribution of cake, sat eating on the concrete steps of a stone amphitheater. A series of small fountains plashed beneath them, dampening the stairs that led down to the base of the shallow bowl, crossed at regular intervals by a boy on a scooter, tracing and re-tracing an oblong path of his own devising.
That the idyll happened to have the honey-hued tinge of a memory felt altogether fitting, as a major renovation was slated to begin any day. But the scene's seeming serenity was considerably misleading.
Even by the brutal standards of New York City parenting spats, the pending renovation of Playground 89, as it is known, has inspired exceptional rancor—one year of fighting alone was over a single concrete step.
The dispute is bigger than that, of course—it's about whether any concrete step in a place where children play, to say nothing of the gently sloping Belgian blocks that form the amphitheater's other berm, is a hazard. It is about whether our decades-long debate about playground safety has, at this point, become in an exercise in absurdity.
The three-year battle has pitted parents who believe the playground, designed in the 1960s by landscape architect M. Paul Friedberg, should be regraded and the Belgian block replaced with pavers to create a flatter surface free of tripping hazards, against those who believe it a remnant of adventure play and architectural gem well worth preserving.
"It's just too steep. We wanted to change it so it wasn't such a hazardous place to run. You have six, seven year old kids who are not completely steady on their feet," former PTA president and pro-renovation leader Christine DiPasquale told the Observer. "Parents should have some ease of mind that their children are playing in a relatively safe environment."
That most of the adventure elements besides the amphitheater have already been removed after being deemed too unsafe during a 1999 renovation has, almost from the outset, been beside the point. Such is the character of this particular debate that not even 30 years of safety improvements, of rubberized ground cover, squat slides, low-slung monkey bars, banned merry go-rounds, widespread parental vigilance and near-universal adherence to national safety standards, has diminished its vigor or its venom.
If anything, the fact that we are approaching the vanishing point of potential safety improvements seems to have set off a frenzy, a sort of last stand in which the objects of contention have become not only playground's basic pieces of play equipment—swings have been banned in Spokane, Wash.—but their most rudimentary infrastructure: trees, sand, cobblestones, fences and, of course, steps.
It's unsurprising that New York, the epicenter of competitive parenting, would be a prime turf for warring parenting philosophies. But if we've been exceptionally bellicose, we've also been exceptionally constructive: perhaps more than any other city in the country, New York has made an enormous effort to head off showdowns over stumps and stairs by creating innovative playgrounds that are both challenging as well as safety- and ADA-compliant.
If there is a way to solve the dilemma of American playground design, New York's attempts are likely to either point the way forward, or demonstrate just how impossible a task it is.
***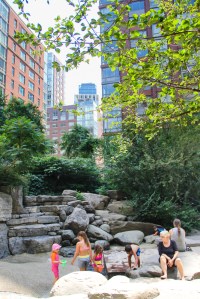 Heckscher Playground, both the largest and the oldest playground in Central Park, sits close to the park's Southern boundary, on the site of a playing field that was designated for children's use shortly after the park opened, a move not so much progressive as preservationist. "Kids were damaging the landscape," explained Marie Warsh, Central Park Conservancy's director of preservation planning. "They thought, 'we have to contain the children.' "
Kids proving more boisterous than anticipated would quickly become a theme. When the first municipal playground proper opened a few decades later in the Lower East Side's Seward Park, twenty thousand children with no patience for pomp swarmed the officials and the hundreds of police officers on hand for the opening ceremony, and leapt over the playground's iron fence.
The first playgrounds grew out of a desire to protect children from the dangers of the street—not only from the threat of carriages and cars, construction sites and empty lots, but from "malign influences," i.e. drinking and gambling with adults, according to Ms. Warsh. Playgrounds have always been intended to keep children safe—it's not so much our definition of playgrounds that has changed, but our definition of safety.
This happened, most dramatically, in the late 1970s—part of a cultural sea change that altered not just playgrounds, but, to a large degree, the experience of American childhood itself. An Atlantic article traced the campaign for playground safety to a lawsuit filed by the parents of a toddler named Frank Nelson, who in 1978 fell through a gap at the top of a 12-foot slide in a Chicago playground, landing on his head on the asphalt. He suffered permanent brain damage, speech and vision problems, and partial paralysis, helping to set off a public safety crusade.
In 1981, the U.S. Consumer Product Safety Commission published its first set of guidelines for playground safety, which so increased the risk of litigation for any non-compliant playground that they became de-facto requirements. Fear of litigation also signaled the end of almost all non-mass produced play equipment, for which the manufacturer assumed liability. It also had a tendency to make playgrounds much duller.
"Creativity has been stultified by concerns for safety; I think the nature of society has become much more overprotective of children," said Mr. Friedberg, the designer of Playground 89, who recalled children bringing corrugated cardboard to slide down the cobblestone slope in the old days. "Why do kids want to slide? The same reason that we want to ski and skydive—to release ourselves!" he exclaimed.
Not that many of the changes weren't for the good—design flaws like the gap that left Frank Nelson brain damaged weren't enhancing child's play experience.
"When you talk to parents they never say, 'we want it to be less safe," said landscape architect Christopher Nolan, who has headed up Central Park's playground renovations for the past 25 years. He compared designing a playground in compliance with safety standards to designing a building to meet fire code—a given, not an impediment to good design.
Mr. Nolan is currently working on the renovation of the adventure-style playground at W. 72nd that will restore, in a modified version, many of the elements that had been stripped away in the past due to safety concerns, among them tunnels that feed into a chimney-like climbing device, which were closed off shortly after the playground opened in the 1970s.
"The thing that people forget is that adventure-style playgrounds had issues right out of the box," he said. "Some of the features had to be taken out within a matter of months."
No variety of city playground is more romanticized than the adventure-style spaces, which were inspired by the postwar adventure playgrounds of Europe, where children manipulated moveable parts and built makeshift structures with hammers and nails. In the 1960s and 70s, landscape architects like Mr. Friedberg and Richard Dattner sought to create the same "free and permissive atmosphere" of creative play and risk in New York with climbing pyramids, crawl spaces, tree houses, tires and ropes.
And they still inspire intense devotion, demonstrating the possibilities of creative play and representing not only a bygone era of childhood, but in many ways, a bygone era of New York—a city that was simultaneously freer, scarier and more fun than the one we live in now.
***
"In the last 20 years or so we've seen an explosion in innovative, creative playgrounds," said Liam Kavanagh, the deputy commissioner of the Parks & Recreation. "Not only are we trying to provide a range of experiences for kids, with water and sand, we're also integrating nature. It's not the same asphalt playgrounds I grew up with."
We were sitting, along with deputy director of design Nancy Prince, in Park Slope's Washington Park, which was teeming with children of all ages as noon approached. The kids were largely segregated, per safety codes, into their own age-appropriate areas, but the man-made stream running through the middle of the playground drew a broad cross-section.
Ms. Prince pointed out the many improvements that can be found in the city's newer playgrounds—more interactive water features, abundant plantings and shoulder-height mesh fencing that is gradually replacing the 7-foot tall iron fences installed in the 1970s. (Indeed, when extolling the virtues of previous era's playgrounds, it can be easy to lose sight of the fact that few were exceptional and most merely mediocre variations on the four-S kits favored by Robert Moses—swings, slide, see saw, and sandbox.)
Wherever possible, the parks department has also sought out opportunities to work with architects to make more interesting, challenging playgrounds that belie the stereotype of bubble-wrapped tot lots. New climbing equipment for older kids often moves on cables or chains, making it more difficult to clamber over. Teardrop Park in Lower Manhattan opened several years ago with a steep, 14-foot high slide made of metal (which is built into a rock embankment so kids can't pitch themselves off the side).
New York kids can also now participate in a modern manifestation of the free play encouraged by adventure playgrounds (albeit, a far cleaner and safer version) at the David Rockwell-designed Imagination Playground, which opened at South Street Seaport in 2010. Children can build structures with abstract blue foam pieces there (and practice sharing, or not, as was the case on the afternoon I visited), manipulate sand and water, or make noises into a Seussian-contraption of sound funnels and speakers. Another Imagination Playground is slated to open at Betsy Head Park in Brownsville this December.
And at times, the Parks Department has pushed the envelope—the reintroduction of sand, for example, which had been eliminated during budget cuts in the 70s and 80s, was highly controversial.
Adrian Benepe, the former NYC parks commissioner and now a sr. vice president at the Trust for Public Land, said that he often had to go against Community Boards' wishes to reinstall sand boxes, "the one place for doing creative play that's not repetitively climbing up stairs and going down slides."
Meanwhile, in Prospect Park Christian Zimmerman, who heads up landscape and capital maintenance for the Prospect Park Alliance saw an opportunity in the aftermath of Hurricane Sandy to create a non-traditional play space using downed trees, pieces of wood, water and sand, which has attracted national interest.
It's notable, however, that Prospect Park is careful to refer to the space as an "exploration area." "If we tried to make it a real playground, I think we'd have a difficult time with the standards," Mr. Zimmerman said, "There's nothing you can really climb on where you could hurt yourself, but we'd need the safety surface."
Which cuts, in many ways, to the heart of the dilemma: while we accept that children will be exposed to a degree of danger while doing any number of other activities, like playing baseball or riding in a car, playgrounds have increasingly been held to an impossible standard, in part because of the mistaken belief that all, and not just some, of the danger can be designed away.
What started out as an campaign to reduce the number of unnecessary injuries quickly morphed into one to stop all injuries, the idea being that even one injury was too many and any risk a bad one.
"In every other arena, if there are one or two accidents, you say, 'what do you lose, what do you gain?' but not with children," Mr. Friedberg said. "We've lost perspective when it comes to kids."
In our crusade for safety over the last 35 years, we've systematically erased the distinction between hazard and risk—essentially, the difference between a gap in a platform that an unsuspecting child might fall through and scary activities that children seek out, like swinging high or climbing to the top of the monkey bars.
"When I was growing up breaking an arm or a leg just happened, it was just part of the ritual of childhood," Mr. Benepe said. "There's an idea that you should never skin a knee in a playground."
And because, as a society, we're unwilling to talk about what an acceptable injury, and an acceptable injury rate, would be, it's nearly impossible to introduce more thrilling equipment. To wit, a spinning disc that debuted in city parks several years back was promptly pulled after a several children were hurt.
"They were enormously popular; kids loved them, but they'd jump off and injure their ankles," said Mr. Kavanagh, explaining that the department made a decision to remove the devices, which met all the safety requirements, because of "the number and severity of injuries," which were significantly greater than those seen on other equipment.
There's no doubt that many of the playgrounds being built today are far more mentally stimulating and creatively engaging than the standard-issue playgrounds of the past. Where New York has struggled, however, is in creating playgrounds that are equally stimulating in a physical sense, which research suggests is equally, if not more, important.
"We've been very creative, we've come up some of the best-thinking in playgrounds and we're good at it," said Tupper Thomas, the director of advocacy group New Yorkers for Parks and the former head of the Prospect Park Alliance. "But whether they challenge kids in the best way possible is hard to measure."
Ellen Sandseter, a psychology professor at Queen Maud University in Norway, identified six categories of risky play that children routinely seek out: climbing heights, handling dangerous tools, being near dangerous elements, rough-and-tumble play, experiencing high speed and wandering away from adult supervision, all of which are difficult for children in Western countries to get, she said, and which research has shown to have an anti-phobic effect, quelling anxiety later in life and helping to build self-confidence, coordination and problem-solving skills.
"It's very important that children are able to meet challenges and risks and master them. It strengthens both self-worth and the belief that you are able to handle the world," she said, adding that contrary to what people may think, kids are very savvy about the risks they take, and they do so progressively, working up to the most difficult task over months or even years.
As one playground designer told us: "Kids are very daring, but they're not idiots."
***
"You suspend rationality when people say something is a threat to your child," said Laurie Frey, a leader of Friends of Playground 89, the group opposed to the renovation, explaining why she had initially advocated for the project after her daughter was knocked down by a football and hit her head on the cobblestones. "Even though I knew it was because of the ballgame, I thought, 'well, maybe we shouldn't have cobbles in the playground. I didn't think about it logically."
"They said, 'we're a doing a safety renovation.' Who wouldn't believe in a safety renovation?" she asked.
Yet she'd had three older children come through the public school that uses it for recess every day and couldn't recall any serious injuries. Through FOIL and research, the opposition group says it discovered only one serious injury—a broken arm—that happened in the amphitheater, and no lawsuits, just a notice of claim (the precursor to a lawsuit) filed by the parents of a girl who'd fallen off the slide, though the renovation plan didn't involve any alterations to the play module where the slide was.
"The lies that were told to parents about the safety of children—they created an environment of fear that is fascinating and repellant to me at the same time," Ms. Frey said.
The narrative of dangerous playgrounds remains a compelling one. When the comptroller's office put out a study this spring about personal injury claims involving playgrounds being up 53 percent over the past decade, which had cost the city $20 million, a local news station ran a story "exposing the hidden danger of NYC playgrounds."
But the comptroller's statistics were offered with little context—namely, whether or not the number of claims was a reasonable expectation for a city with more than 1,000 playgrounds—or qualifiers, like the increase in playground and parks usage during that time.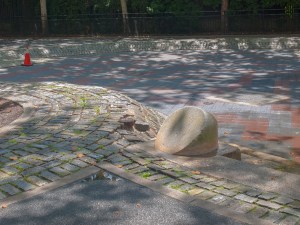 One of the report's most interesting findings, meanwhile, was that the highest percentage of lawsuits came not from equipment, but trips and falls on faulty ground cover—i.e. deteriorating safety surfacing.
And unlike dirt and grass, safety surfacing can also become very hot in the sun, leading to burns if children are barefoot. (Incidentally, trees that might provide the shade to prevent burns on the matting or metal are, in most cases, located at least six feet away from play equipment to minimize "conflict of use"—i.e., collisions.)
Which suggests that we may be approaching an endpoint in our quest to improve playground safety. In fact, we may have reached it some time ago—in 1980, there was one emergency room visit related to playground equipment per 1,452 Americans and in 2012, it was one per 1,156 Americans, according to the National Electronic Injury Surveillance System. Which may explain why it's so easy to whip the public into hysteria over playground safety: kids are still getting hurt on the playground. And they probably always will.
Some of our attempts to enhance safety may even be working at cross-purposes. David Ball, a professor of risk management at Middlesex University in London, discovered that safety surfaces had actually led to an increase in arm and leg fractures on British and Australian playgrounds. "It seems counter-intuitive, but those safety surfaces were meant to reduce the risk of head injuries, not arm and leg injuries—people make the mistake of thinking they are safer than they are."
"I work on all kinds of risky things—nuclear risk to falling trees and environmental pollution—I think you can see the whole of life in the debates over playgrounds, the different philosophies and ways of life," he added.
But while those philosophies may be as irreconcilable in the U.K. as they are here—and result in just as many lawsuits—the country has, of late, found a way toward productive debate. In recent years, pushed to action by an increasingly persuasive body of research about the need for play, the government has made a concerted effort to build and support playgrounds that incorporate elements of risk, including some that allow children to build fires and play without parental supervision. It's a shift that, in no small part, has come about through a willingness to actually have a conversation about what has been lost, as well as gained, in the pursuit of safety.
It's a conversation that looks to be a long time coming here, if it ever comes at all. And yet, there seems to be a disconnect between what we want and what we say we want, which, if we could only admit it, might point the path to some kind of solution.
In every playground I visited, parents looked on while their children used playground equipment in ways that it had not been designed for. Unable to find big kid swings—one the most beloved and requested pieces of playground equipment, but one that's difficult to install because of collision-prevention requirements that mandate fencing and big front, back and side clearances—moms pushed their daughters standing on the seats of baby swings. Others watched as their kids ran up slides. One dad told me he thought it was great that his daughter had started a trend of climbing to the top of a pair of tall metal poles in Brooklyn Bridge Park that were intended as tire-swing mounts.
"She loves it, it never ceases to make her happy. She's like king of the world when she's up there," he said. "It's pretty high, maybe 9 or 10 feet, but I never feel like she's in danger. I think all children want to push the boundaries of what is okay and what is not okay. She's testing her own courage; it's an assertion of her independence."
In watching their children climb poles and run up slides, parents are witnessing their kids demanding more challenging play spaces, whether they realize it or not.
"Children have strategies to increase the risk if they find a playground too boring," Ms. Sandseter said. 'They go down the slide on their stomachs or several at a time, they climb on the roof of the playhouse instead of playing in it. For older kids, they will go to other places—building construction sites, railroads—places we don't want them to go and play secretly. So we might be wise allowing them to get good thrills and excitement on the playgrounds, because playgrounds we can check and control."
***
In the end, the friends and foes of Playground 89 and the Parks Department agreed to a compromise that will pour six inches of asphalt over the floor and bottom step and replace the cobblestones with pavers and concrete seat walls and—a resolution that it's hard to imagine will make a great deal of difference either way.
On the evening that I visited, the few older kids on the playground were ignoring the amphitheater altogether, turning their attentions to the play module, where five or six boys had slipped over the elevated walkway's fencing, scooted up a pole and hoisted themselves onto the sunshade overhead, 12, maybe 13 feet in the air. A younger boy stood below, shouting at them through a Con Edison traffic cone that he'd repurposed into a megaphone. Whether it was something the boy said, or more likely, by some other kind of mutual agreement, one after another, the boys on the roof swung themselves back down onto the elevated walkway, where the younger boy rushed to meet them, running down the walkway and jumping from the top of the twisty slide in a show of daring. Back on the ground, he hesitated a moment, watching as they began another roof ascent, before resuming his position with the cone.