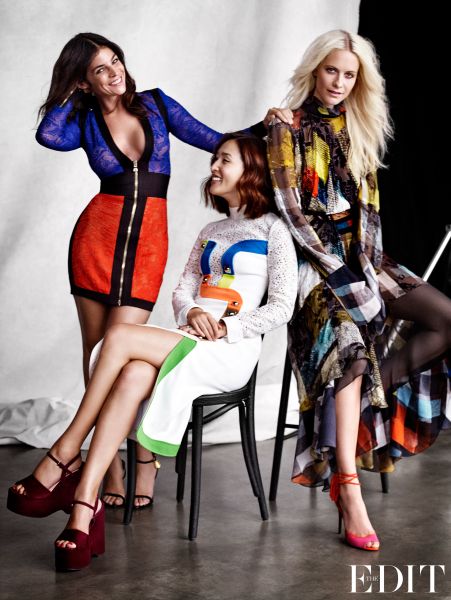 Don't we all have that go-to piece of clothing (or entire outfit) that is an unabashed favorite? It's usually a pair of ultra-faded jeans from forever ago. Or maybe it's that party dress that is a total conversation starter, but is still totally flattering. Net-A-Porter's The Edit went to work finding out the beloved outfits of their Style Council.
This chosen ones in the Style Council, which includes Poppy Delevingne, Julia Restoin Roitfeld, Nicole Warne, Chloe Norgaard and Laura Bailey, are faces of The Net Set, a social network of sorts. The app, which launched in May and was originally available by invite only, is now available to the public. It's a fully shoppable space, directly from Net-A-Porter, where one can snap a photo of an inspiring pattern or hue and find a current item for purchase that closely matches that color scheme. Basically, it's a tremendous shopping enabler.
The Net Set is also where the Style Council shares their latest purchases and obsessions, allowing fans to get in on the fun. Not only did this gaggle of stylish girls cover the latest issue of the digital magazine, The Edit, but they were also shot by Victor Demarchelier and interviewed within the mag's pages. And without further ado, here are their absolute, all-time favorite outfits.
Poppy Delevingne: "My Emilio Pucci wedding dress: it was very hippie, covered in flowers. I wander around in it barefoot at home."
Julia Restoin Roitfeld: "A dress that Mark Fast designed for me. It was navy with cut-outs–I felt like a modern mermaid."
Nicole Warne: "A Dion Lee two-piece; a pair of high-waisted black pants and a floor-length pleated top with a split front. I wore it to a Marc Jacobs show and it reflected exactly how I wanted my style to be at that time. The shape was so flattering and unique."
Chloe Norgaard: "I went to a Versace party in NYC and got to pick out a tie-dye dress with gold chains. I wore it with pink hair."
Laura Bailey: "When I moved to NYC aged 22 I bought a Helmut Lang skinny black pantsuit. I wore it with blouses, tanks, heels, sneakers… I still wear it! "
To see The EDIT's full interview with Poppy Delevingne, Laura Bailey, Chloe Norgaard, Julia Restoin Roitfeld and Nicole Warne go to www.net-a-porter.com or download the free EDIT app at the App Store.