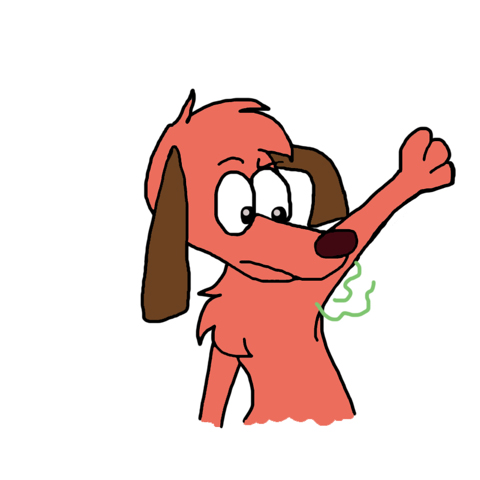 Beth Rosenberg's son Jack was always interested in technology, but as a student with special needs he struggled to learn in mainstream programs.
"Given the amount of support that he needed, he couldn't go to typical programs for typical kids," Ms. Rosenberg told the Observer.
Seeing an opportunity, the Rosenbergs founded Tech Kids Unlimited (TKU), a technology-based educational organization for children with special needs, in Brooklyn in 2009. TKU became eligible for nonprofit status in 2014.
Ms. Rosenberg, a professor of media law at NYU, heard through the grapevine that the school was co-sponsoring the Connect Ability challenge with AT&T. The competition was focused on finding technological solutions to the problems that people with disabilities face every day. Ms. Rosenberg was interested, but didn't yet see how her son or TKU would benefit.
At a hackathon this past April, Ms. Rosenberg met Seth Truman, a 13-year-old boy with Asperger's syndrome. He expressed his frustration that adults were always nagging him about social cues, and brought up the idea of an app that helped kids with special needs to remember their activities of daily living.
Ms. Rosenberg and Mr. Truman decided to work together, and last week LOLA (Laugh Out Loud Aid), the app that resulted from their partnership, won two prizes in the Connect Ability competition. The app was voted Best Social/Emotional Solution, and it also won the Popular Choice Award—the trophies also netted over $12,000 in prize money.
"This is an incredible honor for a small, grassroots nonprofit," Ms. Rosenberg said.
Other apps released in the past year have helped special needs children with clothing and communication, but LOLA focuses specifically on activities of daily living.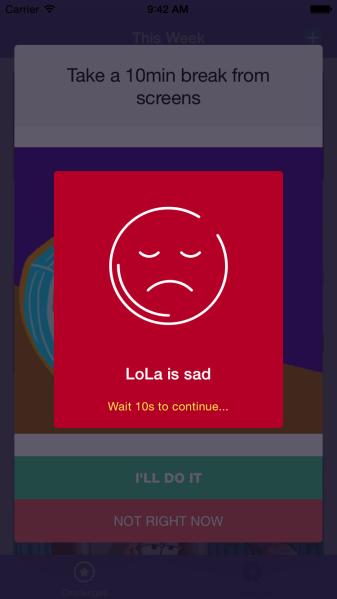 LOLA uses humorous gifs to assist children with special needs with daily challenges. The user sets a certain number of challenges per week, and receives a push notification at a specified time—if the child completes the task they receive a virtual gold star, and if they don't they see a gif of a crying face with the phrase "LOLA is sad."
Kids in TKU's program picked out the gifs based on well-known cartoon characters from shows like Hey Arnold! and Spongebob Squarepants—Ms. Rosenberg said copyrights were not an issue, since the images were used for educational purposes and thus protected under fair use.
The team behind LOLA decided to make humor the backbone of the app because it is essential to the lives of children with special needs.
"Humor is the best medicine," Ms. Rosenberg said. "If you don't laugh, you'll cry. Humor is a very important thing in our program—we're always kidding around."
A more comical approach was necessary for activities of daily living in particular, because even though actions like brushing one's teeth are second nature to most people, special needs children struggle in these areas.
"Daily living skills are most important," Ms. Rosenberg said. "The kids perseverate and think about so many things, but they're not thinking about using a napkin after eating pizza."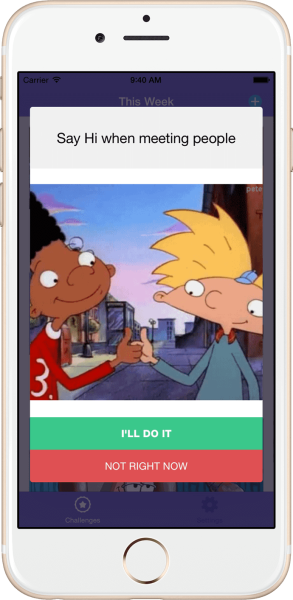 The current version of LOLA, which will be available for download by early fall, lists eight common daily tasks such as "put on deodorant," and uses a 1:1 user interface.
The team hopes to use the money from the Connect Ability challenge to fund future versions of the app. Ms. Rosenberg would ideally like each account to be shared by up to three people, including parents, teachers and kids. She also wants to add tangible rewards to LOLA—for example, after a child has successfully completed seven days of behavior challenges, their parents can buy them an iTunes gift card as a reward.
Ms. Rosenberg concluded by saying that LOLA, in both current and future iterations, strives to fill a need, so that children like her son are not discouraged from using technology in their daily lives.
"The special needs world has been left out of the technology realm," Ms. Rosenberg said. "These kids have computers in their brains. They're so smart, and they just need to be taught in a different way."