The crux of the game of golf is this: hitting a tiny white ball with a not especially large club head while it sits in a somewhat awkward position, relative to the players' eyes. Every sport is a game of focus but golf is nearly entirely so. Golfers of vastly greater brawn can't hit a golf ball nearly so far as the modest sized men and women of the world's golf tours. They've got a mental edge.
That's why one coach to elite golfers is pushing his athletes to pursue meditation. The practice of mindfulness, however, often doesn't sit well with athletic types. One product he has found helps, though: The Muse by Toronto-based Interaxon.
Edoardo Molinari, a two-time European tour winner; D.A. Points, a two-time PGA tour winner and Marina Alex, a 2013 LPGA rookie now playing on the women's tour all use the wearable meditation device from time to time, according to Paul Dewland, a coach who has worked with them all at different times in their careers.  
"The biggest thing in golf is trying to stay in the present moment," Nick Taylor, a PGA tour winner, said during an interview on Muse's YouTube channel.
Mr. Dewland is the Director of Mental Performance at Core Golf Academy, who also coaches professional golfers. "I've been a big proponent of meditation for a lot of reasons, and in golf in particular, for a long time," Mr. Dewland said. "Getting athletes to meditate, not to overstate it, is really really difficult."
That said, he added, Tiger Woods grew up meditating and practiced it regularly during the years he dominated the game.
He told the Observer that the auditory biofeedback provided by the Muse headset has helped to sell both professional and aspiring golfers he works with on mindful practice, which helps keep their focus where they need it to be on the green: right now.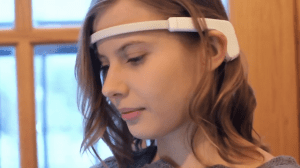 The Muse is a headband for meditation that analyzes your brainwaves. It learns how to tell when your mind is in a calm state based on its readings. As you use it, you hear sounds from the beach. When you are very calm, it's all soft, gentle sounds. If your mind wanders, the waves get louder and the wind starts to blow. It reminds the users, in a non-jarring way, that they should try to come back to mindful practice, like focusing on their breath.
Meanwhile, the Muse is feeding data about the performance of your meditation to your smartphone, so that when you're done you can get a sort of score of how well you did. "There's a graph in the app that tells us what percentage of time were you in what you call 'calm,'" Mr. Dewland explained. Coaches can also have access, seeing how much time people are spending using it, when and how effective it has been for them.
Mr. Dewland said that he's worked with many golfers who come to him in a funk. Sometimes, they are focused on some bad tournaments they've played. He's also worked with golfers who are too focused on a good tournament, as well. Success and failure can both get to a golfer, making him or her think too much about how the tournament might end, who's ahead of them, who's closing in and not enough about what they should be thinking about: this shot, right now.
When a player comes to him in a bad place, Mr. Dewland said he always finds that they are focusing on their problem, "One of the things I always try to work with them on is getting their attention under control."
The mind is the golfer's chief asset and obstacle. "When things aren't going the way they should, our attention is in our mind. We're talking to ourselves, we've making pictures, we're having discussions about the future." Mr. Dewland explained. Meditation helps in, "Extracting our attention from those B.S. stories and putting it onto that ball, right now and your shot."
When he's not working with professional golfers, Mr. Dewland works at the Core Golf Academy, a place for aspiring golfers to come and get their game up to the level that could earn them a college scholarship or a spot on a professional tour. He thinks at least a third of the young people he works with need mindfulness practice.
He told the story of one young man, in particular, who would get so frustrated by his play that he would lose his cool, acting out on the course and making his own game worse.
When Mr. Dewland introduced him to one of the Muse units he kept at the Academy, he started checking it out all the time. He really took to the biofeedback and the progress report. Mindfulness transformed his performance on the green, Mr. Dewland said, both improving his game and turning him from a player that was once embarrassing to play with to a model of professionalism.