ASBURY PARK – The doors to Asbury Park Convention Hall burst open at a little after 5:30 p.m. and a few hundred public sector labor members and their allies volubly stampeded the indoor entrance area to Gov. Chris Christie's presidential fundraiser.
"Hey hey, ho ho, Chris Christie has got to go," yelled the red T-shirted crowd of Communications Workers of America (CWA) and New Jersey Education Association (NJEA) allies as they tramped through the hall.
The labor ground troops here also had air support.
"Gov Christie you never came down to Ortley Beach to see how people's homes were destroyed," a man yelled into a megaphone.
"While Governor Christie spends his time courting primary voters from New Hampshire to Iowa, working families in New Jersey continue to struggle to make ends meet," said Analilia Mejia, Executive Director of New Jersey Working Families. "Governor Christie's staunch opposition to providing New Jersey workers with paid sick leave is one of the many reasons why 55 percent of New Jersey voters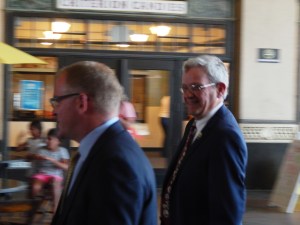 disapprove of his job performance. 83 percent of New Jersey voters support paid sick leave. I'm sure Governor Christie wishes his approval ratings were that high."
"Individuals who work hard and play by the rules should be able to earn a living and care for their families," said Phyllis Salowe-Kay, executive director of New Jersey Citizen Action. "By opposing paid sick leave, Governor Christie is continuing to force people in New Jersey to choose between working while they are sick – and possibly infecting others – and paying their bills."
There was some protester-fundraiser heel-to-toe action as the likes of former Assemblyman Dick Kamin, a Christie backer pictured at right, hot stepped it into the big, high-ceilinged room on his way into the event amid sign-shaking and bullhorn-powered labor backers.