Public Advocate Letitia James filed a lawsuit against the Department of Education today over what she described as a consistent lack of air conditioning on buses that transport disabled children to and from school, as is required by law and the contracts that the DOE maintains with its private bus operators.
At a press conference in front of the Tweed Courthouse Wednesday afternoon, Ms. James claimed that temperatures in District 75 (which serves children with autism or severe disabilities) school buses have been recorded reaching 91 degrees by backpack thermometers that her office distributed to special needs children, who often attend school through the summer months and have bus rides that can easily exceed an hour. The problem is exacerbated, parents say, by the fact that special needs children are prohibited from drinking water on bus rides, which is deemed a choking hazard, or from opening windows.
"The law is clear that there must be air conditioning when the outside temperature is more than 70 degrees," Ms. James said, going on to cite cases in which non-verbal children had mutilated themselves on overly hot buses. "The DOE is not only violating the law, they're violating our moral conscience."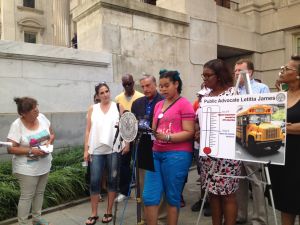 The DOE claims that of the 2,800 special education bus routes, more than 2,400, or 86 percent, have air conditioning and that air conditioning will be included in all future contracts. Private contractors transport some 27,000 special needs children to school programs 12 months of the year.
"Our standard is that every child whose IEP requires air conditioning must receive it and if ever a child, parent or teacher brings a problem to our attention, we will work to immediately correct it," DOE spokesperson Harry Hartfield wrote in a statement.
Ms. James called the DOE's response "blatantly false" and said that her office filed the complaint in state Supreme Court with two District 75 children, because the problem, which she first brought to their attention last summer after receiving numerous complaints, had not, despite DOE assurances, been fixed by this summer.
"I can't tell you how many special needs parents have contacted me about this," said Assemblyman David Weprin, who joined Ms. James at the event, which also featured an un-air conditioned bus to demonstrate how uncomfortable the vehicles can become. "Especially the parents of autistic children who cannot express their feelings when it gets too hot—one children hits his head on the bus."
Catherine Simone, a mother of a 10-year-old autistic boy who is one of the petitioners, said that her son's bus has lacked air conditioning all this summer, in violation of not only his IEP (individualized education program) and doctor's recommendation, but the law regarding all disabled students.
"When he got off the bus the other day, his shirt was drenched, his face was red and he was having trouble breathing," Ms. Simone said, adding that the water bottles she puts in his backpack are confiscated when he takes them out on the bus.
The lawsuit seeks to make the DOE monitor its contracts with vendors to ensure that they provide air conditioning on buses for children with disabilities and enforce fines when they don't; Ms. James said to date she has never been aware of the DOE fining a bus operator for failing to provide air conditioning.