Rag & Bone co-founder Nathan Bogle has found a buyer for his Lower East Side apartment
The British-born former model bought the condo for just $610,000 in 2002, two years before he helped launch Rag & Bone with Marcus Wainwright.
It's not known what prompted Mr. Bogle to leave the successful fashion line just a few years later, but after a brief hiatus, he founded his own menswear line, Jardine, in 2012.
Whatever the cause for his Rag & Bone departure, Mr. Bogle's eye for design is evident in the listing for the fifth-floor walk up, held by Cocoran's Glenn Schiller, which was last asking $1.58 million. The two-bedroom, one-bath Lower East Side pad was gut-renovated, which included adding a "stylistic kitchen with cast concrete counters, custom cabinetry, professional cooking range/oven, and stainless steel Eco-Fridge."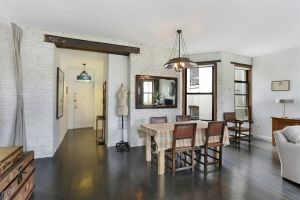 The 1,1,42-square-foot apartment at 241 Eldridge features the original 1904 exposed brick walls and four exposures visible from fifteen walnut-encased windows, per the listing.
In a 2014 interview, Mr. Bogle told Five O'Clock that he got very into cycling in 2008, and so the "living room is filled with bikes," though it looks like he (wisely) moved those out before putting the place on the market. (A dressmaker's dummy, however, is still perched in the corner of the living room.)
We're not sure where Mr. Bogle is going to next, but the apartment was functioning as his showroom as well as his home, so perhaps with the clothing line's expansion, Mr. Bogle is looking for a more spacious home office.