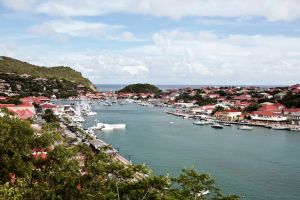 When a friend invited me to St. Barts to celebrate her 50th birthday with a group of women I was more than a little skeptical. Why wouldn't we take along our husbands to such a romantic spot? And how could I justify leaving my three young children to do something that wasn't going to strengthen my marriage or my career? What was the point? Couldn't my friend have a party in New York like everyone else?
"Just go," said my husband, "it'll be good for you," and since he was the one who my trip would most be inconveniencing, I decided to do it.
But no sooner had I bought my airline ticket than a slew of frantic emails referring to our group of 40- and 50-something-year-old mothers as "girls" began arriving from the party planner. "Short dresses are perfect!" "Get ready to drink a lot and get crazy!" We were advised to purchase alcohol duty-free at JFK. Presumably this was to facilitate the "drunk shopping!" which was also on the agenda. I hadn't behaved anything even remotely like this since college. Did the party planner think we were a bunch of Cougars?
On the flight over I sat next to the youngest woman in our group, a 38-year-old who had just finished up chemo for breast cancer. She wore a rhinestone-encrusted scarf with attached fake-wig bangs and had a mouth every bit as dirty, and a sense of humor every bit as cutting, as the late Joan Rivers. As it turned out there were three more breast cancer survivors in our group, all on our flight, one of them sitting behind us wearing a brace on her arm to counteract the lymphedema (lymph clogging), which was a byproduct of her lumpectomy. Girls? It sure didn't feel like we were girls.
That night, after settling in, we all went out for drinks to a bar packed with beautiful twenty-somethings and felt so old and out of place that we ended up just sitting outside by the harbor and chatting about our kids. Sure we took our Jeroboam of champagne with us, but it wasn't quite the wild departure from our lives we'd been promised. And then the very next morning everything started to change.
The sun beat down through thick glass windows as we drove across the island on a windy, bumpy road only to be dropped unceremoniously at the end of it for a hike. Within minutes the path was sufficiently steep that those of us in sneakers were lending hands to those of us in flip-flops, and by the time we made it down the side of the mountain and through a cave to the gorgeous pristine beach below, we couldn't wait to get in the water. We took off our beach cover-ups and jumped in, all of us emerging makeup-free to sit together in a cluster beside the rocks. Suddenly you could see what everyone really looked like, who had the telltale dots of tummy tucks and liposuction and who had C-section scars, who had fake boobs—what the German among us would later refer to as "inflatable hooten"—and whose hooten were sagging due to the inevitable one-two punch of gravity and nursing.
Suddenly you could see what everyone really looked like, who had the telltale dots of tummy tucks and liposuction and who had C-section scars, and who had fake boobs—what the German among us would later refer to as "inflatable hooten."
This time when we spoke about our children it wasn't about how cute they were or how much we loved them, but rather the hell that having them had wreaked on us, body and soul. More than a few of us had done IVF, more than a few of us had our children born prematurely. And then one of the prettiest, most well-preserved among us told us her story. In her third trimester, pregnant with her first child, she had found out part of her baby's brain was missing. After consulting a slew of experts she had flown out to Kansas to see one of the only doctors in America willing to perform a late-stage abortion. No cab driver at the Kansas airport would even give her a ride to the clinic; everyone knew what she was there for and everyone disapproved. Later, after recovering from the procedure, she had gotten pregnant with twins, and lost one of them as well. The two healthy children she went on to have were her miracles, she said, and all of us agreed. But after that, no one knew what to say. What could you say? We hiked silently back up the mountain, and all of a sudden the thought of a few midday drinks and the prospect of some mindless, yes, "drunk shopping!" didn't seem so ridiculous after all.
Fortified by Planter's Punch, I bought a short tight dress and spiky heels, the German bought her very first thong and the only woman among us who had been wearing a one-piece bathing suit gamely traded it in for a two. "There," she said, looking approvingly at her bikini-clad figure in the full-length mirror, "now I no longer look like a matron." Matron? Who you calling matron?
That night we went to a plushy velvet underground nightspot that was part restaurant, part burlesque club. "This is like college," said a friend, between shots of high-end vodka, "but with more money and you just can't have sex." From the way she said it, it wasn't clear whether she thought this was a good thing or bad. And which was it, anyway? I fell into a long conversation, in French, with a man from Bretagne, which seemed its own form of eroticism, until he asked which birthday my friend was celebrating, I told him, and he literally fell over as though the thought of some out-on-the-town 50-year-old women was either shocking, utterly repugnant, or perhaps a little bit of both.
Meanwhile, over by the bar we spied a handsome 60-something-year-old man who looked exactly like a well-known Hamptons restaurateur. "You aren't…" "Oh yes," he confirmed. "But don't tell anyone you saw me here." Indeed. We might well have extracted the same promise from him. That night we drank too much rosé, smoked things we shouldn't have, danced on too many tables and set a generally terrible example for our children. But of course our children weren't with us and that was the point. Without them, we were free to be the non-moralizing, fun, dare-I-say-it-even-sybaritic selves we once had been. And I don't think it's a coincidence it was the breast cancer survivors among us who partied the hardest. Having already had their brush with mortality, I think they felt that much more like celebrating being alive.
Later, somewhere well past midnight, we watched in awe as the Hamptons restaurateur walked out holding hands with a beautiful 25-year-old who was literally wearing no shirt. "Good for him!" said one of the mothers.
The next morning, over breakfast back at the villa, rumor had it a member of our group had had a wild night of her own, sneaking off and having sex with a Belgian twenty-something. But she's married! was my first thought. And then, in the suspended out-of-time-and-place reality of our trip, my very next one was, What a feat!, as though this were somehow akin to breaking the sound barrier or at least some kind of world record. Had she really? Was there proof? When I tried to confirm the rumor with the woman reputed to be its source, she quickly demurred. What had I heard, she wanted to know. Had the rumor come from me? Maybe we all just wanted to believe that a hot young man could still find us attractive. Or maybe we all just wanted a vicarious thrill. The simple fact was it was Monday morning, our idyll was ending and it was high time to head back to reality, a fact made clear when I called home and happily told my husband that I'd bought him a new blue linen shirt that matched his eyes. "Well, I can't wear it," he replied through gritted teeth as one of my children shrieked in the background, "I'm not in St. Barts."
Our children weren't with us and that was the point. Without them, we were free to be the non-moralizing, fun, dare-I-say-it-even-sybaritic selves we once had been.
With that as inspiration, I went back to the beach one last time and was so excited to get in the water I accidentally dove in wearing my watch. When it continued to work nonetheless, I was both relieved and disappointed, as though I believed on some level that if my watch had stopped I might have been able, at least for a little while, to stop the march of time itself.
On the plane ride home we consoled ourselves by drinking wine and reminiscing about our favorite escapades until finally, as we got close to New York, we began strategizing about how to cope with the likely blowback from our husbands. "You'll go home and thank him and have sex," advised one mother to another whose husband had been far more bent out of shape than mine. "Why the sex?" chimed in one of the breast cancer survivors and everyone laughed.
When I finally got home, I found everyone just as I'd left them, my husband in the kitchen, my 12-year-old on the computer, my 8-year-old knitting and my 4-year-old just done with his bath, hair slicked back, eyes enormous like a seal. "Can we pretend I'm a baby?" he said, a request he made on occasion and one that frankly I'd never quite understood. Why did he like to do this? He was nearly four and a half now, what was the point? And then it hit me. Maybe we all sometimes just wish we were younger, and yes, isn't it fun to pretend?
Johanna Berkman's non-fiction has been published in The New York Times Magazine, New York and elsewhere. She has a story forthcoming in Harvard Review. You can visit her at johannaberkman.com.