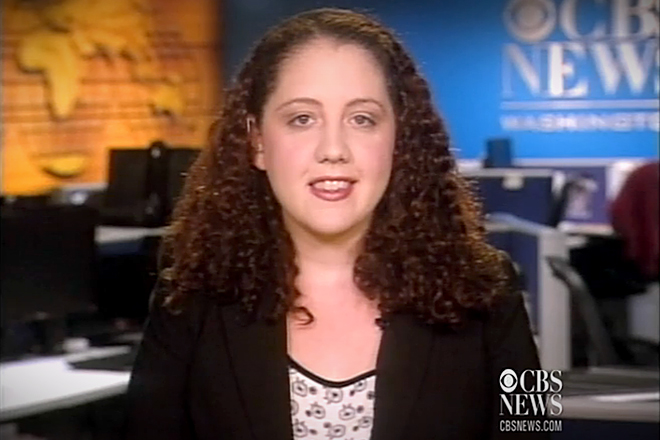 Politico's media columnist Dylan Byers tweeted today that journalists Erin McPike and Ginger Gibson will be joining Reuters, based out of the news service's D.C. bureau. There's a distinctly New Jersey angle here and it moves Gibson from the "Can't Hurt Chris Christie" column into the "Can Hurt Chris Christie" column.
Longtime NJ political watchers will recall that Ginger Gibson was the Star-Ledger reporter who worked the Christie beat during much of the governor's first term. According to one staffer, everyone from Maria Comella to Mike Drewniak to the governor himself despised her. According to this source, "hated her" is not too strong a phrase. "They viewed her as the most rabidly anti-Christie reporter — worse than [Tom] Moran — at a time when there was still some semblance of a media honeymoon going on" between the press-savvy governor and the New Jersey press corps in the pre-Bridgegate salad days.
When Gibson left the Star Ledger for Politico—where she covered the 2012 presidential campaign and then covered Congress afterward—"there was a celebration in the Governor's Office." She then left Politico to work in the private sector, as PolitickerNJ previously noted, to "join the political consulting firm SevenTwenty Strategies."
She departed 720 after a brief time to return to journalism, landing at IBTimes, where she joined, as PolitickerNJ characterized it earlier, "professional Christie assassin David Sirota (whose bio page at IBT reads like a Christie hate mailer)." It was Gibson who first posted the audio of Chris Christie dropping f-bombs like Artie Lange at the dinner for the New Jersey Legislative Correspondents' Club in May.
IBTimes has done some excellent journalism, much of it aimed at Christie, which is unsurprising given Sirota's near obsession with the governor. In fact, Sirota's journalism has produced real-world results, so it's not merely a sporting interest. For its reporting on Christie and the NJ pension system, his team won a "Best in Business" award from the Society of American Business Editors and Writers, Ithaca College's Izzy Award, and was even a finalist for the prestigious Loeb Award, narrowly losing out to the New York Times series by Eric Lipton on corrupt state Attorneys General, which went on to win the Pulitzer prize for investigative reporting.
Sirota's team revealed, among other things, that "Chris Christie's Political Team Was In Direct Contact With Pension Overseer During Campaign," painting a picture of a cozy relationship between the governor and overseer Bob Grady, who has since resigned. Sirota's interest did not end with the pension investigation.
This story, for example, revealed that real estate developer Murray Kushner had "delivered more than $125,000 to Christie's campaigns and to state Republicans since 2009″ before receiving " a $40 million package of tax incentives." The story goes on to note that "Christie prosecuted Murray Kushner's brother Charles, using documents pried from the Kushner siblings' bitter, sealed legal feud for control of their family's real estate company. … Nabbing Charles Kushner — a major Democratic donor and political patron — helped Christie brandish his image as a tough-on-corruption prosecutor in the lead-up to his 2009 run for governor."
The story paints Christie as a self-serving opportunist who as prosecutor was tough on a Democratic donor while ignoring the same or worse behavior by a Republican donor—a Republican donor who went on to give Christie and the state GOP more than $125,000. "Murray Kushner does not appear to have received the same legal scrutiny as Charles did while Christie was New Jersey's chief federal prosecutor, even though accusations of improprieties were lobbed in both directions in the family case." (Disclosure: Charles Kushner is the father of the publisher of PolitickerNJ.)
This story was one of many grenades that Sirota lobbed in Christie's direction. Gibson added several of her own, including this one, brutally headlined "Did Chris Christie Miss His Window In 2012?" But IBTimes, while growing quickly, does not yet have the reach or credibility of Reuters. The international news service, with journalists in every corner of the globe, gives Gibson an even more prominent mound from which to throw high and tight fastballs at the governor's chin.
CORRECTION: An earlier version of this story incorrectly stated what Ginger Gibson covered for Politico. PolitickerNJ regrets the error.