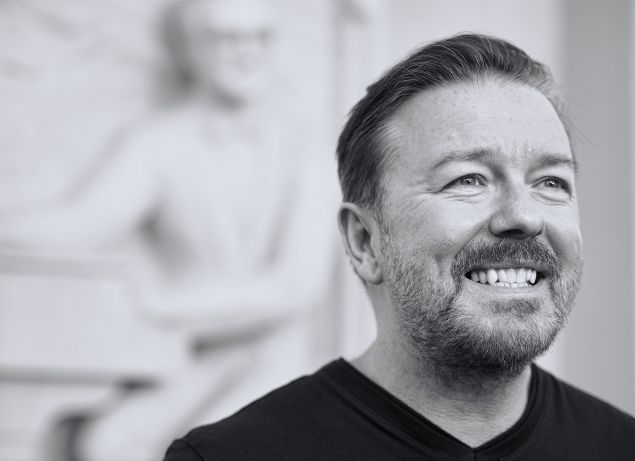 "Did you like David Brent in The Office?" I asked Ricky Gervais. "Many saw him as mean-spirited."
It was late summer in London, and the creator of one of television's most revered sitcoms—and currently an Emmy nominee for his performance as the title character in the special final episode of Derek, the two-season series shown in the States on Netflix—was reflecting on his most famous character. "He wasn't mean," replied his creator, settling into our suite at the Soho Hotel. "He just wanted to be famous but at the same time he didn't really want to be famous. He thought fame would bring him happiness when all he really wanted was to be happy like all of us, but he had been sold a lie. We are laughing at the blind spots, the difference between how he sees himself and the way we see him, we are laughing at delusion.
"The only thing he did wrong was when he mistook popularity for respect and that's what a whole generation is doing because they've seen you can become famous for nothing, they've watched the Kardashians, talent shows, they've seen people having presumably great lives for just being and existing, showing the world what they do everyday. They live their lives like an open wound and get paid for it. Not by writing, not singing, not playing sport, just recording their lives for us to look at, to look through a keyhole, pure voyeurism. People have discovered sometimes that the worse things you do, the most famous you get. There's no difference between fame and infamy. You can go to jail and then get a book deal."
When  David Brent entered our lives in the summer of 2001 most of the Western world was obsessed with reality TV. More than 50 million people watched the Survivor finale, everybody was talking about Big Brother and Kelly Clarkson was getting ready for her first American Idol audition. In a few months, the arrival of the iPod would make a DJ out of every kid in America.
The Office was an extraordinary contemporaneous deconstruction of these ridiculous times. Mr. Gervais created the show in his early 40s with Stephen Merchant, an underrated actor known in the States for being remarkably funny as Mr. Gervais' agent in Extras and for the wonderful—and of course now-cancelled—HBO show Hello Ladies. Mr. Gervais had worked for 10 years at the administrative office in the University College of London where he had received a degree in philosophy.
"How did it come about that you ended up working there for so long?" I asked him.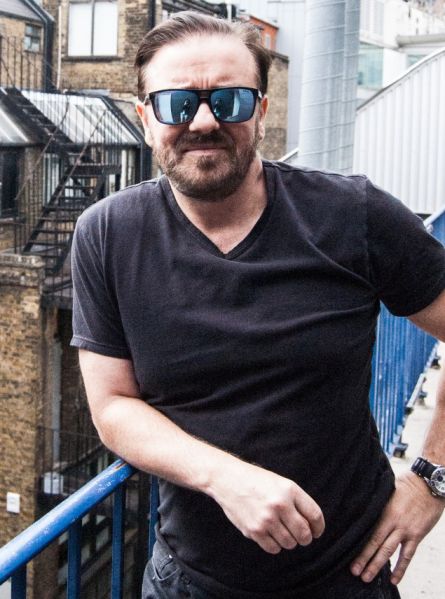 "It was fun," Mr. Gervais answered. "It was near where I lived. It was an easy job. I was there too long. There was no career path but I was sort of happy. When I came to write The Office there was no sneering at 9 to 5, I never wanted to be laughing at them."
"Why is your favorite episode from The Office episode 4, 'Training'?" I asked.
"Because it sums David Brent up," he said. "He organized a thing for staff training, got an expert in, then tried to beat the expert. He couldn't not be the center of attention and then it just came up that he was all about music so he went home to get his guitar, and that's a particular thing of mine: you go to a party and someone gets a guitar and you go, 'Oh fuck me, can't we just talk?' "
"I love the subplot with Dawn hovering in the background," I said.
"And she said something she couldn't take back and Tim said something he couldn't take back. But it was about David Brent, he was a child, he wanted to be the center of attention at all costs and it's not that his songs were bad it's that you shouldn't be doing them now."
"I disagree, why not pervert the whole system?" I replied. "The expert was so annoying, so corporate, so anal about his dumb speech and you can tell he wants to kill David Brent. I completely associated with David."
"But he was the boss!" Mr. Gervais said.
"That's the beauty of what he does, he knows how petty and boring this whole enterprise is. He's bored out of his mind, the guy wanted to write music and now he's stuck pushing pencils. That's slow death," I responded.
"We create our own heroes and villains so we can role-play," Mr. Gervais said. "It's the same in writing, our villains get embarrassed or told off or they change. Redemption is fantastic in drama. Our heroes get rewarded and if they don't, we are left with the feeling that they deserve to be rewarded. Just pointing out good and evil is enough. The Office was a 'documentary,' let's not forget. And then you have the other documentaries like The Jinx or The Staircase, of which I'm in awe."
"Really?" I asked. "The Jinx felt like entrapment. The mic left on while he goes to piss, the director narcing with the DA office in L.A. six months before the release of the film. I have a problem with documentary filmmakers who toy around with their subjects like a cat and a mouse."
"I know and I agree with you," Mr. Gervais said. "But if Durst did that he sort of deserved to get caught."
'I don't need a producer to love me or a director to love me because I'm writing my own stuff. I'm drunk by 8 p.m., watch TV at home and in bed by 10 p.m. I own my own labor.'
"Is there a little streak of conservatism in you? I sense a little bit of moralism."
"Wow," he shot back. "I didn't know that conservatism had the monopoly on moralism. I think you mean judgmental not moralistic."
"No, I mean moralistic," I insisted. "If you go to a good friend's house and see a beautiful Picasso drawing on the wall and a few days later you notice the same painting on the FBI's list of stolen paintings on their website, would you report your friend?"
"What?!" Mr. Gervais replied, with his iconic laughter filling the entirety of the suite, a laugh that is usually used as a diffuser. "Why would I ever be on that site?" he continued. "You mean would I report a crime?"
"Your good friend's," I interrupted.
"No, of course not!" Mr. Gervais said with no hesitation.
"Then you are not moralistic!" I screamed.
"I didn't say I was!" Mr. Gervais yelled back, trying to contain his laughter. "You accused me of something and now you are accusing me of lying about denying it. I never said I was."
"You liked The Jinx and the guys who made it left his mic on while Durst was in the crapper and were narcs for the prosecutors while making it," I said. "Even if they were using each other, he trusted them. He probably killed people, who cares?"
"What do you mean 'who cares?' " Mr. Gervais interrupted, giggling in his chair. "I sort of care a little bit! You are the worst chief of police we ever had! But let's go back a bit, what do you mean by me being moralistic?"
"Earlier you said that The Office was about white angst. I don't confuse you with your creation, I'd like to believe I'm not that stupid, but I see many comedians nowadays, people that you associate yourself with, like Jerry Seinfeld, Larry David, Chris Rock and Louis C.K. who 10 years ago were making their bread and butter around that white angst, usually code for homophobia, misogyny and racism, even for Rock with his 'nigger' routine. Now that the zeitgeist flipped with the Supreme Court making gay unions the law of the land with a black president and probably pretty soon a woman president, you see the tide turning in comedy. All of a sudden everybody supports the gays, case in point: Howard Stern and Bill Maher. The moral majority. I find Louis C.K.'s comedy, for instance, to be sometimes misogynistic, racist and homophobic."
"I disagree completely," Mr. Gervais said. "I know him personally and he's neither of those things. He has spoken out publicly against all these things at least once, he's very fair and judges people on their behavior, not on things they can't help. The target of a joke is not to be confused with its punch line."
I mention an example. "His joke about rape, the one where he says something like, 'rape is the worst thing in the world, or the worst thing you can do but what if you want to sleep with a girl and she says no? That's no solution.'"
"That's clearly him pretending that would be the only solution, about the joke being on him," Mr. Gervais said, "he's playing with language here and he's playing the idiot card. That's him saying this is the wrong way to think. I think he's the funniest man alive right now. Some people are immediately disgusted and offended by any take on taboo subjects. I personally like to take an audience to where they haven't been before."
"Chris Rock had a whole routine about when your wife nags you, you should be able to shake her," I told him.
"I've never heard that, but I've never been into misogynistic comedy even in the 80's when it was all the rage, all these guys, 'we are going to teach them a lesson' types never did it for me," Mr. Gervais said.
"Why didn't you write a strong woman's lead in The Office?" I asked him.
"Well, there's Dawn, and I made [David's] boss a strong woman, which David hated because not only was she smarter than him, she was better at her job. He couldn't take it from a woman; it was too much for him. This is another theme I stole from Laurel & Hardy, men are boys, women are adults. I think it's true, men don't really grow up, they want to play all the time. David Brent lied a little bit, because he knew about sexism and racism and homophobia but he wasn't completely O.K. with it all. Deep down he was a little bit sexist but he wanted the other workers to believe he wasn't any of this."
"But he wasn't mean about it, that's the genius of how The Office is written."
"Yes, you are right. I had to go positive discrimination in a way," Mr. Gervais said, "because he wasn't racist, he was the opposite way. He went over and spoke to the black guy and said, 'My favorite actor is Sidney Poitier,' because he had that white middle-class angst, where you to go in a room and scream, 'I'm not racist! I'm not racist! I'm not homophobic! I'm not sexist!' And of course you should go around and be yourself, because I don't go around and say, 'I'm not racist,' I'm just not. Whereas he was uncomfortable with these questions."
"Yes but it's a men's show, wouldn't you say?" I asked.
"So is being in an office in the mid nineties, in a paper merchant corporation, it was realistic, salesmen and managers were mostly men." he said.
"Howard Stern is the typical case here," I said. "He used in the '90s homophobia, racism and misogyny in every other joke and now embraces homosexuality wholeheartedly. By the way, why haven't you been on the Howard Stern show?"
"It just hasn't happened," Mr. Gervais said.
"You live in New York," I said.
"No I don't. I live in London. I never listened to him."
"But you have an apartment in New York and you never did the Stern show," I said. "He's like a rite of passage, the funniest man in America and you go to his arch enemies, these two idiots Opie and Anthony."
"I don't really do a lot of shows but I do their show; it's a smaller show and I feel a little bit of loyalty towards them," he said. "This is so weird, I get tweets like that. People ask me, 'Why don't you tweet about Rwanda?' It's a strange thing to say why aren't you doing something…"
Baba Booey, if you're reading this, do your job, book Ricky Gervais. It's a crime that the two funniest men in the West haven't met yet.
***
Two years ago, Mr. Gervais produced Talking Funny for HBO, a sit-down with the top comedians of today, with Mr. Gervais leading the discussion. It is on YouTube for anyone to see how very quickly besties Mr. Seinfeld and Mr. Rock gang up on Mr. Gervais with a baffled Louis C.K. attempting a rescue of his besieged friend. Mr. Gervais, more talented than the three combined, pretends to not see the comedy lynching at play.
"Seinfeld in particular seems to be annoyed by everything you say. The same happened when you did his dreadful show Comedians in Cars Getting Coffee. Why are you hooking yourself up with these hacks?"
"I welcome conflict, if everybody agrees, that's boring," he said. "Some people could read this and when you call me moralistic think that you hate me but I don't think you do. In fact, I know you don't. I'm going to have you on next time. I should have called it Talking Funny: Four Famous Comedians Talking Shit For 40 Minutes. I consciously wanted to give Jerry reverence. I see him as the godfather. I wanted to give him respect. I see Louis C.K. as the best comedian in America right now and probably in the world, or is it me? [We both laugh.] I put him in his first film after I had seen him on YouTube."
"His take on incest on SNL was brilliant, I give you that," I told him.
"Also you have to understand, and this is probably a giveaway," Mr. Gervais said, "with you being brutally honest I'm being as honest as I can without slogging anyone off."
"Of course," I said, "I have nothing to lose, you have everything to lose."
"I'm best at creating worlds with characters to explore themes with the minutiae of human character, that's what I do best. Stand-up, I haven't given it my best effort," he added. "We didn't put it in Talking Funny, we edited it out, but the three of them were shocked that for my first comedy special I had done only 16 shows of comedy prior. It's not an excuse or a brag, it's a confession. They work on their special for 300 shows a year before they commit. I haven't tried my hardest. It's not my favorite thing I do. I do like stand-up and the money is good. You are totally right, I'm at my best creating worlds like The Office, Extras and Derek."
"They are dark worlds," I said.
"No, I don't think they are," Mr. Gervais said. "I explore humanity in a funny and interesting way but the sun always rises on my characters and my scenarios. At the end of my shows, I always want to say, 'See, no one got hurt. We are all idiots, don't worry about it, just do your best. It's not that bad, we are all going to die so don't worry about it. Just have fun.' "
***
Ricky Gervais' genius can be best glimpsed when he appears on these insufferable late night talk shows. On a recent appearance here in London on the Jonathan Ross Show he ridiculed the host's protuberant nose when Mr. Ross tried to bring in a dentist to fix his fangs. On Conan a few months ago, he asked Mr. O'Brien and his preposterous sidekick, Andy Richter, circa Jack Paar's Dody Goodman, to form a human sandwich, the three of them lying on the couch. "What's very hopeful about you," Mr. Gervais told Mr. O' Brien, "is that you have no talent and yet you have a show."
On the show Opie with Jim Norton, Mr. Gervais happened to be seated when the two bigots were bullying a black caller who was trying to talk about white supremacy in America. "You are full of shit," the moronic Mr. Norton yelled at the caller at least 30 times. The chilling mirror that Mr. Gervais places here in front of a "post-racial" America is worth a thousand "documentaries" on PBS by Henry Louis Gates Jr. It is one of the most disturbing and disrupting COINTELPRO ops ever conducted.
"Do you see yourself as an anti-meta writer? The postmodernist way you deconstruct TV, always making sure that your audience is reminded that what they are looking at or listening to is ultimately fake in more ways than one, a 'show'?" I queried.
"Yes," he said. "I think you are right, that's what I do, I deconstruct TV. I'm aware of the absurdity. I've always wanted to talk about what it is that we are doing. I'm very aware of deconstructing the moment." 
***
'I get joy in creating something. I get an adrenaline rush when I get an idea. When I'm jogging I suddenly think of a joke and I run faster. I love writing.'
If most people have a before and after Jesus, we have a before and after 2010, the year Ricky Gervais presented the Golden Globes for the first of three consecutive times. In an America consumed with conventions, rules, codes, appropriateness, political correctness and conformism, Mr. Gervais stormed through our TVs riding a shit tornado that to this day leaves its marks on prime time.
"The joke you made on Sex and the City almost killed me," I said. "'The award for special effects should have gone to the people who made the poster for Sex and the City 2. You guys look like you are 20 but we know how old you are, girls, I've seen one of you in an episode of Bonanza.' "
"The word 'Bonanza' has such a good ring to it, it's a funny word," he said, "and it's a show about fat cowboys. Kim Cattrall said that it was ageist, it's a very good example of taking offense for the wrong reasons but this is typical of confusing the subject of a joke for its target. The subject was aging, airbrushing, but the target was lying, Hollywood's lying. There's nothing wrong about being 50 but what's funny is lying about it. I was having a go at Hollywood and the studios and why would you let them do that and they thought I was saying old people shouldn't be in the movies. I was saying the opposite. I was saying there's nothing wrong about being 50."
"But you got a groomer for this interview and photo session so you know that when you say you were attacking the studio you were also attacking the actresses," I replied.
"You are allowed to attack someone's behavior but you are not allowed to attack something they can't help," he answered.
"You didn't attack older guys though, who are always seen, for instance, in films with love interests a fifth of their age."
"I took a shot at Heffner in the same monologue."
"That's an easy target," I told him. "How about going after some old coot Hollywood icon like Clint Eastwood who always dates women in their 20s in his films?"
"I hate that sort of thing," Mr. Gervais shot back. "I have had pressure on me to have a 25-year-old girlfriend on film, I think that's ridiculous. I've always refused, I always want to have someone age-appropriate in my series or anything, I never want to be that creepy 50-year-old chasing after the 22-year-old in movies. It works both ways. I've been outspoken about it because women are still props in Hollywood, they are props for men."
"Why did you feel the need to go on an apology tour after the Golden Globes?" I asked him. "You went on this disgusting guy Piers Morgan [he laughs] and said you loved these people. Why not own it? You reminded me of what Nietzsche talked about with his 'pale criminal,' who when caught admits, 'I'm sorry, I did it.' Why not say, 'fuck it, I did it'?"
"I didn't apologize, this whole thing about 'is he punching up or is he punching down,' I wasn't punching anywhere, I was just making a fucking joke," he said.
"You said, 'I love Bruce Willis.' Why? Who loves Bruce Willis? There's nothing to love there, everything the guy did was stupid."
"No, I don't have anything against him," Mr. Gervais replied. "I watch Die Hard every year, it wasn't personal, I never met the guy. I didn't hate anyone in that room, it was all within the construct of the jokes."
"Did you get scared after the Golden Globes?" I asked him. "Because you took a lot of shit, did you think, 'fuck, have I just wrecked my life?' Going against the system can be dangerous."
"No, this is the problem, you see," he said. "When we are having a discussion like this, when a critic says something and I correct them or say something back, people can say anything they want and as soon as I go, 'no, it's not true,' then they say, 'oh, he's thin-skinned, oh, he has apologized.' I'm not apologizing, I'm telling you the fucking truth. Bruce Willis has done nothing wrong to me." 
"Now you are fucking with me," I told him. "It's not about doing something wrong to you."
"You are taking things too literally. Is he on drugs?" Mr. Gervais said, turning toward the photographer. 
"You apologized," I said.
"Wait a minute," he said. "If I apologized, why am I denying that I apologized?"
"Maybe because you regret it," I said. "Not only did you apologize but then you lost 30 pounds and got thin and I thought, 'fuck, he's gone local.' "
"You think I got thin to get a Hollywood role?" he asked.
"No," I said.
"I lost 30 pounds because I was afraid I was about to die of a heart attack."
"I don't believe it."
"I still eat too much and drink too much but now I exercise every day," he said.
In The New York Times, Alessandra Stanley, the Sister Wendy of TV critics, wrote that Mr. Gervais "took the awards to the edge of puerile bullying three years in a row." Her January 16, 2012, review is a great read since it is built on Mr. Gervais' hilarious jokes. An effort needs to be made to read through the endless milquetoast drek that Ms. Stanley insists on discussing. The "boorish" Mr. Gervais should use, she tells us, the writers of such comedic giants as Matt LeBlanc who, upon receiving an award for the dreadful show Episodes in which he plays himself, thanked the writer-producers for writing, as he put it, "a Matt LeBlanc who, let's be honest, is way more interesting and fun than the real thing."
"Whenever someone writes about me that I said something offensive," Mr. Gervais said, "if they quote me right, I love it because it stands on its own, but if they misquote me it makes me so mad. Anything I've ever said if it's not misquoted or out of context, I love it, I stand by it."
"I felt after the Globes that you were fucking with the wrong people, assholes in power," I told him.
"But what could have happened though?" he said. "What could they have done?"
"We both know that if a Brit makes it here in England but doesn't in the States it means nothing."
"Some people are happy if they just make it here [in England]," he said.
"Who?" I asked him. "Give me a name."
"No, I'm not going to do that," he laughed, "because they might want to work with me. I knew that 200 million people were watching the Globes. It couldn't affect me in any way because I'm not beholden to anyone in that room. I don't need a producer to love me or a director to love me because I'm writing my own stuff. I'm drunk by 8 p.m., watch TV at home and in bed by 10 p.m. I own my own labor."
"You need them to pay for your movies, for them to be distributed," I told him.
"When it comes to money," replied Mr. Gervais, "they'll still pay if they hate you as long as the film works. You can kill in Hollywood but if you make money you'll still be working, don't worry about that. When it comes to money, there's no morality. I don't need them to like me I just need to be good and successful. I'm being a realist. My agent called me once and sent me a script years back and said 'they want you to do a film' and I said really? Who's the lead? Do they want John Cusack? And they said 'no, they want you.' I said no one is going to come see me in a film I've only been on TV for ten minutes. They were taken aback. I was turning down my first Hollywood film. I remember thinking they are probably saying 'he's got great integrity' but they were really thinking 'what an idiot, just take the movie.' I don't really care, there's no joy for me being in someone else's film. I get joy in creating something. I get an adrenaline rush when I get an idea. When I'm jogging I suddenly think of a joke and I run faster. I love writing, I love directing."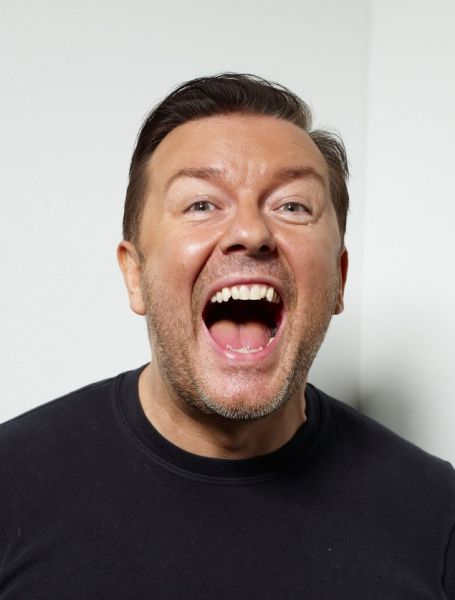 "That's disingenuous because you wanted to be famous in America," I told him.
"I wanted to be successful in America," he said. "There's a big difference because when I did The Office and it was about to come out I was a bit worried because I feared fame, I didn't want to be lumped in with those people that do anything to be famous. I was worried about the press intrusion. I was never one of these people who said, 'Make me famous then you can go through my bins.' I knew that if I were to be famous it was for something. I feared it because my reputation was important, I didn't want one person out there to think that I was a bad person because I don't think I am, and I remember the first bad thing written about me and I thought, 'Oh my God, why have they done that?' But I realized it didn't hurt, nothing happened. I thought, 'Alright, great, so as long as I don't do anything wrong and I'm happy with what I do, I'm bulletproof.' "
***
Since Mr. Gervais' tenure at the Golden Globes, Hollywood has been experiencing upheaval of a different sort, in which outlets like Netflix are upending the way films are distributed and seen since the most coveted demo doesn't own a telly and streams most of its entertainment. Ted Sarandos, Netflix's head of content, is a big fan of Mr. Gervais, and financed the latest movie that he directed and wrote, Special Correspondents, part of the company's $200 million investment in original content. The film will be seen only on Netflix early next year, a major shift for an industry that has been operating on the same horizontal business plan for the last hundred years. With other heavyweights like Brad Pitt joining the fray, this new medium might sign the death ticket of the old bricks and mortar cinemas.
"I find the idea behind Special Correspondents wonderful, brilliant, a foreign correspondent covering a war while hiding above a Spanish restaurant in Manhattan," I told him. "Again you are deconstructing TV. Most foreign correspondents might as well have stayed in Manhattan."
"I'm very excited about it, I'm editing now. It's just one person's ego and they try to struggle through, having a bad day and it gets all out of hand," he told us. "Eric Bana is extremely talented, a very underrated actor. Everything I've done is quite existentialist, I think because I'm an atheist. I'm fascinated by how people get through. I'm fascinated by the absurdity of life, it's absurd, it's a billion to 1 that we are here. It happens, we are here for 80 years and then we are gone, snuffed out forever, forgotten. We are all gonna die, and in a few years we won't even be remembered, like we never existed. And yet we worry about the tiniest things, we still complain about our soup being cold. We've still got ego. We worry about the trivial things and that's why it's funny."
***
"I watched a lot of Laurel & Hardy knowing that I would meet with you," I told him.
"They are my biggest influence," he said.
"It's interesting that most of your influences are American," I said.
"I like their relationship," he said. "They weren't just funny, I love them because they are precarious. They fall over but they dust themselves off and they get back up. That's one of the essential elements of comedy: you fall over for people's pleasure but deep down you want them to get back up so they can fall over again. They were two idiots who thought it was the other one's fault, which is straight way funny. Stupidity is funny, particularly stupidity with arrogance. Stan does something stupid but it's Ollie who pays for it. In all my stuff there's always an Ollie and a Stan. I stole so much from them.
"In The Office, Tim is Ollie; Gareth is Stan. Ollie thinks he should do better, he's annoyed he's sort of us and there's Stan who is stupid, but he's not the one that gets hurt, it's Ollie that always gets hurt, so he's angry. And angry is always funny. Clowns aren't funny because they try to make you laugh. An angry man not meaning to be funny, have something happening to him like falling over and it's always funny.
"Comedy is about empathy. It's always either 'I'm glad I'm not like him' or 'I've done that.' Comedy is best when it shows that we are all idiots. But it's O.K. to be an idiot. I cherish human foibles, every flaw in humanity, even if I make fun of it I'm never above it. I'm never: 'Look at this idiot.' I'm always: 'Look at this idiot. He's like me and you.
We are all in it together.' "
"There's a tragedy in what you just said," I told him. "I feel that everywhere you go people expect you to be funny, that must be exhausting, are you always on?"
"I used to be on all the time before I became famous," he said, "now I'm much more self-conscious, fame has made me more self-conscious, less of a show off. When I walk into a room everyone thinks they know me, I'm at a disadvantage."
"What do you mean by disadvantage?" I asked. "I thought it would be just the opposite."
"Because I don't know what they know me for," said the funniest man alive. "They don't know what I'm really like. I worry that they don't see the persona, that they think my jokes, my characters are really me, and they aren't. But everything has to be deconstructed at the end. Someone reading this could think that you hated me, for instance, like when you called me moralistic but they would miss that we were just teasing each other. This is more about you, isn't it? What would this interview have been like if you didn't like me?"
---
Photos and additional reporting: Emily Lembo 
Many thanks to John Mullen in Brooklyn for logistics 
Amanda and Caitlin at 42West in LA and special thanks to Carrie at 42West in New York
Julie and Fernanda at the Soho Hotel in London
Emma Leon for make up using Radical Skincare and Bumble and Bumble
Sanjay at Central Rental sound and video in London