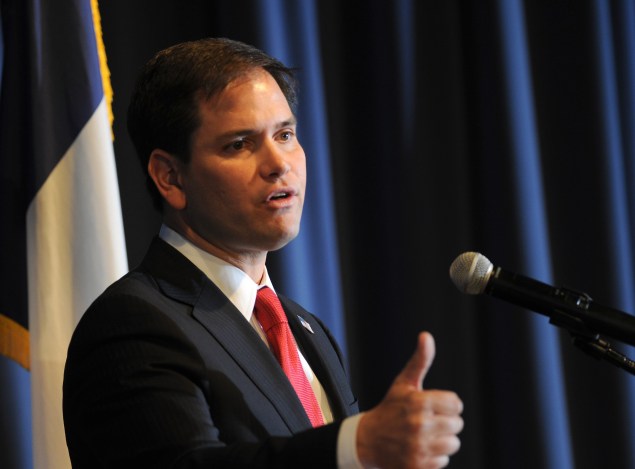 Lashing out at the Obama administration's "concessions" to Iran and Cuba, Sen. Marco Rubio of Florida vowed a far tougher stance toward both countries if he's elected president.
Mr. Rubio, a Republican, said this morning that a nuclear agreement with Iran that President Obama helped broker will endanger America, and called the White House's renewal of diplomatic relations with Cuba a threat to America's "moral standing."
As president, he promised to undo both.
"These deals demonstrate with jarring clarity how this administration has failed to anticipate impending crises, ignored the realities of the globalized economy, and sought to make America liked rather than respected," Mr. Rubio said at a Foreign Policy Initiative event in Manhattan. "The world has missed having an American president who speaks honestly about the world in which we live."
"Centuries of global affairs tell us the best way to affect an outcome with volatile leaders is through strength and example, while the worst is through weakness and concession," he continued, charging that both deals also empower China and Russia. "Yet weakness and concession are the preferred tools of statecraft for this administration."
Mr. Rubio, the son of Cuban immigrants, is a leading contender for the Republican nomination for president and one of many in the GOP who has blasted the White House's foreign policy. A member of the Senate's foreign relations committee, Mr. Rubio has sought to distinguish himself in a crowded field by offering a more nuanced, hawkish vision for America's role in the world.
His address came as Secretary of State John Kerry visits Cuba today to celebrate the reopening of the embassy there after more than a half century. Like many Republicans, Mr. Rubio said it was a mistake to attempt to lift a trade embargo on Communist Cuba and open diplomatic channels with the Castro regime. "President Obama has rewarded the Castro regime for its repressive tactics and persistent, patient opposition to American interests," he said, attacking Hillary Clinton, the front-runner for the Democratic nomination, for supporting the detente with Cuba.
"Hillary Clinton not only supports these two deals, she now brags about her instrumental role in bringing them to fruition. Hillary Clinton will not overturn these deals as president. I will," he said.
Mr. Rubio promised to invite "Cuban dissidents, Iranian dissidents, Chinese dissidents, and freedom fighters from around the world" to his inauguration. He vowed as president that he would offer the Castros an ultimatum: either continue their current economic and political system and lose the diplomatic relations provided by the Obama administration, "or carry out meaningful political and human rights reforms and receive increased U.S. trade."
"The notion that the Cuban people will be allowed freedom of speech and freedom of information now that President Obama has made concessions to the very government denying them these rights is complete fiction," he said. (Mr. Obama and Democrats have argued opening diplomatic channels to Cuba will encourage democracy there.)
Mr. Rubio said he would undertake a three-part plan to eviscerate the international accord with Iran that aims to limit their capacity to create nuclear weapons in exchange for the easing of economic sanctions. Republicans and Israel are united against the deal, and some Democrats with Jewish constituencies, like Sen. Charles Schumer, have also said they will reject the deal.
Mr. Obama is desperately trying to secure congressional approval for the accord. Even with Republicans in control of both the Senate and the House, it will be difficult for opponents of the deal to override Mr. Obama's veto, assuming they vote to disapprove of the deal.
Mr. Rubio said he would reimpose sanctions on Iran and ask Congress to pass "crushing" new measures that target human rights abusers. "I will give the mullahs a choice: either you have an economy or you have a nuclear program, but you cannot have both."
He said he would ensure American forces in the Middle East are "positioned to signal readiness and restore a credible military option." After imposing sanctions on Iran, he said he would link any negotiations to Iran's broader conduct, including their threats against Israel.
"I will insist that a deal must terminate Iran's nuclear program. Iran will never be allowed to build a nuclear weapon if I become president–not now, not decades from now," he said.