Sag Harbor is getting a third new condo development in as many years. Greystone, a Manhattan-based real estate development and advisory company, announced that it has formed a joint venture with East End Ventures for a boutique residential project in the Hamptons town.
The planned condominiums will be located at 1, 3, and 5 Ferry Road, on the last remaining undeveloped waterfront land in the village of Sag Harbor, adjacent to the Business District. The developer declined to provide specifics as to the project's square footage or number of units.
Though Greystone has developed over $1 billion in residential and mixed-use properties, this will be the first time the developer has done a property in the Hamptons.
The Hamptons are more known for residential real estate such as multimillion dollar celebrity homes, but this new development is the latest in a series of recent condo projects in Sag Harbor, which include Harbor's Edge and the Watchcase Factory. Curbed reports that Frank Greenwald is the architect, and that the project will include eleven units, outside public green space, as well as a marina.
"I see this as an opportunity for folks that live in East Hampton or Southampton, in a really fantastic house that unfortunately comes with a lot of maintenance. In the condominium setting, it's very much like living in Manhattan, where everything is done for them," Jeffrey Simpson, the head of Greystone Property Development, told the Observer. "They are able to enjoy their time in the East End as opposed to dealing with all the problems that come along with a big old house."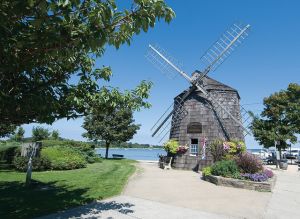 "There are only so many new developments that happen in the Hamptons, but you'll see boutique condos from time to time," he continued, adding that both Harbor's Edge and Watchcase in Sag Harbor have something "special" about them—a quality that he believes Greystone's project will also possess.
"Being right on the water, with direct access to the beach out your back door is pretty remarkable," he said.
The process is just now beginning with the planning board, but Mr. Simpson told us he expects that the condos will likely be done by late 2017.