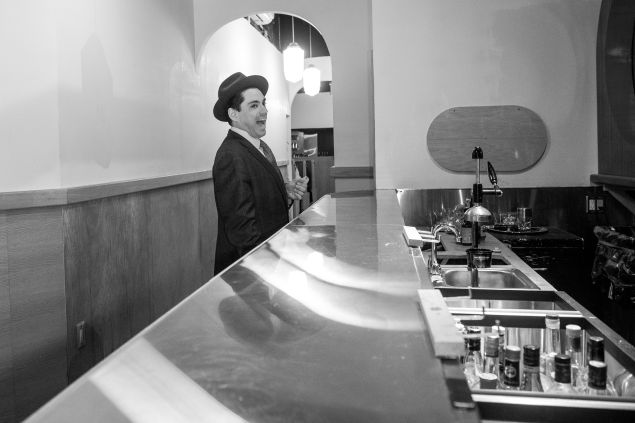 When Milk & Honey opened in January 2000 on Eldridge Street, the Lower East Side was still rough around the edges, there were no hipsters (anywhere) and there were no "mixologists."
There was, however, a small but growing number of curious and thoughtful bartenders, ready to introduce all of us to the speakeasy and the pleasure of well crafted cocktails. Sasha Petraske was a leader among them.
As first reported by The New York Times, Mr. Petraske was found dead by his wife of three months—the journalist Georgette Moger—at their home in Hudson, New York on August 21. He was 42.
Milk & Honey LES closed in 2013, was briefly reincarnated on 23rd street and shut last October. Its London location remains as popular as it was when it opened in 2002. A perfectionist who wore suits behind the bar, Mr. Petraske carefully considered even cocktail ice. "You'll be served cocktails containing jagged wedges of ice," Milk and Honey's London website explains. "We cut these by hand with an ice pick from a twice-frozen block of ice made from mineral water. Ice like this is denser, colder and clearer, and chills your drink perfectly without diluting it too much."
In addition to his wife, Mr. Petraske is survived by his father and brother.
Suggested Toast: O'Clássico created by Sasha Petraske
Glass: Caipirinha / Short Old Fashioned / Rocks Glass
Ice: Ice Cubes
Garnish: Lime Wedge
Ingredients
– 2 oz Avuá Cachaça Prata
– 4 lime wedges
– 1 sugar cube
– 0.75 oz simple syrup
Directions
1) Muddle lime wedges and sugars in the glass.
2) Add ice cubes to fill the glass.
3) Pour in 2 ounces of cachaça and shake.
4) Garnish with a lime wedge.