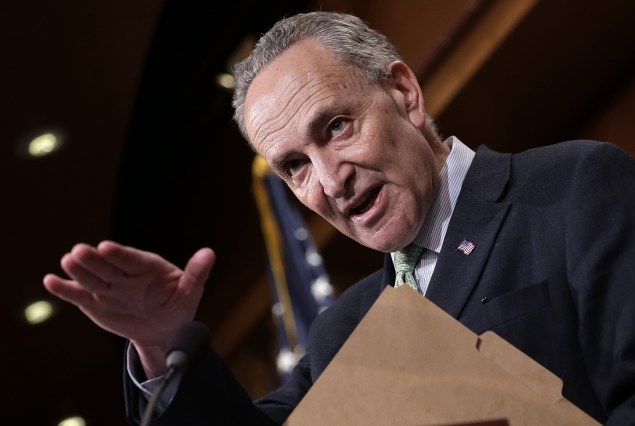 Despite an intense lobbying effort from both sides, Sen. Charles Schumer maintained that he would not succumb to the pressures of "politics" and "party" on whether to support President Obama's Iran nuclear deal.
Mr. Schumer, in line to lead the Senate Democrats after the 2016 elections, is caught between a White House that desperately wants Congress to vote for the historic accord and an ardent pro-Israel constituency that wants the deal with Iran killed.
"This is one of the most important decisions that any senator or congressman can make," Mr. Schumer told reporters in Manhattan today after an unrelated press conference. "And so I'm studying it really seriously, read the agreement a bunch of times."
"This is such an important decision that I will not let pressure, politics, or party influence. I've learned over the years, when you have a tough decision like this, study it, come to what you believe is the right decision and go forward with it and that's what I intend to do," he added.
Mr. Schumer has been relatively quiet, given his propensity for seeking out media attention, on the Iran deal. Last month, President Obama and five other nations reached an accord with Iran to drastically limit their nuclear arsenal in exchange for the lifting of economic sanctions. Republicans uniformly opposed the deal, arguing it did nothing to keep Iran from sponsoring other terrorist regimes or ultimately developing a nuclear weapon. The White House said the accord was the best possible agreement available and the only way to avert a potential war with Iran.
Israel is loudly opposed to the deal and is working with congressional Republicans to undermine it. Powerful pro-Israel organizations in America are undertaking an extraordinary effort to pressure Republicans as well as Democrats to vote against the agreement.
Politico reported that Mr. Schumer, one of the staunchest allies of Israel in the Senate, is leaning towards opposing the deal. The report said Mr. Schmer has been inundated with phone calls and letters urging him to vote no.
Other New York Democrats are past the point of deliberation. Two members of Congress, Grace Meng and Kathleen Rice, have said they will oppose the accord. Congressman Eliot Engel, another longtime Israel hawk, expressed deep reservations about Mr. Obama's deal last week.
The odds of Congress defeating the Iran agreement are still long. If both houses vote to disapprove of the deal, Mr. Obama can use his veto power. Though Republicans control the House and the Senate, two-thirds of each chamber would be needed to override the president's veto.
Mr. Schumer said today that the the White House is "making every effort to answer my questions."
"The questions relate to what will happen if there is an agreement, if this agreement goes into effect, what will happen if it doesn't and there a whole lot of specific questions."
A reporter asked him if he had spoken with Israeli Prime Minister Benjamin Netanyahu about the nuclear agreement. Mr. Schumer did not say no.
"I'm not going to get into the specifics of who I've spoken to," he said.
Jillian Jorgensen contributed reporting.