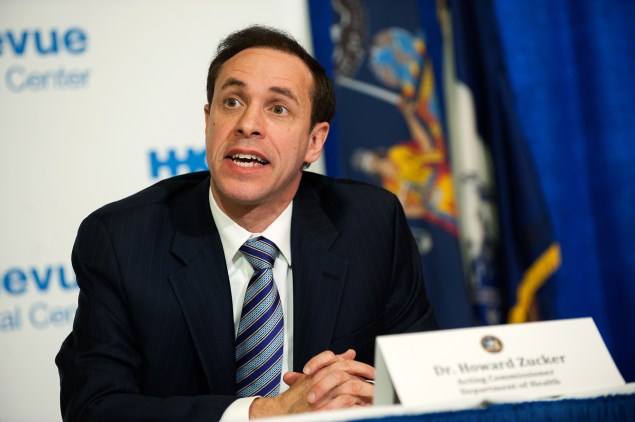 As the South Bronx reels in what the city is calling the worst outbreak of Legionnaire's disease in New York history, Gov. Andrew Cuomo's administration today announced that state and federal agencies were getting involved in the fight—which up until now has been in the hands of Mayor Bill de Blasio and Health Commissioner Mary Bassett.
Dr. Bassett was just one of seven municipal health commissioners from around the state at an afternoon briefing led by state Health Commissioner Dr. Howard Zucker. The press conference also featured Dr. Claressa Lucas of the National Center for Immunization and Respiratory Diseases and Dr. Jasen Kunz of the National Center for Environmental Health—who will lead the federal Center for Disease Control team dispatched to assist in the anti-Legionnaire's effort.
"This is an all-hands-on-deck situation, and we need all of our partners at every level of government to help address the situation," said Dr. Zucker, crediting a phone conversation between Bronx Borough President Ruben Diaz Jr. and Mr. Cuomo, and a subsequent conversation between the governor and CDC Director Dr. Thomas Frieden with the decision to involve federal
So far, the city has seen 101 people diagnosed and 10 dead from the flu-like disease, which is believed to have festered in the cooling towers atop several large facilities in the Bronx and spread through their ventilation systems.The contagion is mainly dangerous to the elderly and people with pre-existing respiratory conditions like asthma—conditions that are disproportionately prevalent in the Bronx, which is home to numerous warehouses and distribution hubs that bring in diesel trucks.
Dr. Zucker stressed that the disease is not communicable, but encouraged anyone across the state suffering flu-like symptoms to seek treatment. He added that the Albany is already offering free cooling tower testing to any landlord that wanted it—getting ahead of inspections Mr. de Blasio has ordered—but said starting tomorrow would begin deploying joint state and federal teams to facilitate the city's lab work.
"As you know, patience is not one of the governor's virtues, so today we are announcing a more pro-active measure," he said. "A situation like this involves a great deal of detective work. Clearly this is a sleuth mission of trying to find out where this is happening, and we must get out there, we must root out the problem, cut it out at the source and prevent further spread."
Mr. de Blasio declared a week ago that there was "no reason for alarm" the sudden rash of Legionnaire's cases in the Bronx, but yesterday rolled out a plan to obligate property owners to sterilize all cooling towers across the city. Critics have attacked the city Health Department's response as sluggish, a claim Dr. Bassett appeared eager to push back on this afternoon, at one point interrupting Dr. Zucker to note that the city has already identified infectious towers and cleaned them.
"I think I should have the opportunity to have a couple words in here," she said, repeating earlier assurances from the city that the number of new diagnosed cases of Legionnaire's was declining. "We are optimistic and retain the confidence I've expressed in the past that we have a good handle on the outbreak in the Bronx."
Mr. Zucker said greater state regulations of cooling towers could be forthcoming.
Shortly after the briefing, Mr. Cuomo himself phoned into NY1, and seemed to suggest the city had failed to react quickly enough to dispel fears about the disease—offering a strikingly different tone than Mr. de Blasio's nothing-to-fear reassurances.
"I think they have a good reason to be concerned. This has been going on for a number of days, 10 people have passed away. I understand their anxiety—it's almost like a bad science fiction movie," Mr. Cuomo said.
Mr. Cuomo noted those who are worried the response hasn't been robust enough—and that "they're not getting answers"—will see teams of state and CDC officials in the Bronx soon.
"We're taking matters into our own hands," Mr. Cuomo said.
Asked specifically whether he thought Mr. de Blasio had handled the outbreak well, Mr. Cuomo said he wasn't "in a position to judge"—but noted the city faces two problems: Legionnaire's and the anxiety about Legionnaire's. He did say he and the mayor had spoken, as had high-level aides.
"I don't know exactly what they did or when. I'm not a health professional. I know that from my point of view, the situation became critical," Mr. Cuomo said.
Jillian Jorgensen contributed reporting.