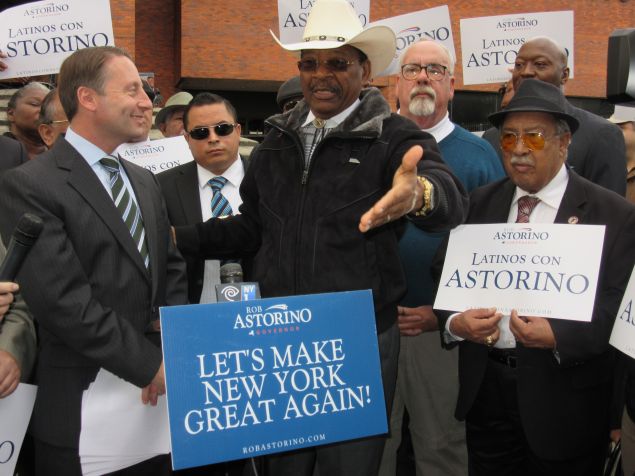 The Times Square desnudas and the Naked Cowboy might both have to cover up, if Bronx State Senator Ruben Diaz Sr. has his way.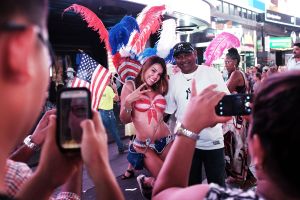 The socially conservative Democrat and ordained minister argued that Mayor Bill de Blasio's proposal to rip out Times Square's pedestrian plazas to tamp down on the titillating business of body-painted half-naked women charging tourists for photos would only cause them to migrate. Instead, Mr. Diaz said he would roll out legislation outlawing toplessness for men and women alike—meaning Robert John Burck, who calls himself the Naked Cowboy and famously plays guitar in Times Square dressed in just underwear and a Stetson hat, would have to cover his torso too.
"All kinds of immorality have returned to Times Square," Mr. Diaz lamented in his latest "What You Should Know Column" missive on the State Senate site. "The problem with Mayor de Blasio's solution in closing the Times Square Plaza, will cause the naked cowboys and the naked women to move to other places. That will create a situation where Mayor de Blasio will have to keep closing places all throughout the City of New York. He will have to keep chasing them all over and closing places until there are no places left to close."
Mr. Diaz recalled the seedy state of the Crossroads of the World prior to Mayor Rudolph Giuliani's administration, and suggested the return of bared breasts to Midtown could presage a recurrence of once-rampant prostitution in his own impoverished district.
"The law that authorizes women and men to go topless needs to be changed! As a senator representing the South Bronx, I am afraid that Hunts Point might be next to go back to what it was," he wrote, adding that his legislation would make an exception for beaches. "In a city where millions of people are drawn to Times Square, we need to push against the immorality that has taken root there once again so families can enjoy New York."
A 1992 New York State Supreme Court ruling determined that statutes permitting men to go about in public with their chests completely uncovered but censoring how much skin women could show were discriminatory. Mr. Diaz said his legislation would apply equally to both genders and thus steer clear of violating the state Constitution.
"Equality in the law allows for women to go topless because men can go topless. Therefore, police officers are not permitted to arrest, summons or harass topless women, because of 'equality,'" Mr. Diaz said. "If equality laws are in the way, let's push for equality so neither men nor women can go topless in our streets."
The state senator—whose son, Ruben Diaz Jr., is borough president of the Bronx—called on his fellow state lawmakers and Mr. de Blasio himself to endorse his proposal.
"I hope that my colleagues in the State Legislature and the Mayor of New York City will support my legislation to do away with toplessness in the streets of New York," Mr. Diaz said. "That will be better than chasing topless women and closing streets all over New York City."