The owner of a book store and publishing company specializing in urban fiction is at the center of a violent incident unfolding on Staten Island this morning. Garland Tyree, 38, is the founder and owner of Real Write Publishing, whose titles include Mr. Tyree's The Trey Way, which chronicles the exploits of its main character, the O.G. B-Right, who is the "godfather of the notorious 5-Trey Gangsters and the main target of federal prosecutor Elmi Zarconian and his pack of cowardly informants."
At some point, fiction seems to have been overtaken by reality.
This morning, as US Marshals were executing a warrant at Mr. Tyree's home in Mariner's Harbor at 5:50 am, the home suddenly exploded in flames, allegedly set by Mr. Tyree himself. Then, when the fire department showed up, one firefighter was shot twice in the leg. According to the Daily News, he is now at Richmond University Medical Center being treated for non-life threatening injuries, and the authorities have the home surrounded.
One eerie element to this already troubling violent incident has been the way it's played out on social media, even as the events were unfolding.
Just after the shots were fired, Mr. Tyree wrote "Today I die" on his Facebook page. As his friends began to inquire with concern—Porsha Talina Rosero wrote "Hope everything is ok"—Mr. Tyree answered "They kicked in my door and it popped off." Some friends offered prayers for Mr. Tyree's well-being, while others expressed solidarity and promised reprisals.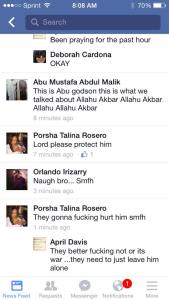 Abu Mustafa Abdul Malik, apparently a neighbor of Mr. Tyree's on Staten Island, wrote " Allahu Akbar Allahu Akbar Allahu Allahu Akbar." Ms. Rosero, following the news on tv as it unfolded, wrote, "They gonna fucking hurt him smfh," to which April Davis replied, "They better fucking not or its war …they need to just leave him alone."
According to a law enforcement source, Mr. Tyree "was involved in a shooting in 1993" and elsewhere on his own Facebook, he seems to refer to an earlier prison sentence when he writes to his friend Juggernaught, "Jug I don't have any kids and at this time I don't want any. i have [been] away 2 decades of my life and I need to live for me for a second."
The Observer will update this story as it develops.
UPDATE: At noon, CBS-2 reported additional shots had been fired and Mr. Tyree was still holed up in the house.