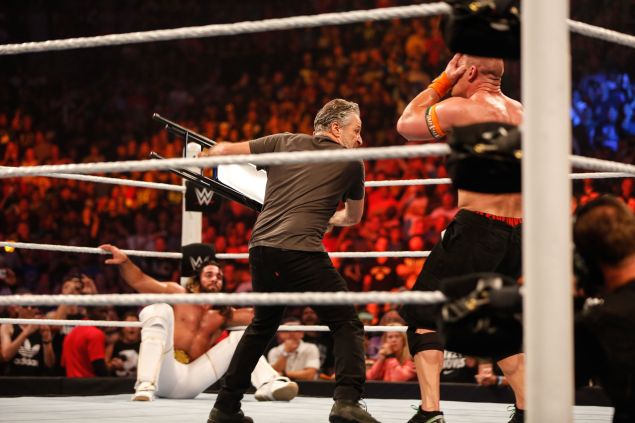 Last night inside Brooklyn's Barclays Center, I saw a 250-pound physical human specimen assault former Daily Show host Jon Stewart. I also saw a grown man make a seven-year-old girl cry. I also saw a (different) grown man take a shit in a urinal.
Only one of those things was part of the show.
Okay, wait. Let me back up a bit. Last night I attended a taping of WWE Monday Night Raw at the Barclays Center by myself. In a sold out crowd of about 15,000 pro wrestling fans, I arrived in Brooklyn straight from work, laptop bag in hand and looking extremely out of place. Do I need to tell you how? When you happen to find yourself at a professional wrestling event alone, the who what where and why's pale in comparison to the simple fact that you are now sitting next to a belligerently drunk girl who is a veritable fount of wrestling knowledge, high up in the "limited view" seats at the Barclays Center. Limited view is code for "almost behind the giant video screen." Almost behind the giant video screen is code for "really, really close to all the explosions." Oh yes, there were explosions.
Here's the most important lesson I learned in my three and a half hours of non-stop Raw: The action inside the ring, which despite its reputation is no different from live theater, is second nature to the fascinating subculture that flocks to stadium after stadium to watch it. And if you don't think that subculture is a large one, your commute obviously didn't take you along Atlantic Ave past Barclays, where the plaza outside the arena was filled to capacity before the doors opened. Continue down 5th Ave, and from every open air bar you would hear chants you wouldn't quite understand unless you knew the names of pro wrestlers dating back as far as the 1980s.
That's the surprising part of all this. You would expect the crowd to be crass (it was) and you anticipate it being on the juvenile side (it was), but nothing I've ever attended beat this in pure anticipation. I've been to Giants games at Metlife, Angels games on the West Coast, concerts in MSG and AC's Boardwalk Hall and even a Nets game at Barclays, and not one of those events came close to the level of pre and post-performance buzz of Monday Night Raw. Say what you will about wrestling fans, but they are all the way in for this to another level. Even walking in as a blind newcomer, you feel your heart rate increase just by osmosis. It reaches a point where at one point during the show the entire audience uses their phones to simulate a sky full of fireflies, and it's one of the coolest things you have ever seen, and you forget for one second that you're a fucking culture snob and smile to yourself like an idiot.
Of course, you take this good with the bad. There isn't much to say about the man who took a shit in a urinal, except that he was clearly hammered. Although I can say that his shirt was emblazoned with the words "NEVER GIVE UP," so I guess there wouldn't have been any stopping him even if I tried.
"That's wrestling fans for you," I heard another bathroom attendee say to his friend, but I did note he took the time to film the occurrence on his cellphone. And I couldn't help notice the irony that despite his holier-than-thou stance, the cellphone-filmer was also attending the show.
The WWE is a strange beast like that, in that its eclectic fanbase includes everyone from rabid urinal shitters to enthusiastic pre-teens whose parents drop hundreds of dollars at the merch table. Which looks great on paper, until you combine the two factions into one arena and set them loose. This often leads to tears when a 40-year old man wearing a Stone Cold Steve Austin t-shirt lets loose to a little girl that what she is seeing might not be real. It also leads to many parents having to politely, and then not-so-politely, beg neighboring attendees to please curse a little less.
But it sometimes results in gold like this, which happened in the row in front of me:
Drunk Woman, Slurring: "You suck at wrestling!"

Small Boy, Flabbergasted: "How could he suck? He's the Intercontinental Champion!"
The woman had no response, because how could she argue with such logic?
That's the thing. When it isn't a war-zone and the crowd is working in harmony, these people get fandom. It's why they press on undeterred by the "you know it's fake, right?" argument. In times like these where countless think-pieces are written and social pandemonium erupts after events on a TV show, it's hard to chide someone for getting excited over something that is "fake." As comedian Ron Funches put it, "No shit [wrestling] is fake. What type of psychopath would I have to be if I wanted it to be real?"
Or maybe screenwriter Max Landis got it right in his short film Wrestling Isn't Wrestling: "This show does not pretend to be an athletic competition. Instead, it is a TV show about a wrestling show."
That's exactly what I saw last night, and it explains everything. Monday Night Raw is not comparable to the Olympics, it is comparable to a highly-dramatized live show about The Olympics. This means that the audience is playing a role just as much as the wrestlers. When you watch Gladiator, the spectators in the Coliseum are part of the story. When you watch Major League, the spectators in Jacobs Field are part of the story.
When the arena doors close behind you at a pro wrestling show, you are stepping into a world where pro wrestling is real, and for better or worse you act accordingly. Suspend your disbelief enough, and you're immersed in an environment where someone being thrown through a table (which happened) is not only legal, but normal. Wrestling fans get a reputation for being angry, or violent, or just a little too enthusiastic, reputations I'll admit I held on to as I walked into the show. And while my feelings weren't fully dissuaded by the time I left, I do understand it. Outside the arena, wrestling isn't real. But once inside, suddenly you are being encouraged to play the part of the chorus in a Greek tragedy where people hit each other with chairs.
After the show, I rushed over to the Shake Shack across from Barclays, because wrestling or not a three and a half hour show is long. Lo and behold, who do I see walk past the storefront window but the guy who shit in the urinal. To my surprise, he was talking with a friend. Not shouting, not slurring, just talking. He barely even looked drunk.
The show was over, both in the ring and out of it.