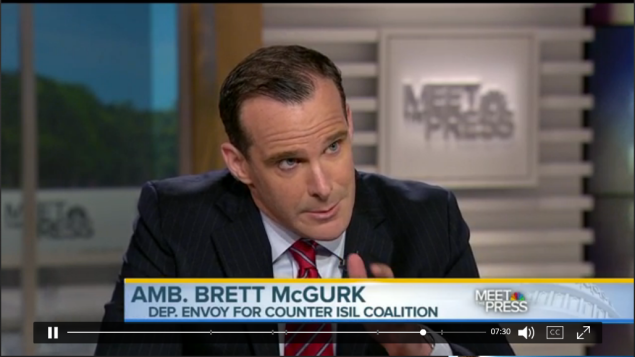 A few months ago, who would have imagined bully-boy Governor Chris Christie of New Jersey as merely the second-most belligerent Republican candidate for President?
But that's what happens when Donald Trump—a rich, loud real-estate developer from Queens—leads the polls with Mr. Christie a distant also-ran with only five months to go before the first primary ballots are cast.
Speaking of Trump, Mark Leibovich of The New York Times said Sunday on CBS's "Face the Nation" that Trump is "too 'Queens' for New Jersey," not to mention Iowa, a more placid place, where the campaign trail will begin with caucuses next February.
Mr. Christie, now a long shot in his right-wing party, resurfaced on "Fox News Sunday" when Chris Wallace let him chew up a bunch of red-meat issues for red-state voters.
He reacted to Ms. Clinton's comment that some Republican candidates regard women in the manner of the men from " terrorist groups."
"That's a disgrace," Mr. Christie said of Ms. Clinton. "She's a disgrace."
When Mr. Christie suggested Ms. Clinton should be prosecuted for mishandling email accounts as Secretary of State, Mr. Wallace replied: "Don't we need an investigation first?"
Mr. Christie said Ms. Clinton supports organizations like Planned Parenthood, a women's health group that "kills children in the womb" through abortion to sell baby body parts on the open market.
http://www.youtube.com/watch?v=CU99GpF2wdE
Unlike Ms. Clinton and other Democrats, Mr. Christie said he opposes "sanctuary cities" for undocumented immigrants and marijuana smoking in states that allow it despite a federal prohibition.
Mr. Christie called it "lawlessness" and added that "Apparently Hillary Clinton has caught this disease as well." He also said "The worst part is her arrogance."
At the end of the interview, the two men shook hands firmly.
"You're in mid-season form, aren't you?" Mr. Wallace said with a smile.
"You got it, baby," Jumbo said. "I'm hot. Ready to go."
CBS's "Face the Nation" went with Bobby Jindal, the Louisiana governor who is also a Republican Presidential candidate. Made sense. It was the 10th anniversary of Hurricane Katrina flooding New Orleans. But when pressed by John Dickerson about Mr. Trump's harsh deportation threats, Mr. Jindal – the son of immigrants from India — pivoted to other issues.
He said new immigrants need to "learn English and adopt our values. We need to insist on assimilation." Noting how Mr. Jindal gives slippery answers to direct questions when Americans crave authenticity, Mr. Leibovich said of Mr. Jindal: "That's not how usual human beings talk."
Most of the Sunday shows avoided extensive coverage of the murderers of two Virginia TV journalists on Wednesday during a live telecast. It got more time on CNN's "Reliable Sources" and Fox's "Media Buzz," which cover the industry.
On CNN with host Brian Stelter, contributor Bill Carter said of multiple shootings "There's one of these every week. Every day." Frank Sesno, director of the George Washington School of Media and Public Affairs, spoke of instant access to the internet, where murders can post videos of their killings almost immediately.
Mr. Sesno bemoaned "the disappearance – certainly on digital and social media – of gatekeepers, of editors and producers who say 'That is too far.'"
Both media shows, on CNN and Fox, replayed Mr. Trump's condescending, contemptuous tone to Jorge Ramos of Univision, who was ejected from a Trump press conference for asking about Trump's immigration policies. (Mr. Ramos eventually got back in).
Most sarcastic and dismissive was Fox host Howard Kurtz, who couldn't seem to understand why a Hispanic anchorman would dare question a Presidential candidate who smears Mexicans as drug addicts and rapists.
On CNN, Mr. Ramos Sunday said of his ejection: "This is the kind of things you see in dictatorships. He acted in an incredibly authoritarian way . . . The fabric of life in the United States might be completely transformed if he becomes President."
Among the more serious Sunday topics was ISIS, the radical Islamic terrorist army occupying large parts of Iraq and Syria while murdering enemies and blowing up ancient artifacts. Chuck Todd's "Meet the Press" on NBC included a lengthy segment showing a growing black stain over a map of ISIS-held territories, a look used in black-and-white newsreels to show Nazi occupation of Europe.
In his vague and insider-y way, Mr.Todd referred to a "growing consensus" in Washington that "our strategy to defeat ISIS simply is not working." (Who says so, Chuck? Name two). On ABC's "This Week," Vermont Senator Bernie Sanders – a Democratic Presidential candidate – noted that it would be nice if our oil ally, Saudi Arabia, would get involved in the fight against the extremists.
On his populist economic position, Mr. Sanders added "People work longer hours for lower wages" and that more wealth is going to the top one percent. But that's not news, is it?
Joe Lapointe spent 20 years as a sports reporter for The New York Times and worked as a segment producer for Countdown With Keith Olbermann. Recently, he's taught journalism at New York University, Rutgers and Long Island University-Brooklyn. Follow him on twitter: @joelapointe