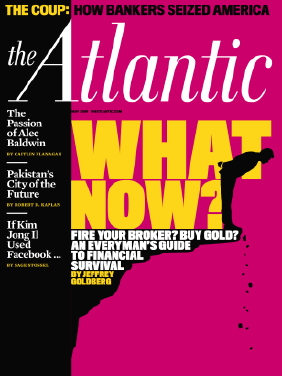 The Atlantic is returning to blogging, the158 year-old media company announced last night in a blog post. The new section of TheAtlantic.com, called Notes, will be a place for "first thoughts, running arguments, stories in progress," the section's tagline promises.
"It will be a hub connecting a real-time magazine with itself and its readers, where we'll process the world as it happens, test thoughts, preview stories, follow up on them, and hold debates, with each other and with you, about everything The Atlantic reaches," according to TheAtlantic.com editor J.J. Gould.
"[W]e're hoping Notes will feel both familiar and welcome to those of you who remember a bloggier Atlantic. But the Web's gotten more capable since, so there's also some brand new pizzazz under the hood, such as the fact that Notes flows just as nicely on a smartphone as it does on a laptop," TheAtlantic.com deputy editor Matt Thompson wrote in his introductory post for the section.
Other changes besides being mobile-friendly from the "bloggier Atlantic" of yesteryear and TheAtlantic.com's Notes section that launched yesterday is that it will be able to be sorted into pages by topic (like this welcome page) and will have a curated and edited reader contributor component in lieu of a comment section (run by Chris Bodenner, former executive editor of Andrew Sullivan's The Dish). There will also be an early morning and afternoon news Note and breaking news notes.
"Blogging is awesome. At its best, it's an idiom that lets us articulate and sharpen our thoughts while being more tentative and less rigid about them," Mr. Gould wrote.
"The idiom never ceased to be awesome. It just ended up out of phase with the ascendant dynamics of distribution and consumption on a bigger and bigger internet," he went on to explain later in the post. "But this confluence of awesomeness and out-of-phase-ness may represent a special potential in blogging today."
The return to the awesomeness that is a blog is, according to the numerous explanations, still a work in progress. It is also vaguely confusing. To be honest, it sounds a bit like at least one of the many iterations of The Wire (or, as it was previously known, The Atlantic Wire), The Atlantic's stand-alone breaking news and aggregation site that closed almost a year ago . But neither The Wire nor The Atlantic Wire was mentioned on the new blog. Noted!