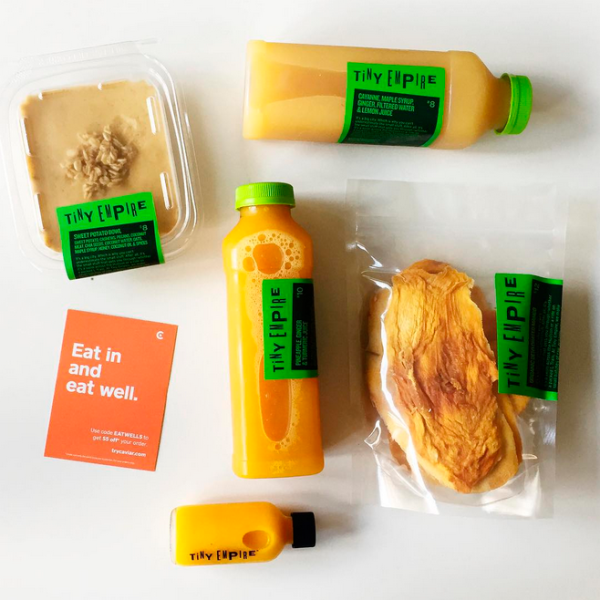 "Do you have the juice?" One of the construction workers asked me as I took in the Baron Andre graffiti outside the new Tiny Empire NYC shop, waiting to preview their new 234 Lafayette Street location in Soho. "They said there was going to be juice." While I had to tell him I didn't have any beverages, the encounter spoke to the type of customer that the juice and smoothie shop speaks to: just about everyone.
The owner of Tiny Empire, Anthony Spadaro, is a former tattoo artist and lifelong skater that taps men like pro-surfer Mikey De Temple and Patagonia ambassador/all around active guy Forrest Shearer as the faces of his shops. Alongside those faces come artists like Richard Phillips, the Gagosian represented artist of Gossip Girl fame known for his glossy, hyper-realistic large-scale paintings depicting the likes of Lindsay Lohan and Kristen Stewart. For Spadaro, Phillips collaged three of his paintings into an ombre green wall for the new location, clearly destined to be the background for all of your #fitfam, early morning Instagram uploads. Phillips work will also appear on the company's VIP cards, a t-shirt and there will also likely be a smoothie made in his honor.
Like the Tiny Empire Williamsburg venue, the line-up boasts smoothies, juices, tinctures and more. "We changed a couple items for the menu here, like we have a wasabi kale salad with guacamole that I'm pretty stoked about, but most of it [is] the same," Spodaro admitted. The smoothie menu comes "streamlined" into a permanent collection, set to be built upon from time-to-time with seasonal options. Take the fruit compote mix: while it's based on figs now, come September it might be based on pumpkin.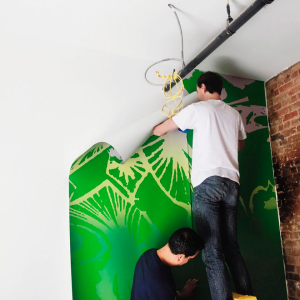 "It's not only going to be seasonal," the proprietor clarified. "We might also have wacky, fun things in the mix like a spoof on the Pumpkin Spice Latte or something fun like that." Sodaro will be working with Melissa Love, a raw chef he recently brought on board as his executive chef, to create those recipes.
The location is a familiar one for the Upstate New York-native. "I actually lived here for about 15 years and would come to the Dominican restaurant that was in this space about 10 years ago." Couple that with an affection for local cool spots like Supreme and La Colombe and you've got the recipe for the perfect opening. In fact Spadaro has already partnered with one of those names. A new drink hits the menu in Soho that uses raw almond milk and La Colombe cold brew coffee. Coffee laced desserts also might be some where down the pipeline.
Other things to come include new product categories (soup, hot drinks and more to hit mid-October) and a smoothie window for those on the go, hopefully to open in three months. For the overall business, expanding with a Tiny Empire location that's more food-based is of definite interest.
Until then, fans will have to drop by the new Soho location which debuts today or the Williamsburg storefront. If you're a newbie, Spadaro points to the strawberry, maca, bananas, dates and hemp milk concoction on the smoothie menu; "It's hard to go wrong with strawberries and bananas."