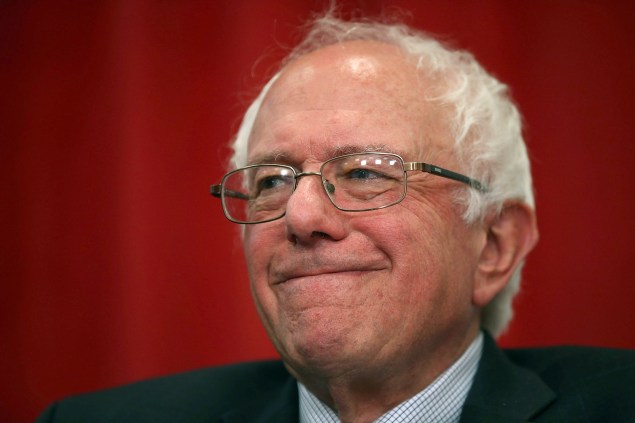 While the front pages of The New York Times and the evening broadcasts of the television news are bannering stories of candidates from Hillary Clinton to Jeb Bush raising big dough from big donors and reaping the benefits of giant Super PACs, the legions of grassroots supporters of Bernie Sanders are quietly marching across the playing fields of social media and planning a small donor moneybomb extravaganza to celebrate the birthday of their champion on September 8.
Stay tuned: the Sanders moneybomb will be a big deal that will fuel organizing for other big deals that have already begun from even larger crowds at big rallies and mass organizing for Democratic caucuses.
The concept of the small donor moneybomb was pioneered in earlier campaigns by former Republican congressman and presidential candidate Ron Paul, who like Mr. Sanders was a candidate of conviction and ideas, with a large and devoted following and savvy grassroots activists who believed in the revolutionary potential of social media.
Ron Paul's moneybombs were brilliantly successful for his campaigns and the Sanders campaign began to pick up the moneybomb torch earlier in the campaign. The September 8 Sanders moneybomb event could well become a seminal moment in presidential politics by bringing together a political cause, an individual candidate, a progressive movement that is in a historical moment of ascendancy, and a social media revolution that has already generated exponentially larger crowds than other candidates and will promote surging turnout at presidential caucuses that will confound insiders.
The advent of social media today creates a political impact as powerful as the impact of television during the Kennedy-Nixon debates in 1960.
Please view this column, which was prompted by an anonymous tip to the Observer after my recent column predicting a Bernie Sanders shocker is coming, not as a form of advocacy for a candidate but as a combination of new journalism political reporting about what is actually happening in politics that matters, and a Harvard Business School-style case study of one campaign and one event with far larger implications for American politics.
In my earlier column, I quoted the superstar social media entrepreneur Jenny Q. Ta, the founder and CEO of social media net-WORTHING platform sqeeqee.com. She suggested that the advent of social media today creates a political impact as powerful as the impact of television during the Kennedy-Nixon debates in 1960.
For our analysis today, Ms. Ta took the case further, telling me: "We should never underestimate the power of popularity plus social media pull. When you combine the 'popularity factor' with the almost unbelievable ability of social media to promote a cause and spread the word quickly, you soon discover the medium's surprising potential to raise an enormous amount of support in an incredibly short time."
Forget for today what you hear from political pundits on television. They are brilliant at predicting what happened yesterday and usually wrong about predicting what will happen tomorrow because they are trapped in a Stockholm syndrome of insiders talking to insiders about inside baseball that usually misses the core importance of political events.
Today, in the Harvard Business School case study style …
Let's consider one event: the Bernie Sanders birthday moneybomb. Let's focus on the date for that event: September 8. Let's consider the candidate: Mr. Sanders. Let's focus on the grassroots organizing for that event: a bottom-up social media movement on behalf of a progressive movement for an event that business experts would label cause-related marketing and civil rights organizers would call a powerful grassroots movement for dramatic social change.
In the genre of new journalism about presidential politics…
For serious practitioners of politics, enterprising journalists who want to report about more than meaningless name-calling during 30-second sound bites on three-hour news cycles, and supporters of Mr. Sanders and other candidates, I propose you follow the link here, which is a google search for Bernie Sanders birthday moneybomb.
What you will find, as I did researching and reporting in preparation for this column, is a fascinating collection of Facebook pages, Twitter accounts, reddit pages, thunderclap pages, and other Internet and social media organizing centers supporting Mr. Sanders' candidacy. Under the radar of the mainstream media they are spreading the word about the Sanders birthday moneybomb.
Follow the trail of the google search for Bernie Sanders birthday moneybomb and you will see one site after another in which Sanders supporters alert each other and organize for upcoming rallies in various towns and cities.
If you follow this trail, you will find much more than discussion of the September 8 event. You will find communities of believers and activists sharing creative ideas, which in some cases follow the managers of the Sanders campaign and in other cases invent new ideas they want to propose to the Sanders campaign, or self-generated actions they are taking on their own.
Want to know why Bernie Sanders has been drawing exponentially larger crowds, by far, than any other candidate in either party and why he will be drawing similarly huge crowds in the coming days and weeks? Follow the trail of the google search for Bernie Sanders birthday moneybomb and you will see one site after another in which Sanders supporters alert each other and organize for upcoming rallies in various towns and cities.
Want to know why Mr. Sanders will do better in presidential caucus states than experts understand, including almost certainly Iowa? Follow the trail of the Bernie Sanders birthday moneybomb google search and you will find communities of Sanders supporters in Iowa and other states diligently organizing, under the radar of insider pundits, for presidential caucus turnout.
Folks, we are doing real journalism and real politics here, about real people organizing real events in a real campaign. While the pundits on television are finally beginning to recognize the existence of the huge Sanders crowds, they are nowhere near understanding, let alone reporting about as we are doing here, the power and importance of what is happening and why.
I am a big believer of the concept in theoretical physics of the alternate universe. The great divide in American politics is not merely about the left versus the right or Democrats versus Republicans. It is about the alternate universes of political insiders versus citizen outsiders who are appalled by the current political system. It is about the oligarchic power of big money to buy and corrupt our democracy versus the citizen-driven people power of individuals who make large numbers of small donations to advance their aspirations and cleanse our system of corruption.
In media and journalism, the great divide is between top-down old media that is the haven of old politics, fueled by consultants and operatives who make their money by taking polls and doing focus groups and profiting from big buys of television ads to try to convince voters that the politicians believe what the polls tell them citizens want, versus the bottom-up new politics driven by new media in which citizens fight back against the system, create communities based on their shared visions for a better world, and exchange ideas and organize creatively and aggressively to make things happen.
The reason I have been so focused on the Sanders campaign in recent months is that citizen activism and small donors are the bedrock of true democracy and the antidote to corruption.
America is becoming a form of oligarchy, in which a small number of hyper-wealthy power player donors dominate a system run by a small number of political insiders who are beholden to those who give them money.
This is one of most powerful moments in the modern history of the progressive movement and potentially the nation.
The most extreme example of this corruption is the Jeb Bush campaign, where almost his entire fundraising is based in super PAC's made possible by the reprehensible and corrupting Supreme Court decision in Citizens United, from a court that rules in some cases that the wealthy have the right to buy elections, while it rules in other cases that citizens can be stripped of their right to vote in those elections.
Jeb Bush has taken this perversion to absurd levels that, in the eyes of the Lord if not the law, should be the subject of grand juries and not the path to political power. Even the Supreme Court that offers these reprehensible rulings claims there should be no collusion between the campaigns and the super PAC's but in the case of Jeb Bush, there has been virtually no fundraising tied to the campaign for many months, with virtually all of his fundraising housed in his super PAC's in a Kafka-esque perversion of a reprehensible court ruling.
By contrast, small donors have the power—if they exercise that power as they are doing for the Sanders campaign and other campaigns—to have big influence. One small donor cannot stand up to the Koch Brothers but a million small donors, or 5 million small donors, can act together to change the world.
On September 8, during the Bernie Sanders birthday moneybomb small donors will be inspired to give $8, or $80, or $800, or they might even organize their friends to raise $8,000 dollars. In the old politics it is no secret that campaign "bundlers" can buy an ambassadorship to Britain or France by bundling hundreds of thousands of dollars of campaign donations, while in the world of small donors to Bernie Sanders and other change candidates a lot of donors of $8 or $80 or $800 seek to buy nothing better than a more fair and just America.
The potential power of this combination of social reform and social media, of people power driven by high ideals and great aspirations, is limitless in a world that cries out for fairness, decency and change and a nation that is fed up with business as usual in a system that is corrupted by politics as usual.
Other candidates can follow the Sanders model of dramatic reform empowered by new media if they hear the message of the people. Hillary Clinton, are you listening?
In the meantime, keep your eye on the Bernie Sanders birthday moneybomb, which will quantify the power of large numbers of individual citizens working for great causes for dramatic change.
This is one of most powerful moments in the modern history of the progressive movement and potentially the nation.
The future is coming and the future is now.