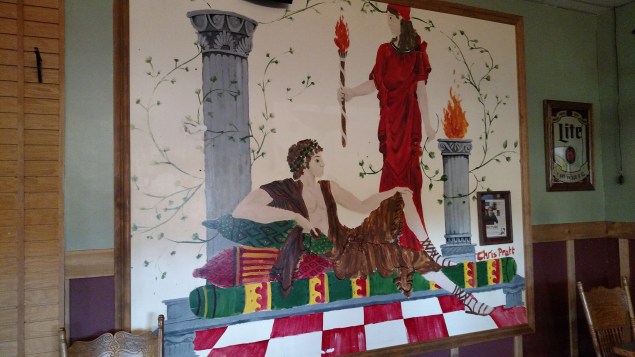 Lovable Chris Pratt just got even more lovable.
It turns out that, before his acting days, the Parks and Recreation-Guardians of the Galaxy-Jurassic World star was actually an aspiring painter. A mural he painted as a teenager was recently discovered by an Imgur user and has since gone viral on the photo-sharing site.
In the post, the user recounts going to an Italian restaurant for a birthday dinner and noticing that "Chris Pratt" was signed quite largely on a mural on one of the walls. The owner confirmed the now-actor was indeed behind the masterpiece, sharing that Chris Pratt and her son were best friends in high school and that he actually worked there as a dishwasher. According to commenters who recognize the painting, it resides in Omega's restaurant in Lake Stevens, Washington, which is where Mr. Pratt was raised.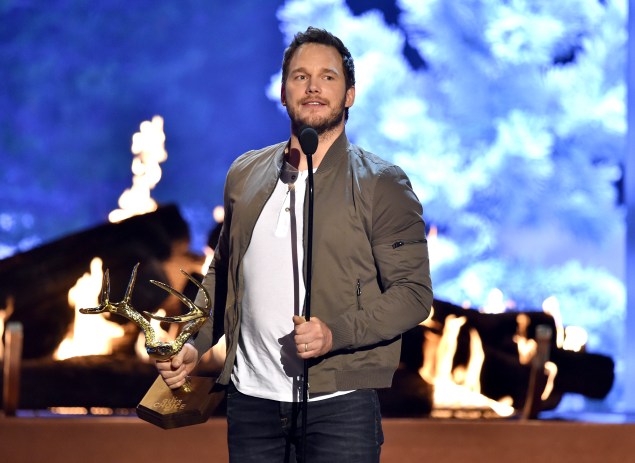 While discussing his love of painting with Teen People in 2003, Mr. Prat offhandedly mentioned painting a mural in a friend's Italian restaurant (as well as his high school's weightlifting room). He didn't give any details, and the topic doesn't seem to have come up much since—it's not even mentioned on his Wikipedia page.
However, today is the age of viral Internet content, and Mr. Pratt is now an adored actor. There was no way this fun fact would slip through a site like Imgur without reaching the sought-after front page.
From an artistic standpoint, the mural is arguably terrible. Yet, because we can picture fun-loving Andy Dwyer goofing off with a paintbrush, it's still coming across as adorable. The restaurant owners are certainly embracing it. (They have the Teen People article hanging on the wall). We wonder if the painting would remain there sans Mr. Pratt's fame.
We're hoping yes.
Correction: An earlier version of this article said Mr. Pratt discussed his love of painting with Teen Vogue. The Imgur user actually claims the article ran in Teen People.