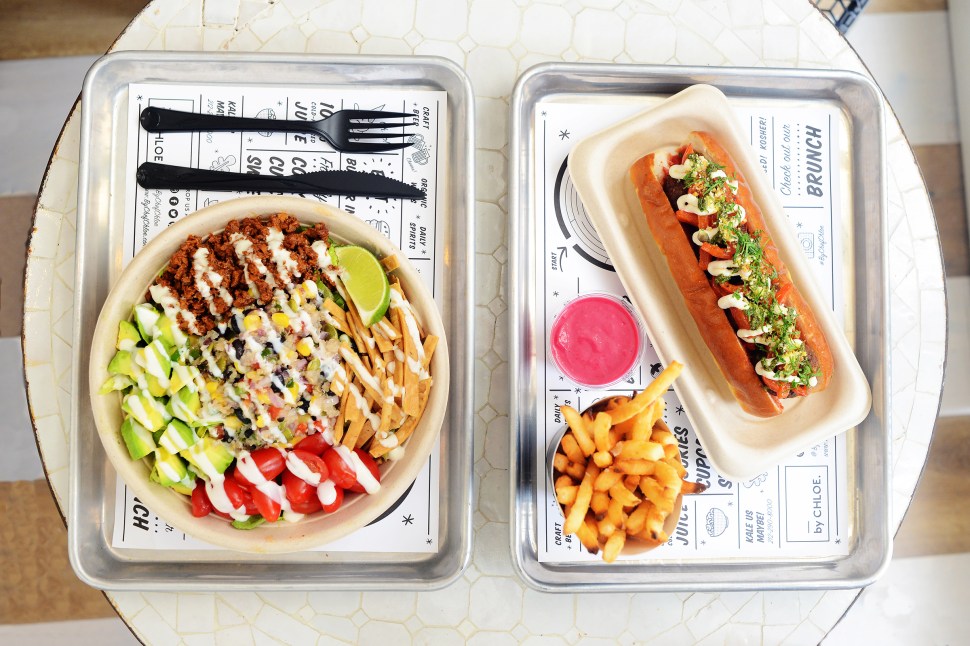 If my recent ode to New York's best burger did not make it clear, I love meat in all of its forms. Before dining at by Chloe, my personal punctum of a vegan meal was the "veggie option" I often sniff out next to me while attending the city's top benefits for the Observer. Last Fall Fashion Week, veggie options were everywhere. While I dined on a beautiful steak I would never be able to afford, a fellow attendee chomped on a mass of tepid cucumber. "How is that?" I asked pointedly. "Fine," my seat mate said. The upstanding morals of vegan folk are always admirable. They would rather suffer through a million grey veggie plates than dine on a murderous filet mignon.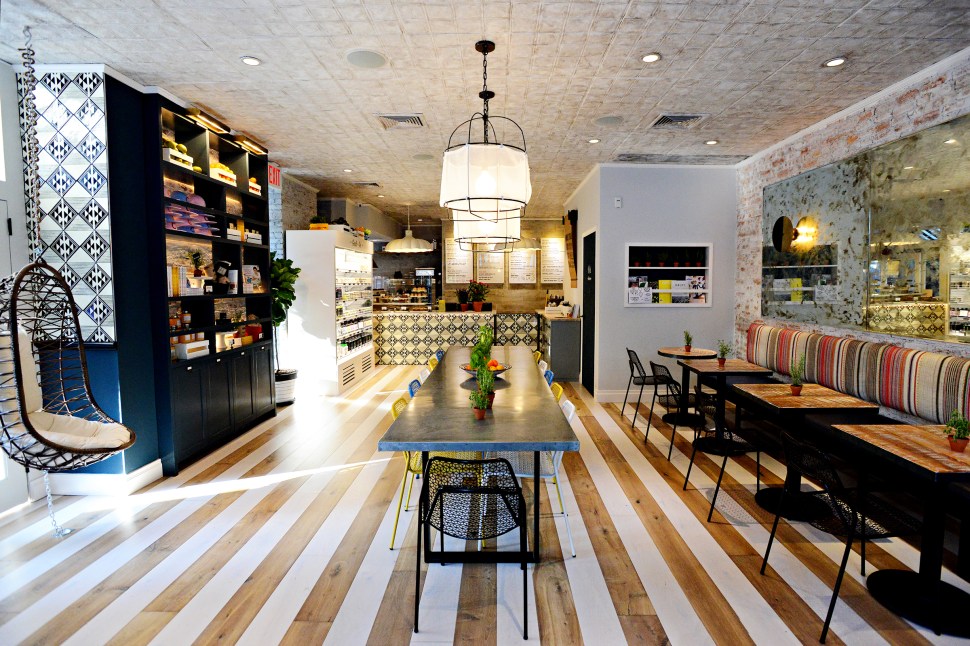 by CHLOE is different. The food is not just "fine." The food is awesome, and everything served just happens to be entirely vegan without feeling like a lesser option. Ironically, the newly opened eatery is located diagonally across Bleecker Street from hamburger heaven J.G. Melon's new downtown location. I have affectionately coined the intersection "A Tale of Two Burgers," as the eateries opened at nearly exactly the same time, in nearly the exact same place, but stand miles away from each other on a spectrum of gastronomical values. Though it is clear that neither hotspot cares about our waistlines.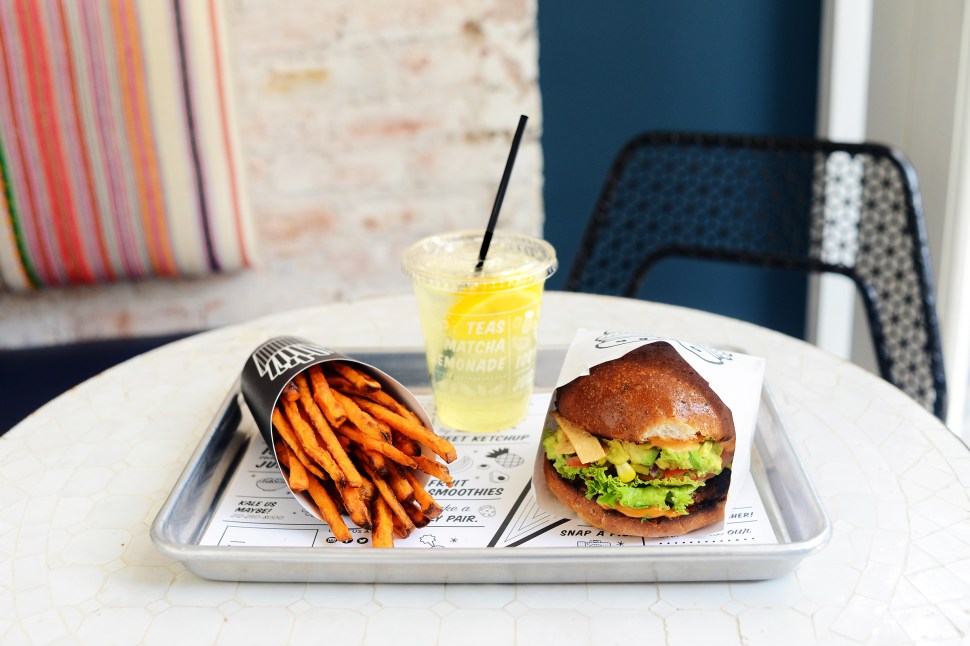 Rather than continue the implicit tie between veganism and healthy eating, founder Chloe Coscarelli and partner Samantha Wasser throw caution to the wind. The two are happy to cover their signature items like the "guac burger" in their homemade chipotle aioli, or their pesto meatballs with an over-the-top marinara and cheeses combination of "almond parm" and "cashew mozz." It's all paired with a side of fries to boot. The girls are not afraid of booze either. A crowd favorite, perhaps for its topical kitsch, is the kale-matcha mojito. The organic rum-based drink is, of course, garnished with a big sprig of the green leafy stuff for ten dollars.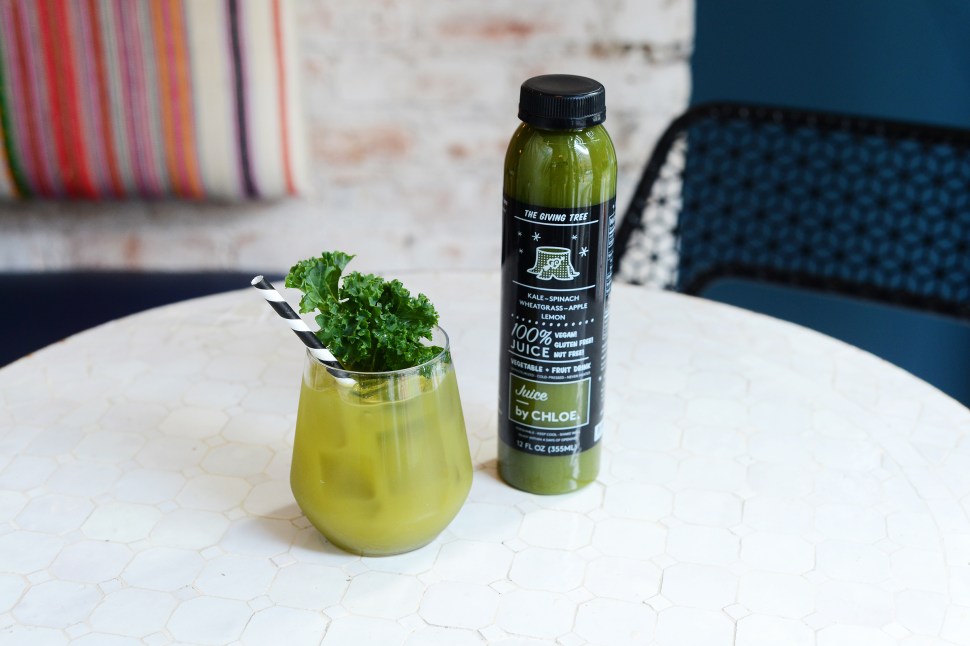 What's more, there's an entirely new culture and aesthetic around the food. The space is modern yet wonky and warm. It does not regurgitate the commercialized hipster vibe that plagues downtown, nor the faux grit served up with an $27 cocktail behind a secret doorway. Instead, by CHLOE's interior is uniquely branded with varied patterns and cheeky shapes. It feels cute and bright, but never dainty. There are little hints of self-deprecation at the vegan lifestyle as a whole too. For example, the egg-free eatery has a set of ceiling fixtures that appear to be modeled after large cracked eggs.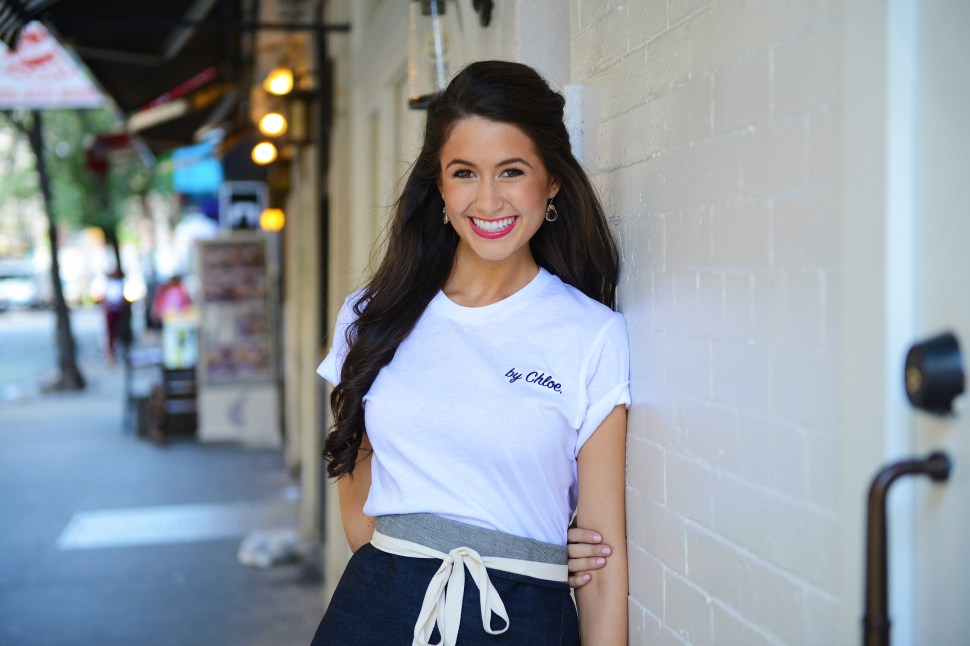 This fresh take is admirable, but it is also likely to be a wise and lucrative play. The dining experience is unique enough to give rise to a cult following, much like SweetGreen which has cultivated a group of brand evangelists up and down the East coast. "This is the happiest I've been in a long time," a giddy young blonde girl said to her friends at the table next to me as she snapped a stylized photo of her meatless burger and fries. "What's their Instagram handle?"