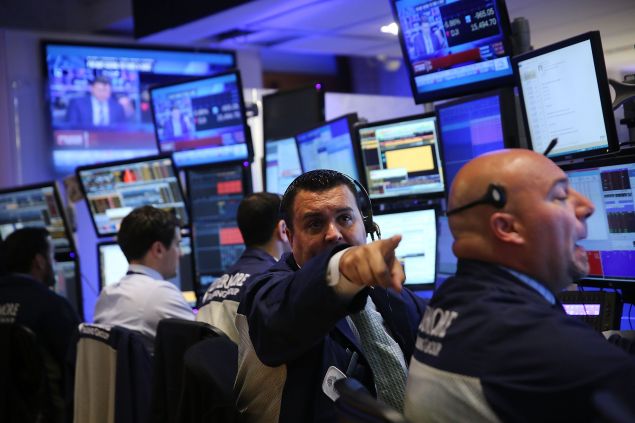 Why is anyone surprised by the Chinese market crash? For months, even years, pundits predicted the slowing of China's economy—if for no other reason than the law of large numbers. Small economies, just like small businesses, can easily grow fast early; it's when they get big that that the trouble starts. Of course the first years of Twitter or Facebook showed gigantic growth—and of course the United States and Walmart do not. This should be news to no one.
In addition, the Chinese economy depends significantly on Western consumption. But the West is laden with debt. In the U.S., consumer debt exceeds $3 trillion and what jobs have returned don't feel very secure to anyone given the ability to fire people on whim. In the U.K.—ostensibly the healthy man of Europe—Mark Carney, governor of the Bank of England, can't wait to raise interest rates, but high levels of consumer debt, coupled with very dubious economic growth forecasts, keep staying his hand. Government debt is forecast to be back at peak levels in three years. Elsewhere in Europe, even slower growth coupled with even higher levels of consumer debt fail to offer any alternative narrative. Fascination with Greece might be explained by a kind of schadenfreude—far better to watch the woes of others than contemplate home grown failure.
Meanwhile, the Chinese, always adept imitators, have piled on property debt just like the West did all those years ago. Both the West and China are easily susceptible to exceptionalism—the vain belief that they, or the times, are exempt from normal rules. But property development seems to work the same for everyone—from conservatism to over-exuberance and back again. There's a reason it's described as cyclical.
In 2008, we learned in a way we hoped was unforgettable that economies are critically interconnected. Any slow down has a domino effect and a slow down in an economy that represents 15 percent of global GDP is no exception. Meanwhile, the U.S., the most energetic of all the anemic economies, represents a smaller share of global GDP than ever. Its fragile recovery hasn't been enough—and won't be enough—to counter-balance volatility everywhere else.
Committed investors will sit out the storm. More excitable investors and pundits will try to draw dramatic political or economic conclusions but they would do better to consider just how little has changed in the way that business is done and economies are managed. CEO pay is still dangerously high when compared to wages overall. The largest companies struggle mightily to stay innovative and relevant. Restructurings are sexy but they don't make money. Mergers and acquisitions are always a tremendous distraction but their 50 to 80 percent failure rate hasn't improved in decades. In all developed economies, productivity—declining steadily since the '60s—continues to be elusive. New technologies haven't yet generated jobs or wealth or anything much more than headlines. Like many a dysfunctional company, governments seem able to analyze their problems but refuse to make the concessions or accept the trade-offs required to fix them.
As much as everyone hopes for economic recovery, for a return to the days when we seriously imagined boom-and-bust had been vanquished, we have to recognize that the crisis is still with us. We have fixed nothing. Willful blindness remains rampant. The instability that rocked us before is still there, endemic to the way we live and work. Only mad people believe that doing the same thing over and over again guarantees a different result.
Margaret Heffernan is the author of Willful Blindness: Why We Ignore the Obvious at Our Peril.