"I don't deliberately court controversy," said Brooklyn-based sculptor Mark Porter in an exclusive interview with the Observer, "but now I have people emailing me eternal curses in Latin."
Mr. Porter, 36, recently finished a one-ton bronze religious monument, which was unveiled earlier this summer in a well-attended ceremony in Detroit, Michigan.
While that might sound commonplace, the event had to be moved to a secret location in order to protect the anonymity and privacy of the believers, so controversial was the nearly nine-foot object. Yet, ironically, you can browse pictures of the statue—as well as pictures of the surprisingly glamorous soirée and accompanying concert—on Facebook. On "The Satanic Temple of Detroit" 's Facebook page, to be exact.
The unveiling introduced the world to the congregation's newly commissioned statue of Baphomet, a winged (and supposedly hermaphroditic) half-human, half-goat based on a drawing by a 19th-century French occultist named Eliphas Levi.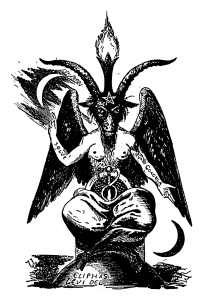 Baphomet, which was likely a mash-up of the Egyptian ram-headed fertility god Banabdjedet, and the prophet Mohammed, was an idol that members of the secret society The Knights Templar were accused of worshipping in Europe and the Middle East until the order disbanded in the 14th century. Over the years, the figure has been increasingly associated with anything vaguely occult or satanic, to the point where he's come to represent the devil himself.
Mr. Porter faithfully recreated Levi's original drawing for the artwork, but added two children—a boy and a girl—flanking the devil, gazing at it in wonder and amazement.
"I can't help but see this work as an actualization of my 15-year-old self sketching heavy metal album covers," said Mr. Porter, who operates a studio specializing in masonry, foundry, and other sculptural techniques. He noted that he is not a Satanist, a fact that people emailing him do not realize.
Mr. Porter was introduced to The Satanic Temple, a contemporary version of Satanism, "through a friend." Based on images of previous work, he won the commission, which he said cost $100,000 to produce.
He started by creating a steel armature and using an oil-based clay to sculpt the forms. Then he made a mold of the whole piece using plaster and Urethane rubber from which a ceramic shell was created. Then the bronze objects were cast and assembled. "It was extremely labor intensive," said Mr. Porter, who held an extensive apprenticeship with Brooklyn sculptor Boaz Vaadia where he learned much of his craft. "I did most of the ceramic and metal work outside in Florida, which added to the whole 'hell' theme." In order to turn a very basic line drawing into a three-dimensional work of art, he needed to reference all sorts of cultural elements, from Michelangelo's David, to the sculpted physique of Detroit rocker Iggy Pop, he said. As mentioned, heavy metal album art (particularly from the band Slayer) was a big influence, but so were unexpected sources, such as the homespun Americana paintings of Norman Rockwell. Imbuing the piece with these extreme contrasts was important to the work, said Mr. Porter.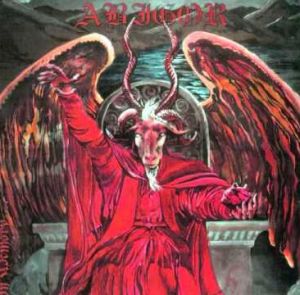 "Much like the idol the Knights Templar were accused of worshiping, this depiction of Baphomet represents an interconnectedness of the elements of the natural and spiritual world. It is male, female, human, animal, magical and mundane. It is both serious and comical, rendered with sincere intensity and contemplation."
So where does Mr. Porter's Baphomet sit in terms of sculptural greatness? It's definitely not the kind of post-studio, concept-laden sculpture that tends to dominate Chelsea galleries these days, but there are small elements of modernity in the work. While Baphomet clearly reminds one of well-known Renaissance works, particularly the  heavily shadowed masterpieces of Caravaggio, the patterned shorthand of the feathers and other geometrically simplified areas also give a nod to the more decorative Arts and Crafts Movement of the late 19th century. Both aesthetics are heavily favored in 1960s psychedelic art and 1980s Heavy Metal art, so Mr. Porter has clearly done his homework.
Yet aspects of the statue, particularly the spellbound children flanking Baphomet, are seen as hysterical to some, scary to others. (Some churches in Detroit have held masses to counter the group's efforts.)
The next stop for the sculpture is Little Rock, Ark., where supporters hope to place it next to a Ten Commandments statue, as a statement on the separation of church and state, which is a political cause célèbre of modern Satanists.
"I can't help but find a comedic element in the sincere, devoted effort I put into this monument," said Mr. Porter. "I think it's important for an artist to approach a work with complete seriousness, but to still understand that the work ultimately lives on according to it's own terms."