Soho is pretty much the poster child for gentrification.
In fact, it even has a specific pattern of gentrification—"the SoHo Effect"—named after it, which describes the process in which a formerly bohemian neighborhood occupied by poor artists is transformed into a tourist haven with a strip-mall vibe.
But some still believe that the remaining shard of Bohemian identity is worth clinging to. To wit, the Soho Design District, a nonprofit group comprised of design showrooms located in the historic neighborhood, was created in April in an attempt to preserve the neighborhood's design communities.
"In the same evening, four people all said the same thing. 'Our lease is coming up in Soho, we don't know what to do, rents are going up ridiculously,' " Soho Design District president Dahlia Latif told the Observer. Ms. Latif has experienced the rent increases in Soho firsthand–she is the showroom and sales director at Artemide, a lighting design company located on Greene Street.
Many of the other design companies with showrooms in Soho signed their leases around the same time, and while rents have been steadily increasing for years, "the renewal process has become more costly that it was." Ms. Latif felt that banding together was a solid new approach. Ms. Latif noted that design companies are distinct from fashion because they have smaller margins, and thus needed to form a group that was focused more explicitly on their own separate needs. For the most part, the Soho Design District is made up of luxury companies, including Design Within Reach, Flou, and Cappellini. If they move their showrooms out of Soho, they face the possibility of not being able to reach the high-end clientele that makes up much of their business.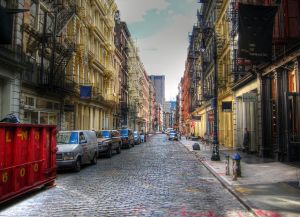 "Some of the leases aren't even up yet, but the landlords are already approaching the showrooms and saying that if they leave, the landlords will pay them out," she said. "People are weighing their options, because none of us want to leave Soho."
Ms. Latif decided to organize a meeting of these showrooms. "There's actually a lot of opportunity here, we've never united as one area, as one neighborhood, so let's work together and find solutions together. We started meeting once a month for almost two years. In that process, we founded the Soho Design District."
An added difficulty, Ms. Latif said, is that a lot of the companies are European brands, or smaller companies and so they don't know the legality of retail space in the city.
And while it may seem like a long lost cause, the trade group is also pushing back against the further gentrification of the area, voicing their opposition a number of new condo developments have popped up along Soho's borders, including 10 Sullivan Street and 70 Charlton, though she maintained that these residential properties will not have as much of an impact as the older retail spaces, as the new building's commercial storefronts will be "out of our budgets for the most part."
The group is currently focused on getting the city to enforce existing laws that limit mixed-use retail spaces to 10,000 square feet, which they claim the city has neglected to do, allowing retailers to come in and push up rent prices.
She added that they're also looking to find "places further out in Soho—that's what people would love to do." Though while that strategy may have borne fruit in 1985, options are limited at present. "There are a lot of empty spaces throughout Soho, some of which have been empty for years. The investors are just sitting and waiting for a higher price, so it's hard to find something. Landlords aren't willing to be flexible with pricing, they would rather sit on it for years, especially the closer you are to Houston," Ms. Latif said.
Ultimately, landlords and investors will find someone willing to pay the increased rent, which has led to many design showrooms moving to Madison Avenue in the thirties–an area that, though more affordable, Ms. Latif complained lacks the "history of design, architecture, and art."
"The history and the design is historically what brought everyone everyone together to begin with, what brought showrooms to Soho to begin with," she said. "New York is one of the biggest cities in the world for design, and we are a go-to space. There's history behind our products. Design schools from New York and other cities come to our showrooms and our businesses for that knowledge, for that hands-on experience."
Despite the fact that it is difficult to argue against the widespread gentrification of Soho that has led to the department and chain stores that make it something of a tourist trap, Ms. Latif remains hopeful that Soho will not become devoid of the artistic culture of its past.
"Smaller shops and boutiques, that's part of the charm of Soho and its history. Not big department stores. Ultimately, if all of us leave, Soho is just going to be a mall. We're doing out best to find ways for that not to happen."
Not that they're necessarily banking on a successful outcome; as Ms. Latif reflected near the end of our conversation: "We're so happy to be in Soho, we want to make the best of the time we have here."