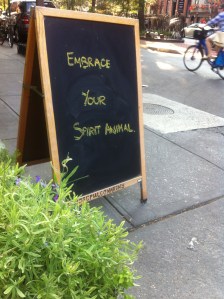 A hulking, helmeted guy on a scooter—never a good combination—charged down the middle of the sidewalk the other morning, forcing some fancy footwork before coffee. Prior to the potential collision, I practically needed a tank to traverse 10th Avenue in the 30s, a construction war zone. Then there are the smartphone zombies shuffling along while ego surfing.
The point is that pedestrians have it tough these days. Yet, at the same time, precious sidewalk space is increasingly hogged by another scourge: sandwich boards touting all manner of retail establishments.
According to New York City administrative law, sidewalks "must be kept free from … sandwich or A-frame signs." The routinely flouted rule likely protects the visually impaired. But what I find more galling than legal transgressions are the inane, Internet-kitty-cute messages conveyed by these dopey inanimate barkers.
"What would Jesus Drink? Cold brew or regular iced coffee?" pondered a sign outside a café near the South Street Seaport, replete with chalk halo. (Jesus, I believe, would turn the other cheek, literally).
Shorty's, a greasy spoon on Ninth Avenue, thinks it is a laugh to promote obesity: "The More You Weigh, The Harder You Are To Kidnap. Stay Safe, Eat Cheeseburgers."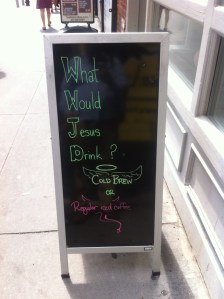 "America, Fuck Yeah!" read a vulgar sign evoking Team America outside messenger bag purveyor Chrome Industries (whose products are often produced in China).
On Greenwich Avenue, two signs for two different businesses stood within about 20 feet of one another, an idiocy pissing match. "Alcohol," declared a sign in front of a wine shop, "Is The Liquid Version Of Photoshop." The bar right next door tried to attract clients with "Forecast For Tonight: Alcohol, Poor Decisions, Low Standards."
Unquestionably, the worst offender in my neighborhood is the otherwise excellent restaurant Joseph Leonard. I would patronize the place if not for its sappy daily specials, including, but not limited to, "Embrace Your Spirit Animal" and "Come In: Our Dishwasher Is Highly Personable and Proficient." Groaners, yes, but not nearly as off-putting as "Too Legit To Quit—The Measles," a baffling response to the outbreak of the disease in California earlier this year. I wish the bistro's owner would simply let his food speak for itself.
I did notice one sandwich board recently that made some sense. The sign, outside a bar on Seventh Avenue, quoted Oscar Wilde from The Happy Prince and Other Tales: "I am so clever sometimes I don't understand a single word of what I am saying."