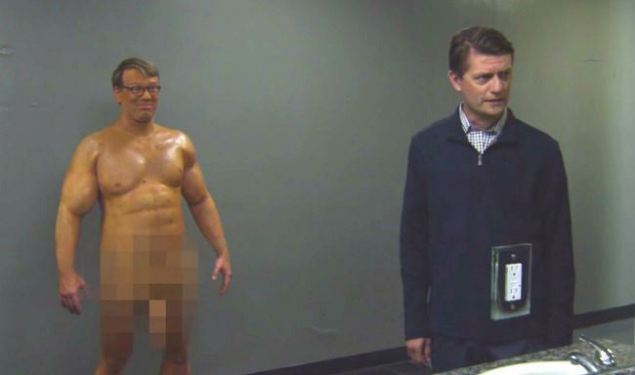 Hilarious but complicated, Review is an easy show to praise but a hard show to, well, review. The Comedy Central series, which began its second season last week, stars comedian Andy Daly as Forrest MacNeil, a super-square TV host who "reviews" different life experiences suggested to him by viewers by doing them himself, then rating them on a scale of one to five stars. The review subjects have run the gamut from the innocuous to the spectacular to the sinister: going to the prom, space travel, having a best friend, orgies, eating pancakes, being racist, you name it. The premiere's three topics were bareknuckle brawls, blackmail, and glory holes. But the obvious absurdity of treating anonymous fellatio through a men's room toilet stall divider like the latest Karl Ove Knausgaard book or Marvel Cinematic Universe movie barely scratches the surface of what the show is up to.
At first glance, Review appears to be comedy in which someone makes a major production of doing basic things in a very stiff, social-anthropology, insider-playing-at-outsider way — Sasha Baron Cohen in khakis. This is indeed the basic approach. But the show's genius is that instead of treating each review as a separate, self-contained event, mined for jokes then never referred to again, there's continuity between all of them. The magical comedy reset button you'd expect them to hit after Forrest, say, gets addicted to cocaine, overdoses, and goes to rehab, never gets hit. The experiences build one on top of another.
That's the angle that stands out to actor James Urbaniak, who plays Forrest's amoral producer/enabler Grant. "There's an element of it being a satire of reality TV," he says. "In reality TV, you make decisions that have an emotional effect on people but are restricted by the parameters of the game or the competition. [Review] is breaking down those parameters, so he's making very big decisions, like getting divorced, that affect his whole life."
"Affect" is an understatement. Even though the only time he acknowledges it before the first season finale is in one brief fit of self-pity while eating an enormous stack of pancakes (don't ask), Review shows Forrest slowly but surely destroying his life and the lives of everyone around him. His marriage ends. Multiple people get killed. All under the rubric of this preposterous high-concept mockumentary show.
In other words, Review is a satire not just of reality shows, but of New Golden Age of Television antihero dramas, hiding in plain sight. It takes the basic "man ruins all he cares about in the name of something that makes him nominally freer and more powerful" structure of the genre and plays it for deliberate laughs. Instead of a meth empire or a mafia family or a double life, he commits his bad acts in the name of the television show that chronicles them. He's Walter White, but without the sense that there's anything tragic about him — he's just an oblivious faux-smart buffoon. It's a satire of the middle-class middle-aged white-male entitlement and privilege that all the big dramas treat as the stuff of life.
"He is like Walter White," Urbaniak says. "I never really thought about it that way, but I like it, and I'm buying it. He's a guy who's made, at a certain age, decisions that simultaneously give him some power but also upend his reality and the reality of those around him. Andy, in his comedy before the show, has always explored the disturbing depths within unassuming guys. He's from New Jersey, but he has a quintessentially midwestern quality. He just seems like a quintessential nice, pleasant-looking, affable American guy; then it's all about the depths that this guy's capable of getting himself into, very much on his own. That sort of is like Don Draper and Walter White and those other guys. I dunno—maybe there's some zeitgeisty thing going on about middle-aged white guys."
The parallels are structural as well as personal. One of the funniest things about Review is how much further it takes its absurd premises than you'd ever expect, and how fast it gets there. Take the "Bareknuckle Brawl" review from last week's premiere: When Forrest cold-cocks a guy and turns to the camera to explain his feelings about the event, the man returns with a gun and shoots him multiple times, putting him in a coma that lasts for weeks, after which he endures months of painful rehab. It's an echo of the shock tactics employed by prestige-TV dramas to raise the stakes and keep the audience off balance.
In this case, the big twist leads to a romantic relationship with his rehab nurse, which ends when Forrest gets her fired from job for stealing pills after she fails to pay him hush money he's demanding as part of his review of blackmail. This collapses a story arc that could take an antihero drama a season or more into about 12 minutes of screentime. "It does get as dark and jaw-dropping as plot elements in Breaking Bad or whatever," Urbaniak says. "Just because it's a comedy doesn't mean you can't process it on that level."
But the show's most brutally blunt and hilarious rejection of wringing pathos from behavior that's not tragic, just merely awful, was its Season One finale. Having destroyed everything he touched, Forrest takes one more review assignment: being Irish, which he does with all the "Oirish" bluster and blarney of a Lucky Charms commercial. He's chastened when his ex-wife shows up, and begs her forgiveness…all while continuing to maintain the accent of the world's worst Bono impersonator. The ridiculous brogue is Review's way of denying him a shot at forgiveness, of pointing out that expecting your awful conduct to grant you a grand redemptive story arc is a grotesque and laughable notion. As such, Review sends up not only antihero drama, but its opposite: the life-affirming comedy, in which endearingly adorkable characters from Pawnee to Park Slope administer laughs, love, and just a li'l bit of learning, one tumblr gif set at a time. Forrest doesn't teach us shit. No hearts are warmed, no lessons learned, no sins redeemed, no tragic arcs completed. "The world needs bad men," True Detective once asserted. Review gives bad men zero out of five stars.