With Labor Day just around the corner, it's time to make the most of the last few days of the summer season.
There have been quite a few high-profile concerts in the city this summer, but if you weren't able to see Taylor Swift or U2, there's still a chance to check out some concerts in the city before the end of the summer… and as a major bonus, are all free admission.
To start off the holiday weekend early, Central Park's SummerStage Festival has a double performance by Lake Street Dive and Kitty, Daisy & Lewis this Wednesday. This is SummerStage's 30th anniversary season, and events go on rain or shine. Begin your Labor Day weekend on the right foot–the concert will be at Rumsey Playfield in Central Park (just off 69th Street and Fifth Avenue) from 6 to 10 p.m..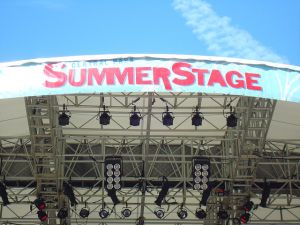 For the early riser, Florida Georgia Line will be performing from 7 to 9 a.m. at Rumsey Playfield in Central Park this Friday. They'll be playing live during "Good Morning America"—the final concert in the 2015 Summer Concert Series that's organized by ABC News. Maybe best of all, you can get your fill of music and still make it out of the city for the long weekend with time to spare.
Then on Sunday, the Harlem Meer Performance Festival puts on its last concert of the summer. The weekly lakeside concert series features local artists from the jazz, Latin, world, dance, and gospel music realms, and Sunday's performance from 2 to 4 p.m. stars the Dee Dee LeVant Gospel Ensemble. Though registration isn't required, you can still RSVP. If you feel like it, bring a blanket and picnic to take in the performance, which is open to all ages and located at the Charles A. Dana Discovery Center inside Central Park.