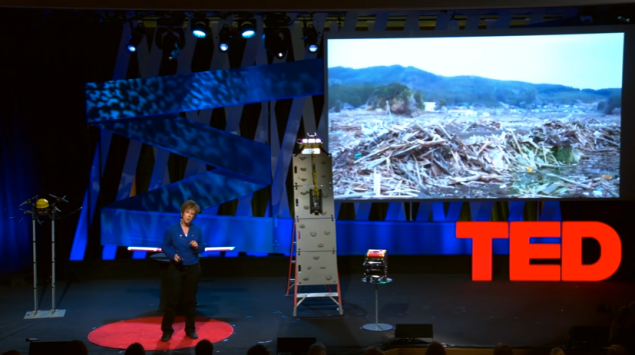 Who's first on the scene when a disaster strikes? More and more often these days, it's a fleet of robots.
Robin Murphy, a robotics researcher, discusses the benefits of using robots as first responders in a Ted Talk given at TEDWomen 2015 in May and just uploaded to TED.com today. During the lecture, she details how "robots can make a disaster go away faster."
"Over a million people are killed each year in disasters. 2.5 million will be permanently disabled or displaced. And the communities will take 20 to 30 years to recover and billions of economic losses," she begins the talk. "If you can reduce the initial response by one day, you can reduce the overall recovery by 1,000 days, or three years."
Ms. Murphy builds the very machines that swim, crawl, fly and tunnel to navigate disaster situations in her lab at Texas A&M, where she is the director of the Center for Robot-Assisted Search and Rescue as well as the Center for Emergency Informatics. The robots, she explains, have been essential to recovering from disasters like Hurricane Wilma, the Japanese tsunami and at the 9/11 attacks on the World Trade Center.
"You're talking about a situation where you can't fit a person or a dog. And it's on fire," she said of the latter.
Watch the full talk here:
[ted id=2318]