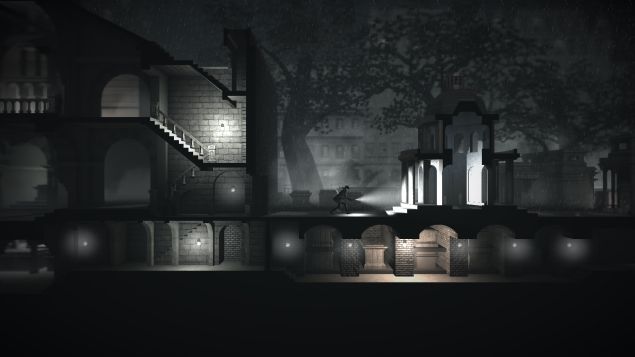 When former architect Dan Walters decided to create an adventure-style video game for the iPhone he turned to familiar source material for inspiration: the 18th-century Neoclassical designs of French architect and urbanist Charles de Wailly's Théâtre de l'Odéon for the Comédie-Française in Paris.
His game is called Calvino Noir, and was developed with fellow architect Ceri Williams. The point-and-click, side-scrolling visuals take players through a mysterious storyline that explores the criminal underworld of 1930s Europe.
The game's protagonist, a thief named "Wilt," sneaks through dimly lit buildings, rooftops, and sewers in Vienna at night. Each scene he enters is viewed in cross section, with the buildings cut open like a dollhouse allowing the players to see characters moving about on every floor.
Arguably De Wailly's most famous drawing, and the game's biggest inspiration, is a bisected rendering of the long section and vestibule of the Théâtre de l'Odéon, one of France's national theaters. It depicts two grand domes—the larger, gilded dome inside the theater and the painted dome in the entryway—as well as the building's supporting architecture. Drawn to scale, it also features the minute detail in the costumes and gestures of theatergoers.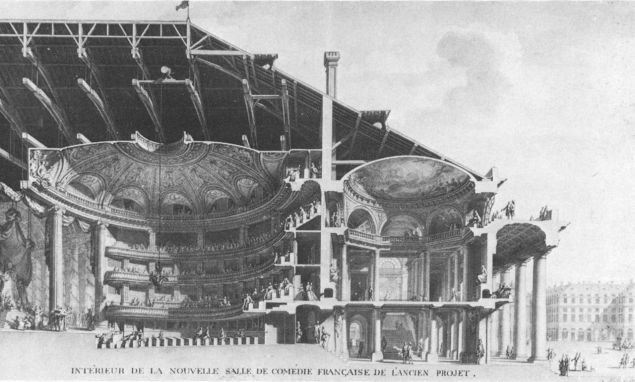 "In terms of architecture, an influence for the visuals were architectural perspective drawings, which are often drawn with a diagrammatic, sculptural quality," Mr. Walters said in an interview with Wired Magazine.
The game's visuals also borrow heavily from film noir movies, and feature brooding, dramatic imagery with a gritty palette. "Wilt" tiptoes through shadowy stairwells and lantern-lit foggy courtyards, traversing the winding, maze-like levels of the game that more than succeed in setting an ominous stage.
Calvino Noir can be played on iPhone, iPad, Steam, and Playstation 4, and downloaded online. Below, the game trailer for Calvino Noir.