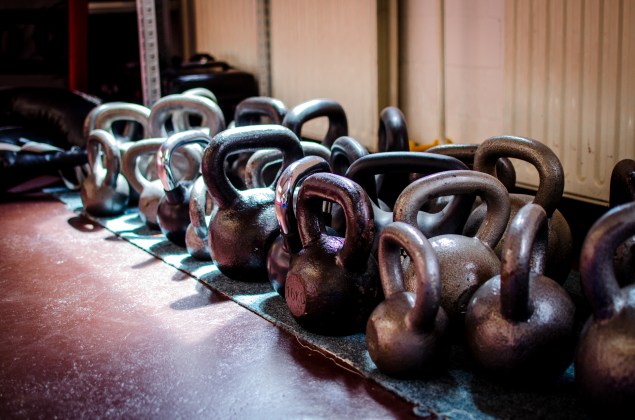 There was something unusual about the gym I had just arrived at in Long Island City. Each kettle bell could fit in the palm of my hand. The stacks of tires appeared to have come from regular-sized cars, as opposed to massive tractors. The average athlete appeared to be somewhere around four feet tall.
This was Gantry Kids, a cross-functional training gym where kids as young as three partake in CrossFit-type exercises. There was a poster on the wall where some of the pint-sized athletes had written their fitness goals in brightly-colored markers: "I want to do seven squats"; "I want to jump rope and do double-unders"; "I want to do a muscle up and handstand push-up." 
Though CrossFit may seem a workout reserved for intense, muscly adults, the workout is growing in popularity amongst kiddos, too, said Michele Kelber, CrossFit Kids expert and owner of Gantry Kids. As children gleefully climbed ropes and swung from chin-up bars, I chatted with Ms. Kelber about the benefits of CrossFit for kids. 
Where does Kids' CrossFit stand, popularity-wise? 
It's still new—it's where CrossFit was seven years ago. There's a misconception among adults that [Kids' CrossFit] involves the intensity and weights that regular CrossFit does, which it does not.
So what is Kids' CrossFit all about?
It's about functional movements—what I would consider to be old-school playground fun. Jumping, pulling, pushing, tumbling—a combination of all those things where there's a purpose. Kids do things like that because their bodies actually crave a purpose. Rolling and going upside down has to do with their vestibular, which has to do with their balance, which has to do with anxiety and things like that. The jumping has to do with bone density.
Why do they need to come to a specific gym to do those things?
I find a place like this is needed more so now than ever. I'm educating people about this because they're banning things like "tag" at schools. I was a lawyer for 13 years—everybody's litigious, people are afraid kids are going to get hurt. But the bottom like is, kids get hurt doing anything. They get hurt walking because they're not paying attention—they're looking this way and that way.
I once worked at a day camp where piggyback rides were deemed to dangerous.
Kids' physical needs aren't being met. It's not that kids are aggressive on the playground; [it's that] they don't have proprioception. They don't understand how strong they are. The reason why they don't is their joints have never had the experience of having resistance against them—whether it's through jumping, or something like that—and it just has such an impact.
In New York where we don't have backyards—you can't send a kid out. And they're sitting in school all day. There's a whole school of thought about what sitting does to your body. They need to move around to be able to sit down and focus. So much of that has been eliminated, so I think parents and administrators are starting to realize that having that component of fitness is actually helping kids excel better at school, and physically grow stronger.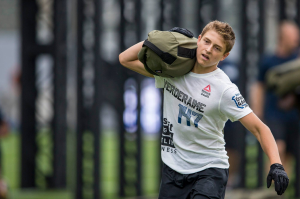 So what types of kids are coming to your gym?
I get a lot of kids who are athletic but don't like team sports. There's a profound amount of pressure on kids in team sports, and they don't like it. Here, they're learning something functional—learning how to safely pick up things, put them down, do cartwheels, do all kinds of crazy stuff on the rings, but they're having a good time, which is why they keep coming back.
The bulk of the kids are [ages] six to 12, but I do have three- to five-year-olds two days a week, and teens three days a week.
What does a three-year-old do at a functional training gym?
With the three- to five-year-olds it's just body weight. Everything is related to an animal. Instead of squatting, I'm like, "Show me how a frog sits." We jump like frogs and we  crawl like bears and we swing and hang. For that age group, going upside down is a lot more important for them. It's aligned with their developmental stage.
We don't necessarily do box jumps, but we climb up on them and jump off them. We give them the base of the movements. It's about a 45-minute class, with water breaks. So they're only moving like 10 minutes at a time.
Do you see kids getting into CrossFit because they see their parents doing it?
[Actually], a couple of parents have joined CrossFit as a result of their kids getting into it.
Do kids need to get any fancy equipment for CrossFit, like weightlifting gloves?
They don't make them for kids, so some end up borrowing from their parents. But there's nothing wrong with having callouses on your hands. Something like [weightlifting gloves] is not really going to help you. You just have to toughen up—and when I say toughen up, I mean physically, you're used to not doing things. Whereas kids 100 years ago were carrying milk pails.