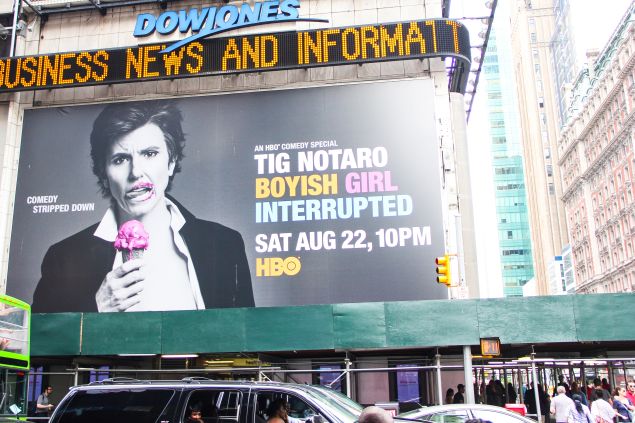 "Nice turtle," Tig Notaro says when I meet her at an HBO boardroom along with my small Chinatown red-eared slider in its sad lunchbox-size aquarium. "Are we having him for lunch? Turtle soup?" If Ms. Notaro—a comedian celebrated for her self-deprecation and deadpan delivery—is in any way put out to be sharing a meal with a floating salmonella factory, she doesn't show it. Then again, the 44-year-old-comedian is probably most known for being able to keep a poker face even in the toughest of circumstances.
"I think I'm a nice person," said Ms. Notaro, who was in town promoting her upcoming HBO special, Boyish Girl, Interrupted (August 22, 10 p.m.). "But … I can come across as not the warmest." She chewed an asparagus spear. "I don't worry about it. People can feel whatever they want about me."
I wouldn't call Ms. Notaro cold, but she certainly is unflappable … perhaps unstoppable. Her recent output evokes hare more than tortoise; consider that her 2015 has already included three specials: Showtime's Knock Knock, It's Tig Notaro, Netflix's documentary Tig and her first HBO comedy special (as well as her directorial debut) that premieres this Saturday night. And much like Ms. Notaro herself, its humor is derived from the dissociation of humor as a coping mechanism: halfway through Interrupted, Ms. Notaro fiddles with the buttons on her long-sleeved dress shirt, and pretty soon is topless, revealing her post-double mastectomy body.
[youtube https://www.youtube.com/watch?v=VHaxX15B0hM]
"It's not like I practiced in front of a mirror," she told me. "I had performed it a couple times before in clubs, getting ready for this show, but never when I was by myself."
Ms. Notaro isn't just her scars any more than she is just the breast cancer that caused them. However, these—along with other profound setbacks—are the traumatic material that has cemented Ms. Notaro's place as one of the most compelling comedian-slash-storytellers of recent times. A longtime indie comic with a solid fan base and a mildly popular podcast, Professor Blastoff, it was Ms. Nortaro's set at the Largo in Los Angeles on August 3, 2012, that she is most known for. With her tomboy appearance and wry half-smile, Ms. Notaro ambled on stage to begin a set that started: "Good evening. Hello. I have cancer. How are you? Is everybody having a good time? I have cancer."
That night, Ms. Notaro revealed that not only had she just been diagnosed with stage two breast cancer, but, in addition, her mother had just died. Not only had her mother died, and she had cancer, but in the same windfall of dreadful fortune, she'd been hospitalized for an infection in her intestines, ended a long-term relationship and well … her mother just died.
Her friend Louis C.K. convinced Ms. Notaro to put the set on his website. It would turn into the Grammy-nominated album Live. While opening up about her pain has proved successful, the decision to go shirtless, while bold, is also a stunt. Ms. Notaro, for one, embraces that word and its inherent critique.
"I didn't want this just to appeal to just women, cancer survivors," she explains. "I wanted men, I wanted people who have never experienced cancer. I had it running through my head repeatedly about how cancer is a big deal but this…" Ms. Notaro waved her hands around across her chest, "is not. It's just my body."
As for her own self-image, Ms. Notaro doesn't identify her work as particularly ennobling.
"When people call me brave or courageous or strong, I will always think about how I was just breathing, still. I was just still alive," she told me. "That's how I got through it. It was really that simple. Because I didn't feel that courageous on my couch, in a fetal position."
"I was talking to Louie, and he was calling me courageous, and I was like, 'Gosh, I don't feel that way.' And he was like, 'Well, what do you think bravery is? You think it's barreling through with no fear? No, it's having fear, and going forward.' "
For Ms. Notaro, not going forward isn't an option. Her calendar this year still has on its horizon an Amazon sitcom pilot, produced by Louis C.K. and co-written by Diablo Cody, a memoir for Ecco Press and a wedding to fiancée Stephanie Allynne. And, as she tells me at the end of our lunch: "We're thinking of getting a turtle. A large one." 
Boyish Girl Interrupted premieres August 22nd on HBO, 10 pm ET.