When I first heard about the "Tinder for dogs" I was immediately intrigued. First off, I'm a dog nut, so pretty much any situation when dogs are involved, there's a very low barrier to entry to get my attention. Just say the word "dog," and my ears perk up and I cock my head to the side. Besides, most people, if they aren't monsters, would agree that swiping for pooches appeals infinitely more than swiping for Tinder bros and hos. At the time I downloaded Tindog, I'd just gotten a new phone; I didn't even bother to download Tinder. Pooches in my pocket to replace game fuckboi, hurray!
With Tindog, I wasn't so much looking for a romantic connection as a dog-and-human connection. But I wasn't ruling one out either. I've often wondered why I've never found love, much less a crush, at the dog run or dog bar despite so many hours logged. On human Tinder I'd almost always swipe right if a guy had a dog in his picture, mostly because it was a nice break from the monotony of all the stock shots of dude with arms around his fellow groomsmen; dude sportin' a just-hooked fish; dude posing in gory fake Halloween blood; or my most abhorred, most automatic swipe left: dude smirking in front of a sign while doing the thing the sign says not to do.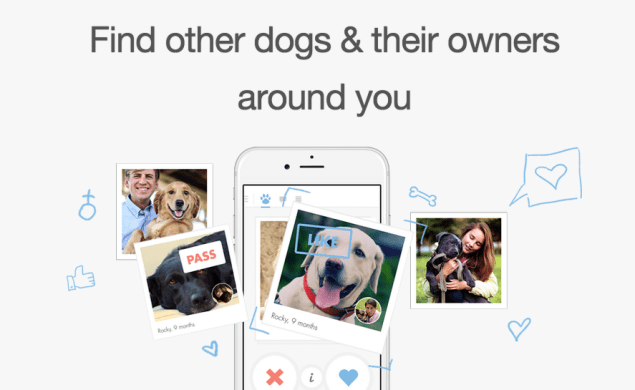 But I'd also swipe right because must love dogs is kind of a real requirement for me. I once dated a guy who would immediately wash his hands every time he came into contact with my dog Phoebe, and almost never spend the night at my place because he couldn't handle getting dog hair on his clothes. Woof! That did not last. Maybe Tindog could be a way of weeding out the dog-lovers, repopulating the dating pool with only Fido-friendly fellas?
Beyond the potential for a 101 Dalmations-esque dog-sponsored love connection, I really just felt game for a play date. It's summer, let's go to the dog run! Hanging out with Phoebe is one of my favorite pastimes, but it's hard to find friends who are as dog-centric as I am. According to a 2012 Census by the NYC EDC, there are an estimated 600,000 dogs in NYC, yet, I can count the number of my acquaintances-with-dogs in the city on one hand. Of that number, I can only see myself calling two, maybe three of them for a doggie play date. Perhaps Tindog would improve Phoebe's and my social life?
So I downloaded the app and uploaded six of Phoebe's most flattering pictures, being sure to reflect her personality range:
In one she's riding in the car, tongue-out and fancy-free. (She's chill and spontaneous.)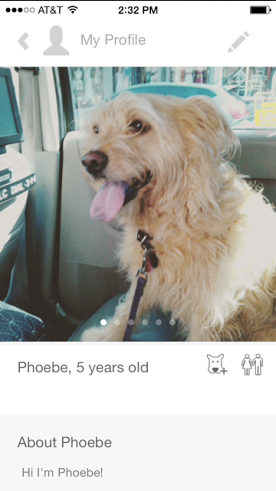 In another she's just been swimming in a quarry in Maine. (Activity partner, anybody?)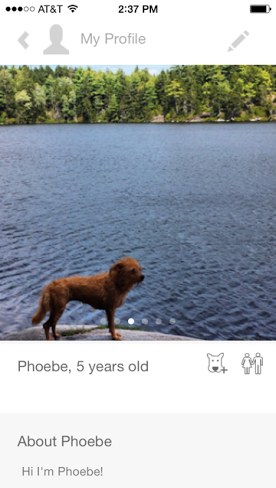 In yet another, she's casually chewing a stick in McCarren Park. (She knows how to entertain herself while you're sipping your Turkey's Nest marg!)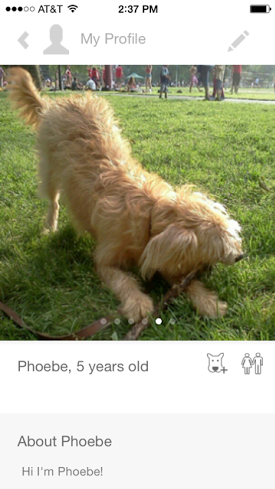 I didn't write anything under her bio because I felt like, we're already anthropomorphizing enough here, must I ventriloquize my dog, too? And if Tindog is anything like Tinder, it's the pictures that count, and you never want to seem like you're trying too hard. What if one of the dogs got the wrong idea, and tried to start a relationship?!?
Under 'discovery preferences' I selected both "I want to find some friends," and "I want my owner to meet people" because it's important for Phoebe and me to be on the same page. I also selected to match with men, women, and couples (polypuppery???), because Pheebs and I were down for equal opportunity play dates.
Once I started swiping, a flurry of fluff and scruff and tongues and tails, I realized how much emphasis is placed on the dogs over the humans. The dogs get six photos each, but the owner only one, a tiny porthole in the bottom right corner of the screen. I'm all for the dog-centric bent, but in reality, you're still going to be meeting up with a person, not just a rogue canine (shucks). Shouldn't you be vetting the human, too? What if the dog is a 10, but his human is more like a 6? Does it average out to an 8? (Hypotheticals I would have put to the test, had I managed to secure even one freakin' date.)
For the first few weeks, the swiping was pretty short-lived. Four or five dogs, next to no matches, and then I'd get a screen that looked like this: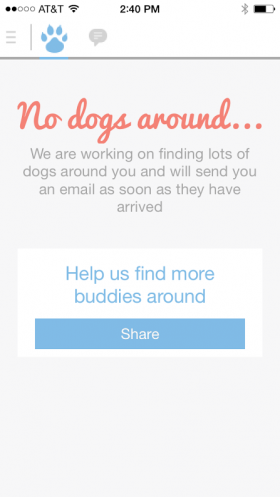 CEO Julien Muller has said that the app, which launched in late May, already has 100,000 international users; I guess just not too many within 10 miles of me. But I kept at it each day, and pretty soon, matches began to roll in. Actually meeting up, though, was a different challenge.
One of my first promising matches was with Fig and Ali, a goofy corgi and his smiling owner. In their respective bios, it said Fig liked "watching Netflix with my human and eating bananas," and Ali "works at Gawker, lives in Bushwick" and is a "Thai food and Diet Coke enthusiast."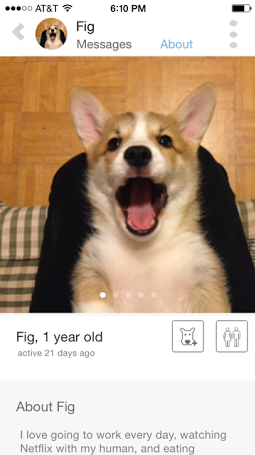 I like Thai food and Diet Coke.
Ali and I messaged a bit—"this app is hilarious! Fig is definitely down for play dates!"—but once I started mentioning dates and times, she fell off. That I began to put a plan into action during the week of Gawker-ghazi may or may not have been the culprit.
With other matches, logistics was the enemy. Jack, a spunky, scruffy terrier mix, looked like he'd jive well with Pheebs, but when owners Jack and Lauren told me they live "in Staten Island by the mall," I deflated. Beyond the nearly impossible feat of getting a dog to Staten Island from Brooklyn, on principle I don't venture to distant boroughs for one-off dates with men, much less canines.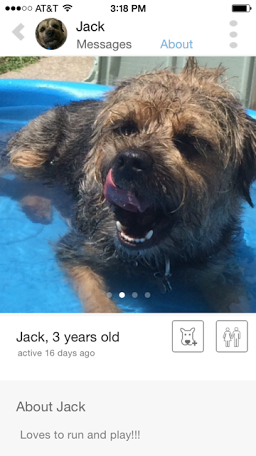 But I didn't have any better luck when I matched with a neighborhood dog. In one of his pics, Duncan, a handsome, wolfy-lookin' woofer appeared to be hanging in the dog run at Bed-Stuy's Herbert Von King park near my house. His owner Hunter confirmed, adding that "we're there every day," but when I suggested an actual time to meet up there….Crickets.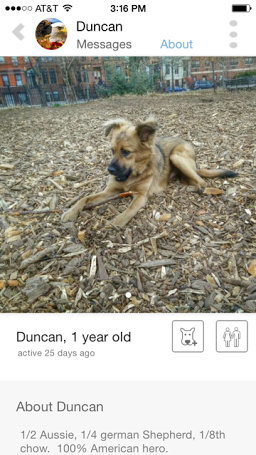 Did Phoebe's hair get flat? What was going on? I have plenty of misgivings about myself, but my dog is pretty rad, and certainly photogenic. I say this cognizant that one's dog is often an extension of oneself, which creates an interesting tension when joining a (play)dating app via your dog:
Chi Chi, a chihuahua whose profile was all in Spanish, did not respond to my attempt to converse in her native tongue: "Hola, Chichi! Donde vives? Quieres reunirse con yo y Phoebe? (how was that)?" I got as far as exchanging numbers with Abe, the owner of a Shih Tzu mix named Sandwich, but our text planning died out pretty quickly.
I've set my swiping aside for now, but Phoebe and I haven't lost hope in IRL encounters. In the meantime, we're trying to make more of an effort to set up play dates with dogs and people that we know already. And who knows, maybe one day when we're out walking in the city, or romping around at the dog run, we'll spot a dog who seems familiar, we can't quite place him…he and Phoebe will sniff each other's rumps, wagging their tails, and as they fall into play stance, the owner and I will lock eyes….