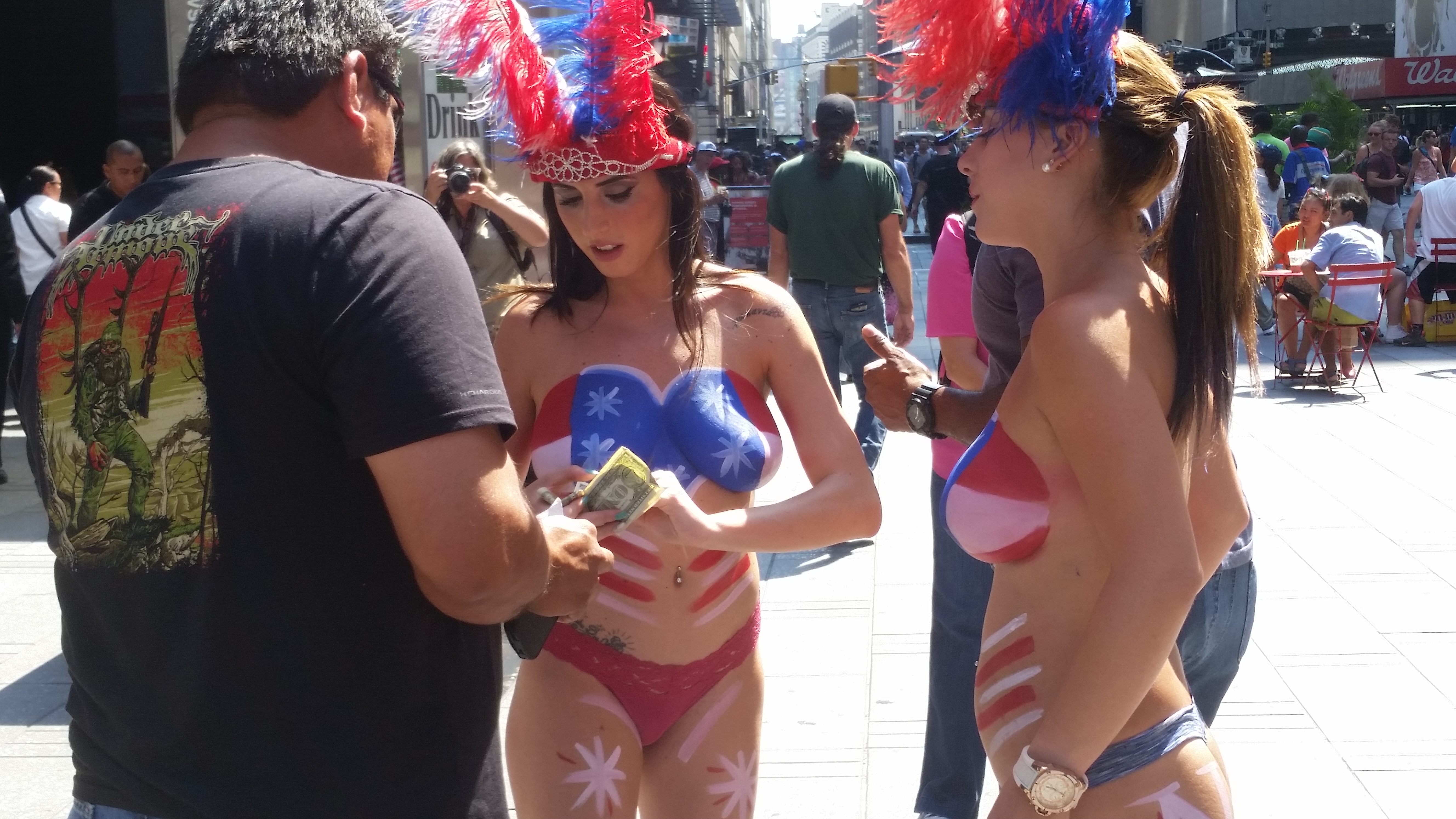 The topless women posing in Times Square threaten to send the neighborhood back to the days it was a "symbol of degradation," Gov. Andrew Cuomo said today.
"I believe this activity is illegal. I believe it is infringing on legitimate businesses. I believe it is infringing on the investment that the state and the city made in the 42nd Street area, and I believe it has to be stopped," Mr. Cuomo told NY1's Pat Kiernan this morning. "I believe it is illegal. I believe we have to enforce the law and clean it up and we will."
The women,who have been covering their breasts only with body paint and posing for photos in exchange for tips, have become a major talking point in the city after the Daily News has repeatedly condemned their presence in Times Square—while repeatedly featured photographs of the scantily clad women on the cover of the paper. Mr. Cuomo said the performers were a reminder of the neighborhood's seedy past.
"Forty-Second Street was a symbol of degradation in New York City and New York State. I'm old enough to remember, and history can be instructive. It was terrible," Mr. Cuomo said.
As the governor began talking about the 42nd Street development corporation, aimed at cleaning up the city, Mr. Kiernan cut in to clarify whether Mr. Cuomo believed the current situation was akin to the bad old days.
"What they're saying is, 'I was around for the bad old Times Square, and this is starting to remind me of the bad old Times Square," Mr. Cuomo said. "There wasn't blatant corruption, it was seedy, there were panhandlers, there were people on the streets soliciting people to go inside for peep shows."
Mr. Cuomo's comments come a day after Mayor Bill de Blasio, with whom he does not always see eye to eye, also said he'd seek to regulate the topless women—but warned First Amendment issues have made it hard to regulate Times Square "performers," like costumed characters, who ask for (or demand) tips. And despite Mr. Cuomo's assurance the behavior is illegal, going topless in New York City isn't against the law—for men or women. Both politicians have also cited badly behaved costumed characters who have been menacing the area for years, though it seems that the breasts are garnering much quicker action.
Today, Times Square is disparaged more often for its sanitized feel and crushing crowds of tourists than it is for anything seedy. Mr. Cuomo said the neighborhood needed to remain "a tourist attraction, family-friendly, the New New York," filled with "beautiful theaters, entertainment, lights."
"It became the symbol of the Renaissance of New York City," he said. "And we're not going back."