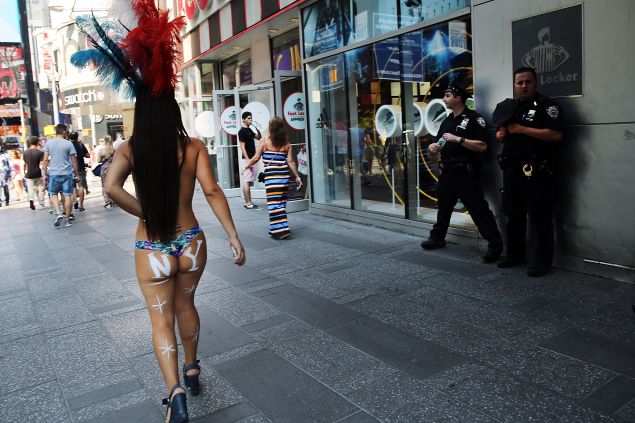 Chicken Little is not one of the characters approaching tourists in Times Square. But he should be; and Mayor Bill de Blasio is perfect for the job under the costume. Rather than deal with the problems of aggressive panhandlers and law-breaking nudity, the Mayor and the Police Commissioner are ready to capitulate to the people breaking the law.
Now Times Square is overrun by costumed hustlers and painted-ladies and their pimps. What is next?
Last week, in a long-overdue reaction to assaults by cartoon-attired and body-painted hustlers hounding tourists in the Crossroads of the World, the Mayor announced a task force to deal with the growing problems. Then, in a reaction typical of this administration, the Mayor added that he was open to the idea of ripping out the pedestrian plazas. In short, instead of arresting people for aggressive panhandling and public nudity, he is willing to punish the innocent: the tourists, theater-goers, and office workers who enjoy the plazas every day and night.
Shame on him. Even considering such an option sends the wrong message. It is a return to the Dinkins-era icon of "No Radio" signs that plastered car windows. That was a surrender to lawlessness, a signal that the bad guys had won and that New Yorkers didn't deserve a basic amenity that the rest of the country enjoyed.
Ripping out the plazas is the modern equivalent of posting those no-radio signs: a willingness to sacrifice an amenity rather than arresting people who break the law. We cannot understand how this even merits a task force. Then again, Mr. de Blasio did earn his political stripes under Mr. Dinkins. This is not a free-speech issue protected by the First Amendment; it is illegal behavior. While a 1992 state court decision found that women can be topless anywhere men can, and asking for money is also protected under the constitution, monetizing nudity almost certainly isn't legal. So the mayor could stop it if he liked, without depriving New York of a much loved public amenity.
"Sure, let's tear up Broadway—we can't govern, manage, or police our public spaces so we should just tear them up," Tim Tompkins, the president of the Times Square Alliance, said in a statement last week. "That's not a solution, it's a surrender."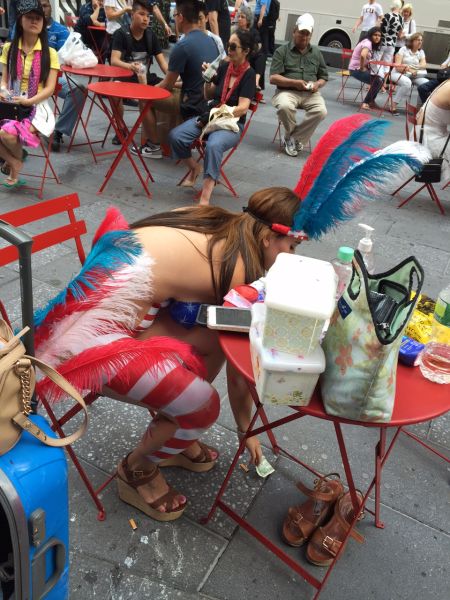 Late last week, after lawmakers and city planners came in droves to oppose removing the plazas, Mr. de Blasio argued that "there has been some real misreporting" on his stance, but he has not backed away from his position — that he and his task force will consider ending the plazas, among other options. (On NY1, he said perhaps there "is a middle ground.")
First Mr. de Blasio allowed the homeless to take over parks, Penn Station and the Port Authority. Then he allowed the squeegee men to return the intersections and bogus-ticket-sellers to scalp tourists in the Battery. Now Times Square is overrun by costumed hustlers and painted-ladies and their pimps. What is next?
Perhaps Mr. de Blasio is unaware of the importance of the tourist industry to New York's economy. It is estimated that the overall economic impact of tourism in 2014 was $61.3 billion, with 56.4 million visitors. Some 359,000 jobs depend on the City's tourism.
After a Broadway show last week, throngs of tourists moved slowly along the plaza gazing at the remarkable lights, feeling the energy, and feeling safe. That perception of safety was hard-earned, and can be lost if not diligently maintained. Rather than declare, "We have destroy this village in order to save it," the Mayor and Police commissioner should deploy the necessary police resources now and keep them there.