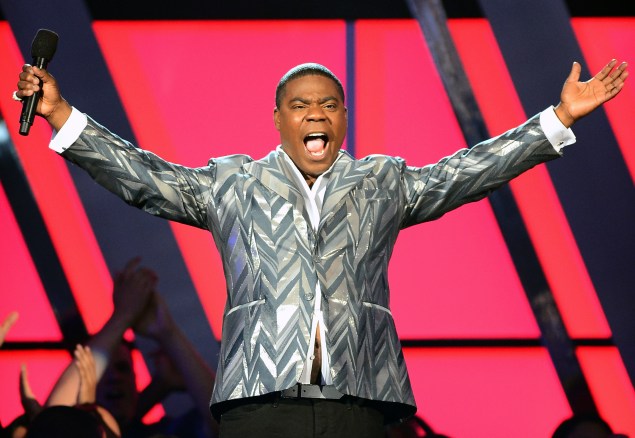 More than a year after the car crash that sent comedian Tracy Morgan into extensive recovery and took the life of his mentor James McNair, Mr. Morgan will return to the Saturday Night Live stage to host for just the second time.
The news comes with SNL's announcement today of three upcoming hosts – Miley Cyrus opens the 41st season of SNL on October 3, Amy Schumer will make her hosting debut October 10, followed by Mr. Morgan on October 17. The October 17 show will mark Mr. Morgan's first performance since the incident, and for all intents and purposes his return to comedy. In an interview on the Today Show back in June, Mr. Morgan told Matt Laurer:
"I love comedy. I'll never stop loving her. I love comedy and I can't wait to get back to her. But right now my goal is just to heal and get better. Because I'm not 100 percent yet. I'm not. And when I'm there, you'll know it. I'll get back to making you laugh. I promise you."
On a personal note: Mr. Morgan was on Saturday Night Live from 1996-2003, which was also the perfect time in my life for Saturday Night Live to still seem like the absolute shining pinnacle of comedy. Time went on, that opinion of SNL changed, but my feelings towards Mr. Morgan did not. His almost Robin Williams-esque levels of stream of thought energy mixed with a personal odd-ball quality all his own was something special to watch, and it never went away into his time on 30 Rock and beyond. To think there was a chance Tracy Morgan would never be funny again after his incident was crushing, but to realize we were so close to never seeing him again period was far worse. So we gave him all the time he needed.
"I'll get back to making you laugh. I promise you," he said, and October 17 the man himself keeps his promise.