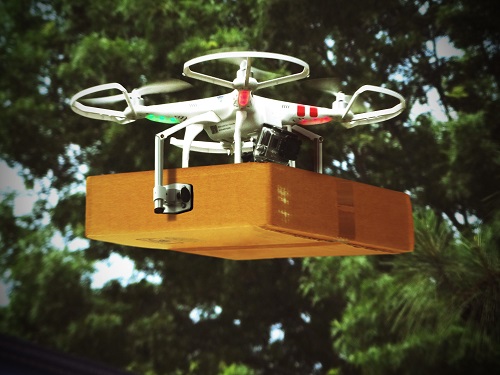 The first New Jersey company with a permit to own a drone might find a market in political campaigns.
What if a partisan super-PAC hired drones to monitor potential candidates for Congress or Governor of New Jersey a year before the election?
Not only would the Super-PAC be able to amass information about a candidate's personal life, but they also would be aware of every private meeting the candidates have in real time.  By the time the campaign began they could amass a full catalog of visually compromising situations. The result: many campaigns would likely end before they begin.
A Mount Laurel company recently became one of New Jersey's first recipients of a drone exemption from the Federal Aviation Administration (FAA). Unmanned Sensing Systems LLC (US2) will be using its drones to take aerial images, largely to help farmers oversee their crops.
"We've been working on the technology to do this for years now," Dan Murray, founder of US2, told New Jersey Business Magazine, "but we've not been able to legally provide this service to interested parties in the United States due to the regulatory hurdles. This FAA exemption allows us to finally offer this amazing technology to those who will really benefit from it."
While drones are touted as the next big thing, they are still very difficult to operate, at least legally. Absent special authorization, the FAA only authorizes the operation of an unmanned aircraft system (UAS) for recreational — not commercial — purposes. There are also a host of other rules, i.e. drones cannot fly above 400 feet, where they could interfere with commercial aircrafts, or near sensitive areas like airports and government buildings.
The FAA, the Department of Homeland Security, and a host of other federal agencies are working to draft comprehensive drone regulations and update existing rules. Under a Notice of Proposed Rulemaking published in February, the FAA proposed rules that would allow small UAS (under 55 pounds) to conduct non-recreational operations provided they comply with certain restrictions, such as operating during daylight and maintaining visual-line-of-sight. Unfortunately, it is likely to take a while for the rules to be finalized, with many predicting new drone rules will not be finalized until 2017 or later.
In the meantime, the FAA is granting case-by-case authorization for certain unmanned aircrafts to operate for commercial purposes. According to the FAA, the UAS exemption process is intended to "provide operators who wish to pursue safe and legal entry into the NAS a competitive advantage in the UAS marketplace, thus discouraging illegal operations and improving safety." To date, 434 petitions have been granted.
Donald Scarinci is a managing partner at Lyndhurst, N.J. based law firm Scarinci Hollenbeck.  He is also the editor of the Constitutional Law Reporter and Government and Law blogs.