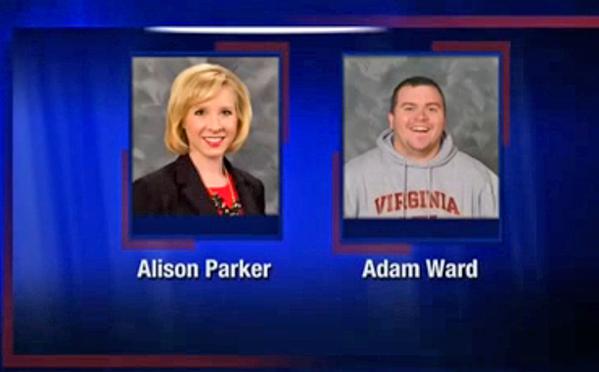 The entire country was shocked and saddened this morning when two journalists were shot at a Virginia shopping mall. Reporter Allison Parker, 24, and cameraman Adam Ward, 27, who worked for WDBJ, a CBS affiliate in Roanoke, were killed while filming a live segment at Bridgewater Plaza. Vicki Gardner, the woman Ms. Parker was interviewing, was also shot in the back and is now in surgery.
Police pursued Vester L. Flanagan, a disgruntled former WDBJ reporter, as a suspect in the shooting. Mr. Flanagan shot himself after a confrontation with police, and was pronounced dead at a local hospital.
Obviously tragedies like this always lead to debates about gun control and mental health—and Twitter was certainly full of opinions on those topics Wednesday morning.
But the most chilling detail about America's latest mass shooting was the killer's presence on social media after the event.
Mr. Flanagan, who used the name Bryce Williams in his work at WDBJ and on Twitter, tweeted out a video of the shooting, and also seemingly confessed his motive.  He claimed that "Alison (sic) made racist comments" and "Adam went to hr on me after working with me one time!"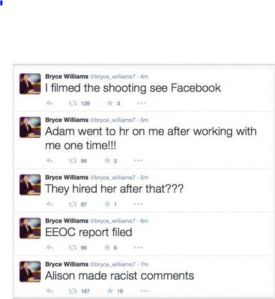 Mr. Flanagan's Twitter account was suspended soon after the information about him became public, presumably to avoid his getting attention that he didn't deserve.
Through his social media stunt, Mr. Flanagan left an enduring reminder of his terrible actions, along with a template for what not to do on social media. Enough vitriol was spread on Twitter before, and Mr. Flanagan's actions add a disturbing new twist.
Every shooting since Sandy Hook has gotten its own hashtag and unleashed torrents of online outrage. With the heartless new tactic that Mr. Flanagan used this morning, let's hope concrete action is taken so that anyone who wants to make news by harnessing the power of social media for violent ends is discouraged.