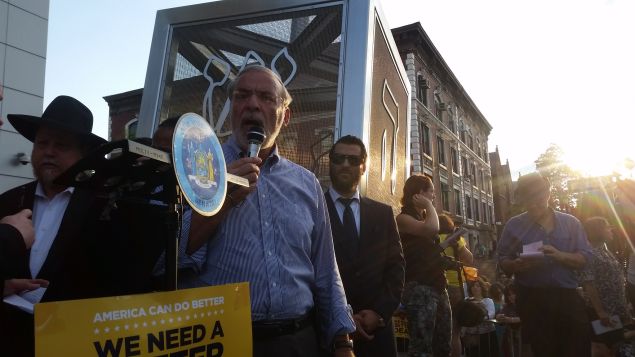 Blasting Congressman Jerrold Nadler for choosing to support a controversial nuclear accord with Iran, a group of Orthodox Jewish leaders promised tonight that the veteran Democrat would feel the full wrath of his constituents–and one even suggested Mr. Nadler would be vulnerable to a primary challenger.
"This is the defining issue for me. I would never support him," Assemblyman Dov Hikind, a conservative Democrat, told the Observer at the Brooklyn rally. "I believe there will be a challenger, someone to the left of me who can actually win and I think there will be tons of money to help that person." (Mr. Nadler, who did not return a request for comment, has not faced a competitive election since the 1990s.)
The rally was held in the Crown Heights neighborhood of Brooklyn, home to a large Orthodox Jewish population, and was also intended to pressure New York members of Congress who have not weighed in on the deal brokered by the United States and five other nations. Many liberals and Democrats argue the historic agreement, which will lift sanctions on Iran in exchange for imposed limits on their nuclear program, is the best feasible way to ensure that Iran never produces a nuclear bomb. But Republicans and several pro-Israel Democrats, including Sen. Charles Schumer and some New York lawmakers, say the deal's 15-year lifespan still does not keep Iran from ultimately developing nuclear weapons or financing terrorism.
Mr. Nadler, a staunchly pro-Israel Democrat, represents portions of Manhattan and Brooklyn. Last week, he became New York's first member of Congress to come out in favor of the deal, pleasing President Obama and progressives but enraging the likes of Mr. Hikind.
Of the criticism he has received so far, Mr. Nadler recently told the Israeli newspaper Haaretz that "of course it hurts. It's emotional."
Mr. Hikind mocked Mr. Nadler's comments.
"The president who's very smart said, 'You know what? I can buy Jerry Nadler. It's not so complicated,'" he said. "Jerry Nadler's upset. Congressman Nadler's upset … he's upset that people are upset with him. He's upset that people are angry at him. He's complaining all over the freaking place."
"I'm sending him a sympathy card," Mr. Hikind added. "A big sympathy card with a little, what do you call it? A teddy bear."
Mr. Hikind, along with Borough Park Councilman David Greenfield and Crown Heights State Senator Jesse Hamilton, led the crowd of more than a hundred Orthodox Jews in chanting against the deal. Standing outside the Jewish Children's Museum, Mr. Hikind made several allusions to the Holocaust, comparing Jewish leaders who are silent on the Iran deal to those who looked the other way during the genocide.
"I think many Jewish leaders still want to get invited to the White House, they still want to get invited for Chanukah," he said. "You wanna be on the list for Chanukah? That's more important than protecting our friends in the Middle East and protecting the United States of America."
Mr. Greenfield promised Jews wouldn't "forget" Mr. Nadler's choice.
"I am sorely disappointed. I am saddened and I am outraged at Congressman Jerry Nadler's decision," Mr. Greenfield said. "I want you to know that none of us here will ever forget what you did. We will not forget."
Multiple leaders in the Crown Heights Jewish community also bemoaned the deal, but no one, including the elected officials, offered a concrete alternative. Rather, they argued for a "better deal," standing behind a podium with a glossy sign that read "American can do better." A cantor sang before and after everyone spoke.
In an interview with the Observer following the press conference, Mr. Greenfield added that he didn't think Mr. Nadler understood "how important and how emotional" the Iran issue is to Orthodox Jews.
"If somebody threatens to kill you, you should take them at their word and you should take some cautionary action," he said.