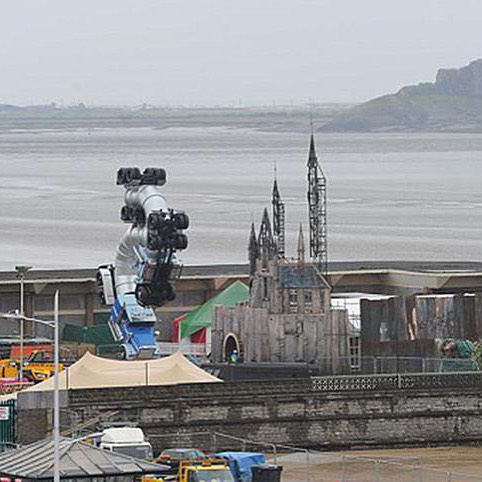 *UPDATED*
Photos of a what appears to be a run-down amusement park in the midst of being erected near Bristol, England are making the rounds on the Internet, as speculation builds that the structure is the brainchild of world famous, yet still unidentified, street artist Banksy.
The faux amusement park is rising in the former lido of Weston-super-mare, according to reports. The park opened to local residents Friday, and the Observer has a first look through some of the best snapshots found on Instagram.
The Bristol Post surmised the exhibition is being titled "Dismaland," based on a limited liability corporation recently incorporated by the man—Simon Durban—thought to be Banksy's accountant.
So far, construction crews have installed a dilapidated pink castle; a large-scale, rainbow-colored pin wheel; a metal sculpture of a horse made of scaffolding rods; a mural of two gulls fighting over fish accompanied by the word "SELFISH"; and a monumental sculpture made of two gas tankers, one stacked atop the other.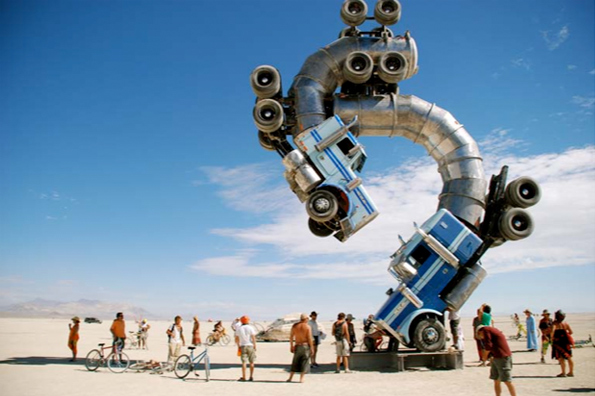 The truck sculpture heavily resembles a work created in 2007 by American artist Mike Ross for the annual Burning Man Festival. The 42-foot-tall Big Rig Jig was also shown at Coachella later that year.
Mr. Ross' sculpture was created from two unused tanker trucks that have been hollowed out and made into a vertical tower, the artist explains on his website. Viewers are able to climb through the lower cab to a viewing platform perched on top of the rear axles of the upper tanker. The work was created with a grant from the Burning Man Festival.
The Observer reached out to Mr. Ross, as well as Pest Control, the body that Banksy set up to authenticate his (or her, or their) works, but got no response.
Signs posted at the scene seem to indicate that the artworks belong to a film location for a crime thriller called Grey Fox, which is being overseen by Hollywood production company Atlas Entertainment. But the Bristol Post suspects that may be a fig leaf. The presence of Banksy's rumored manager, Holly Cushing, who was spotted at the location by the Daily Mail, has been the biggest tip off so far that the hand of the notorious prankster may be at play.
But the scene poses many questions, perhaps the primary being–if Dismaland is an exhibition orchestrated by Banksy, what would Mr. Ross' Big Rig Jig be doing there?